Born in and raised in Buenos Aires, Argentina, Miryam Veliz Calderon '20 & '21 emigrated to the U.S. with her family when she was 10 years old. A struggling economy and government corruption led her parents to seek a better life for her and her siblings.
"We thought we were going to live in Argentina our whole lives, but the economy hit rock bottom. My dad is an engineer, my mom is a nurse and they immigrated from Lima, Peru. They wanted us to have a chance for greater opportunities. I'm the oldest of four siblings, and we were able to take advantage of all the opportunities this country has to offer," she said.
They planted their roots on Long Island, and as she continued to acclimate to her new home, Veliz Calderon focused on mastering the English language. As she progressed through middle school and high school, she developed an aptitude for mathematics, something that she decided to pursue at the college level. "I had loved math ever since I can remember, so I was researching schools that offered that, and I knew that I wanted to go to a SUNY School," Veliz Calderon said. "I applied to SUNY Potsdam, visited campus, and I loved it. I wanted to try something new, and Potsdam felt like a perfect fit. Everything clicked from the beginning, from the first week that I arrived."
"It was such an amazing, unforgettable, diverse experience.  SUNY Potsdam gave me more than I expected and it turned me into the teacher I am today. The professors were a great help and I can't thank them enough."

-Miryam Veliz Calderon '20 & '21
Having completed advanced-level courses in high school, she entered SUNY Potsdam with a full year's worth of college credit, already having fulfilled many of the general education requirements. She excelled during her first semester as a math major, rising to the top of the class with a 3.8 GPA—and paving the way for her to receive a full academic scholarship. The Jeanne Kimmich Roberts Scholarship—established by alumna Jeanne Roberts '80 and her husband Raymond to support academically talented female students pursuing a degree in math or computer science—alleviated her financial burden over the coming years. "I will forever be grateful for the financial opportunity that the Roberts offered me. Without it, my success might not be the same and my story wouldn't be changing immigrants' perspectives on education in the U.S.," she said. "Latino representation gives our future generation hope that they can one day be a professional and inspire others to do the same."
She continued to thrive at the College, taking on leadership roles as a math tutor, a Spanish tutor, a teaching assistant for Dr. Liliana Trevizán, the treasurer for both the math and Spanish clubs, and then the president of the Spanish club. "I always liked to keep myself busy. I didn't want to be in the dorms laying around and not doing anything. I loved to learn and meet people," she said.
From Dr. Blair Madore in the Department of Mathematics to Dr. Trevizán and Dr. Oscar Sarmiento in the Department of Modern Languages, Veliz Calderon had mentors at every turn to help mold her academic path. With each new class, she honed the direction of her career, still unsure exactly how she wanted to combine math and Spanish in the future. "I took one education class, and I said, 'This is it. This is what I want to do for the rest of my life.' Potsdam is the reason I was able to realize that teaching was my calling."
Dr. Donald Straight '88, who received his M.A. in Mathematics and is now a faculty member in the Department of Education, provided sound advice to Veliz Calderon as she was finding her way. "He told me, 'Why don't you major in math and Spanish, and in your fourth year do your master's degree in secondary math education?' So that's what I ended up doing. He's another person that I hold dear to my heart, I learned so much from him," Veliz Calderon said.
"During my four years, my favorite memory is realizing that I wanted to be a math teacher. I remember my first education class, and how fun it was to start teaching. I love helping others overcome their math anxiety or phobia and still giving back to the community."

-Miryam Veliz Calderon '20 & '21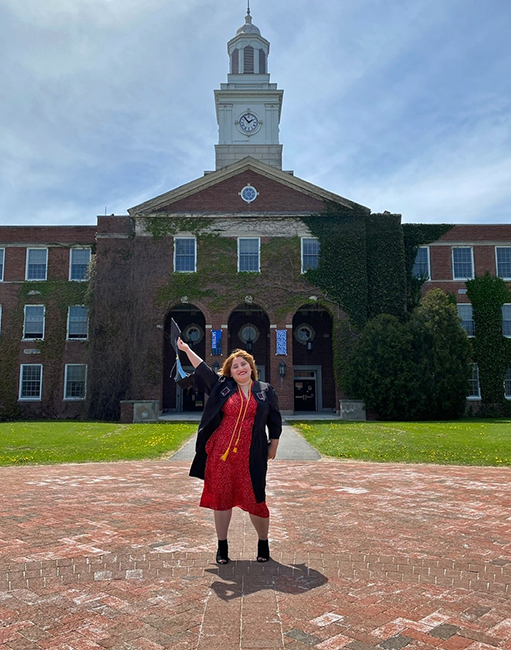 In 2020, after just three years at the College, she graduated with a bachelor's degree in math and Spanish. A week later, she started her master's degree program in secondary mathematics education. As she wrapped up her graduate degree in the summer of 2021, she was on the hunt for teaching positions at schools back home. With her interdisciplinary skills, Veliz Calderon was a hot commodity in Long Island, armed with the arsenal to teach math to Spanish-speaking students. After meeting with the principal and superintendent at Central Islip District, they quickly offered her a job as a bilingual math teacher.
For the past year, she has been teaching algebra, in Spanish, to immigrants settling on Long Island, in the same way she did a decade earlier. At just 22 years of age, she's already a leader in the classroom. "The students just got here a month ago, or two weeks ago, they got their vaccines, and they're in school. They're so surprised to see a TI calculator. One kid was shocked that the calculator graphed a function, because they have never used that technology," she said. "I love my job. I would not change it for the world. That's the reason I became a teacher because I was in their shoes. I want to see more Latinos in the professional field, and I want them to better themselves. Now that I have this job, I don't want to leave the bilingual section, I enjoy it way too much, and I feel like I impact these kids more than if I were to teach a regular math class in English."
Her day is not done when the school bell rings. She assists the high school step team, leaning on experiences from SUNY Potsdam's Bear Witness Step Team. Veliz Calderon is also involved with the school's multicultural club where she unites students from different backgrounds to share their cultural heritage with each other. Last semester, she was able to bring speakers to the club to inspire her students to further their education, despite any challenges surrounding their immigration status. "This is what the American dream is all about. I will keep pushing my students because I envision a great future for them," she said.
As she continues her new career as a math teacher, she is constantly drawing on her educational foundation from SUNY Potsdam. "It was such an amazing, unforgettable, diverse experience.  SUNY Potsdam gave me more than I expected and it turned me into the teacher I am today," she said. "I want to thank my family, friends, donors, and professors who have worked with me throughout my career, and who supported me all the way."
Article and photos by Jason Hunter
If you are a current student, or someone considering SUNY Potsdam, Miryam would love to speak with you about her experience at SUNY Potsdam, and help answer any questions you might have! You can contact her at: miryamdvc@gmail.com