A SUNY Potsdam professor of business technology goes outside the bounds of textbooks to bring a critical Caribbean emergency management agency into the digital age
It is often said that technology drives business and transforms our lives and work environments in constantly evolving ways. While this is true, SUNY Potsdam Professor Dr. Seon Levius discovered a deeper layer of the narrative during his years in the information and communications technology sector, operating internationally in fields ranging from cybersecurity to banking, and functions ranging from business process analysis to policy formulation to human resource management.
The human element is inextricable from technology, and technology in fact has little meaning without a humanistic approach to how tech is introduced to an organization seeking to transform itself, Levius believes.
"If the people in the workforce can't transform, you're not transforming anything digitally," Levius said, speaking via Zoom from Guyana. "Transformation has to start with people, and technology folks often don't understand that—because they are trained to deal with zeroes and ones, not with people."Levius teaches in the Master of Science in management program at SUNY Potsdam—the College's first of 12 degree programs now being offered 100 percent online. His wholistic approach is both time-worn and revolutionary and is foundational to the curriculum of his Business Process Analysis course, where students use system-level thinking to tackle business problems in their entire, complex scope. The core tenets of the course directly guide Levius' work as a change agent at the Caribbean Disaster Emergency Management Agency, operating as a consultant to drive a digital transformation despite significant headwinds.
"The things we talk about in class are based on work I have done. It's about bringing the real world into the classroom. No assignment in my class is abstract—these are things you are going to use every day."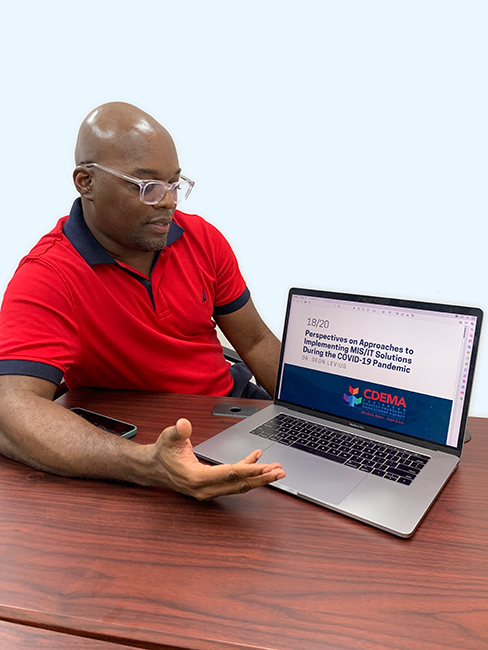 The CDEMA is responsible for strategic disaster management coordination across 19 member countries, with a focus on disaster relief, mitigation, coordinated response, loss reduction policy and education. The coronavirus pandemic prompted the agency to re-examine its use of digital technology and bring Levius on board to conduct a business process analysis of the Caribbean Risk Information System to reconceptualize the way the unit operates. Lacking a system-level analysis of its IT needs and employee consultation, the agency had struggled to effectively implement technology—but not for lack of tools, which have been available but largely unused.
"We needed to find out why certain technologies were not working effectively," Levius said. "We needed more business processes to support some existing software applications. For technology to work effectively, we need to avoid  a cart-before-the-horse scenario. We need to avoid implementing tech and then figure out where it can fit; we must identify our processes and then identify the tech needed to support those processes. So, we had to do some reverse engineering of what was in place."
Solutions to the technology impasse include intense collaboration and in-depth consultations that allows workers to reimagine their relationship to their jobs—human concepts rarely addressed in textbooks dealing with digital transformation.
"The biggest hurdle, as with many organizations, is resistance to change, change in the way people do things," Levius said. "You're literally asking a person to change themselves. They identify themselves with the job they are doing; they do not differentiate their sense of themselves from their work. The hard work is to get the folks to understand who they truly are—and that they are not the job they have done for the past 10 to 15 years."
Levius likes to say you have to do more than think outside the box—you have to pretend the box doesn't exist. Many of his graduate students enroll with the goal of advancing their careers. Guiding them to understand and tackle problems from a system-level perspective is critical to helping them succeed as managers, Levius said.
"We're preparing people for the job market, so we need to show people that what we teach is relevant," he said. "From a student's perspective, the key is, 'Show me how you use this stuff that you say I can change my life with. Show me.' People want to see evidence. Where possible, we need to bring our work to life. Instead of giving abstract concepts and letting them wing it for themselves, let's show them."
In 2020, Levius received the Thomas L. and Jane D. Russell Distance Education Faculty Excellence Award for his inquiry-based learning model, using direct experience and problem solving to energize student engagement. In addition to his work at Potsdam, he serves as an adjunct instructor in the David D. Reh School of Business at Clarkson University. From 2011 to 2017, Levius was a senior advisor for information and technology management for the Caribbean Export Development Agency, and spent significant time in IT leadership at CDEMA prior to his current role at the agency. Prior to these positions, he was a first lieutenant and IT officer with the Guyana Defense Force. He holds a doctorate in business administration from Walden University and a master of science in information systems management from the University of Liverpool.
His range of experiences and broad perspective have been key in moving subject matter out of the abstract and into the concrete, so that students directly experience the impact of their learning.
"The things we talk about in class are based on work I have done. It's about bringing the real world into the classroom, so students get to see how their learning works in practical terms," Levius said. "Students benefit from knowing they have faculty in the field doing and living the work that is being discussed. No assignment in my class is abstract—these are things you are going to use every day."
Article by Bret Yager