Guided by her love for animals, and a passion for the field of philosophy, alumna Kate-Nicole Hoffman '17 has continued to excel academically since graduating from SUNY Potsdam in 2017. She's now pursuing a Ph.D. in philosophy at the University of Pennsylvania, and conducting research on animal cognition—a natural extension of a Presidential Scholars research project that she completed years earlier as an undergraduate student at SUNY Potsdam.
"I can't say enough about how happy I am that I went to SUNY Potsdam.  I was originally studying vocal performance at Crane – but my studio professor, Jonathan Stinson, happily supported my foray into philosophy.  The faculty in the philosophy department are the best of the best – they are the reason that I am here now."

-Kate-Nicole Hoffman '17
After Hoffman graduated summa cum laude with a double major in music and philosophy from SUNY Potsdam, she went on to complete a master's degree in philosophy at York University in Toronto focused on animal cognition and ethics. While there she took classes in moral psychology, and the philosophy of depression, and worked closely with Dr. Kristin Andrews, a well-known and respected philosopher in the field of animal cognition. "I had the opportunity to think more about animal minds, but also explore many other areas of philosophy that I hadn't yet been exposed to. I hadn't been entirely sure if I wanted to continue on in academia after my M.A., but being at York really solidified my love of learning," she said.
With Andrews' help, she applied to Ph.D. programs throughout the U.S. and Canada, before being accepted into UPenn's doctoral program in philosophy.  "I was excited about the research that the faculty was engaged in, and I was really looking forward to living in Philly.  I've been having an awesome time here - I even got to travel to the Galapagos Islands last summer to work with the local community on issues involving science education and the environment," she said. "As I started the Ph.D. program my interests began to widen to include not just animals but nature more broadly (my dissertation is on concepts of nature in important environmental domains like conservation, climate change, and animal ethics)."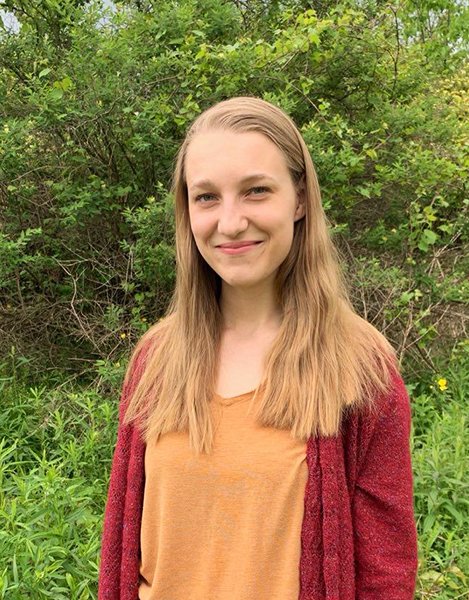 Despite her broadening outlook, Hoffman recently returned to her roots, extensively revising a research paper that she had written for her Presidential Scholars Project at SUNY Potsdam. The article, "Subjective Experience in Explanations of Animal PTSD Behavior," which was published in Philosophical Topics, a scholarly journal released by the University of Arkansas Press, won the Marjorie Grene prize from the International Society for the History, Philosophy, and Social Studies of Biology (ISHPSSB). 
The paper argued that Post-Traumatic Stress Disorder (PTSD) is not limited to humans, but rather that animals can experience the same conditions—a concept she first explored as an undergraduate student. She found that animals react to traumatic situations with a distinct psychological and minded reaction, much like humans. She examined new scientific research to construct her philosophical argument, which she presented to the Presidential Scholars colloquium her senior year at SUNY Potsdam.
"In one of my philosophy classes at SUNY Potsdam I had an idea about using a mental health perspective to think about animal minds. There's an old puzzle about how it's hard to know for sure whether animals are truly experiencing pain, or whether they could just be reacting unconsciously to some kind of external stimuli.  Obviously, this matters a lot when it comes to the question of how we ought to treat animals," Hoffman said. "I thought that it might be interesting to think about pain more broadly - is there evidence that animals can experience mental kinds of pains, and if so, what might this tell us about animal minds?  Dr. David Curry really encouraged me and helped me to think through these ideas, and I ended up making this the subject of my Presidential Scholars project.  It was the first time that I dedicated serious effort to a research topic outside of my classes."
Hoffman started her undergraduate career focused on music, and although her love for vocal performance, opera and musical theatre continued, her educational objectives shifted toward the study of philosophy. Curry, chair of philosophy at SUNY Potsdam, was instrumental in helping her succeed in the Department of Philosophy. In addition to him being her advisor for her Presidential Scholars Project, Curry was also the instructor in her very first philosophy course, and he was the catalyst for her to choose the field of philosophy. "The class was a bit unusual because it was set up like a game – the setting was Ancient Greece, and the students were all given particular roles as members of the Athenian assembly," she said. "I was in charge of defending Socrates at his trial – this time he was found innocent! – and was later ostracized from Athens after a particularly heated debate.  It was just a really fun way to be introduced to philosophy, and obviously something stuck!"
During her time at Potsdam, in addition to her classes, Presidential Scholars research, and double major in music and philosophy, Hoffman still found time to be a frequent volunteer at the Potsdam Humane Society. Additionally, she served as a student representative on the Honors Advisory Council, and as vice president of both the Writer's Café and the Philosophy Forum. She also worked as a resident assistant during her sophomore and junior years, and she interned in the President's Office during her junior and senior years.
Although she has embraced her pursuit of philosophy at SUNY Potsdam, music remained an integral part of her undergraduate experience. "I've really grown as a musician. A lot of that is due to all the professors at Crane, but especially my voice professor Jonathan Stinson, who was incredible. He was supportive, not just of my music career, but also of pretty much everything I do," Hoffman said.
Hoffman was a member of the Crane Choir and Crane Chorus, and during her last semester on campus she played the role of Goldilocks in the children's opera, "The Three Bears." During her junior year, Hoffman made an appearance on stage at Carnegie Hall in New York City, where she was a soloist in Ralph Vaughan Williams' "Serenade to Music" during a special concert with the Crane Symphony Orchestra and Crane Chorus.
"For me, one of the best things about SUNY Potsdam was that I really felt (and still feel) that I'm part of a community," Hoffman said. "It's the kind of support that has proven to be invaluable to me."
To learn more about the Department of Philosophy, visit:
https://www.potsdam.edu/academics/AAS/depts/philosophy
Article and photos by Jason Hunter