Kate-Nicole Hoffman '17, a SUNY Potsdam Presidential Scholar and recipient of the Chancellor's Award, graduated summa cum laude with a double major in music and philosophy and is now pursuing a master's degree in philosophy at York University in Toronto with a focus on animal cognition and ethics.
Hoffman started her undergraduate career focused on music, and although her love for vocal performance, opera and musical theatre continues, her educational objectives shifted toward the study of philosophy. Dr. David C.K. Curry, chair of philosophy at SUNY Potsdam, was instrumental in helping her succeed in the Department of Philosophy. "He was teaching the first philosophy class that I took, so he's pretty much responsible for bringing me into philosophy in the first place," she said.
Curry went on to be her mentor in the Presidential Scholars Program, where she combined her love of animals and interest in philosophy to examine animal cognition. After reading the work of French philosopher René Descartes, she set out to deconstruct and present an opposing argument about animal cognition.
"I had read this brief passage in Descartes' work that animals are nothing more than machines, like plants that bend toward the light. He thought that animals are just a complicated natural occurrence and that their reactions are based on stimulus…I think his philosophy is reflective in things that we see today, and I wanted to find some evidence that perhaps would counter this way of thinking—I found that in looking at evidence of animal PTSD (post-traumatic stress disorder)," she said.
As an animal lover, Hoffman sees Descartes' philosophy as counterintuitive, but she admits he offers some strong arguments that have filtered into science today. Some people think that animals don't suffer or feel pain the same way humans do. As part of her research, she found that animals react to traumatic situations with a distinct psychological and minded reaction, much like humans. She examined new scientific research to construct her philosophical argument, which she presented to the Presidential Scholars colloquium her senior year at SUNY Potsdam.
"Kate-Nicole is a model of student excellence in all imaginable senses of the phrase. Indeed, it is difficult to imagine a student who has taken better advantage of the opportunities SUNY Potsdam offers," said Curry.
In addition to her work as a Presidential Scholar and double majoring in music and philosophy, Hoffman still found time to be a frequent volunteer at the Potsdam Humane Society. She also served as a student representative on the Honors Advisory Council, and as vice president of both the Writer's Café and the Philosophy Forum. She also worked as a resident assistant during her sophomore and junior years, and she interned in the president's office during her junior and senior years.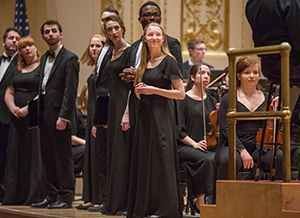 Although she has embraced her pursuit of philosophy at SUNY Potsdam, music has remained an integral part of her undergraduate experience. "I've really grown as a musician. A lot of that is due to all of the professors at Crane, but especially my voice professor Jonathan Stinson, who has been really incredible…he's supportive, not just of my music career, but also of pretty much everything I do," Hoffman said.
Hoffman was a member of the Crane Choir and Crane Chorus, and during her last semester on campus she played the role of Goldilocks in the children's opera, "The Three Bears." During her junior year, Hoffman made an appearance on stage at Carnegie Hall in New York City, where she was a soloist in Ralph Vaughan Williams' "Serenade to Music" during a special concert with the Crane Symphony Orchestra and Crane Chorus.
Hoffman was admittedly nervous to be singing on the grand stage of Carnegie Hall. "I always get a little bit emotional during big concerts like this. Singing those incredible pieces, there's just nothing like it," Hoffman recalls.
As she closed the chapter of her undergraduate career and headed to Canada for her graduate work, she encouraged incoming freshman and current students to make connections and reach out to people on campus.
"The faculty are just so concerned about your growth as a student and as an individual. Almost every faculty member I've encountered would drop anything if I have a question—it's really just incredible," Hoffman said.