Mary Catherine Sawyer '19 landed her first job just months after graduating from SUNY Potsdam. With degrees in music education and theatre education—and extensive student teaching experiences as an undergraduate—she's well prepared for her career as a music teacher in the Bronx, N.Y.
"I had a really well-rounded experience at SUNY Potsdam. I got to study the things that I wanted at an amazing public institute, which I'm extremely proud of."
Sawyer, who graduated summa cum laude, had her first taste of teaching music during her sophomore year as part of the Jamaica Field Service Abroad program, a 10-day trip to Port Antonio, Jamaica, where she worked one-on-one with elementary school students.
"I got the experience of learning traditional Jamaican drumming and traditional folk songs, and then being able to teach those songs to students in Jamaica for four days at a local elementary school—another great part of my Crane experience," Sawyer said.
Her love for world music was also the focus of her Presidential Scholars project—a unique opportunity for SUNY Potsdam students to pursue an independent project with funding from the College. As part of the project she flew to Seattle, Wash., where she spent a week getting certified to teach world music through the Smithsonian Folkways Institute. She played steel drums from Trinidad, traditional drums from Senegal and then learned traditional songs from Hungary.
"They trained us how to teach music from a culture that is not our own. How do you go about that in a way that's respectful, creative and inspiring for your students, without culturally appropriating anything or being insensitive to that culture? In those five days, I grew as a musician and I got to experience a lot of music from around the world," she said.
When she got back from Seattle, she started thinking about how to incorporate hands-on learning in her future classrooms. "I was really focused on how I could merge project-based learning and world music pedagogy, so that we're working in that progressive music education mindset, where it's student-centered, it's inclusive, it's culturally responsive—really thinking about our students' cultures in our classrooms," Sawyer said.
"Crane was an excellent fit. I think it's a really great school, not only for the cost, but for the education that you get—it's unparalleled, especially for music education."
During her senior year, Sawyer had the chance to put that philosophy to the test, in a real-world setting through the Brentwood Field Experience. The yearlong program started with classroom training at Crane and culminated with a second semester student teaching placement in Brentwood, Long Island—a school with children from a lower socio-economic background and with a population predominantly made up of minority students. "We did a lot of research on that population, the history of the town and different events that shaped that town. Then we had the opportunity to plan lessons and projects and carry those out in the fall semester. So, you already have a context before your student teaching placement," Sawyer said.
Dr. Mark Robin Campbell, a professor of music education at SUNY Potsdam's Crane School of Music, led the program. "He totally changed my outlook on music education and really gave me a different perspective, especially in regard to social justice and progressive education," Sawyer said. "The one-on-one time you get with your professors is amazing. I was able to make really, really close connections with a lot of my professors, which I don't think you get at other universities—SUNY Potsdam is extremely student-centered and the professors have your best interests at heart."
After extensive preparation, Sawyer started a 16-week student teaching placement the second semester of her senior year—spending Mondays and Wednesdays at the high school, Tuesdays and Thursdays at the elementary school, and Fridays at the middle school. "It was a very holistic approach," Sawyer said. "I got to really build these awesome relationships with the teachers and with the kids and I got to carry out a lot of projects. It's a very unique student teaching opportunity," she said.
As an undergraduate, Sawyer also pursued a degree in theatre education. She got hands-on experience working with middle school students at Potsdam Central School and directed a play one semester. "I think the coolest part about SUNY Potsdam was that I was able to carve my own path," Sawyer said.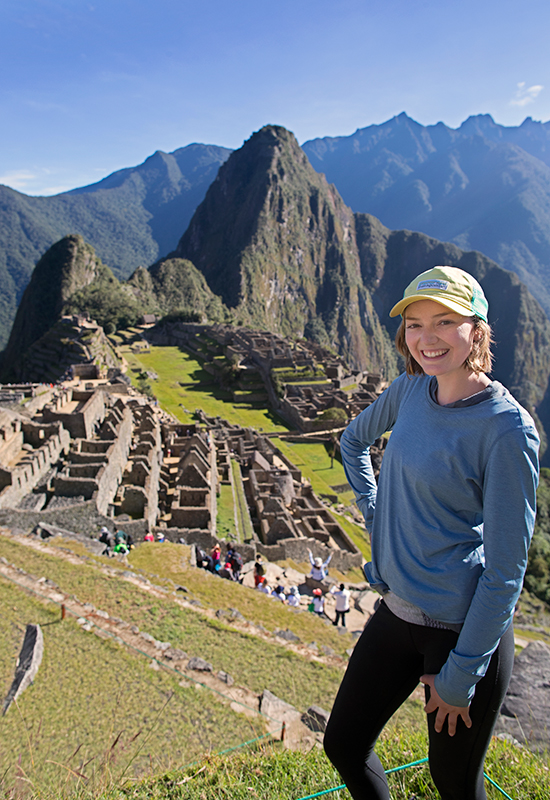 That path also took her to Europe and South America, with Associate Professor of Music Dr. Jeffrey Francom. The summer after her junior year, she went to Germany, biked throughout the country and sang at cathedrals with other members of the Crane Chorus. The following summer, she hopped on a plane for Peru where she learned about traditional Andean music and hiked to Machu Picchu. While there, her and her classmates visited a cultural center in Calca, to learn traditional songs in the Quechua language and play the pan flute while working with a local music expert.
"Coming from a place where I'm really interested in world music, and where I did my Presidential Scholars project on world music education, that was an amazing opportunity! It's awesome that Francom gives his students that opportunity," she said.
After getting back from Peru, Sawyer was hired to teach kindergarten through third grade general music at P.S./M.S. 4 in the Bronx. She is now taking all of her real-world training into the classroom where she will share her love of music with her young students and introduce them to world music.
"I am so excited to start my career in New York City! Over the summer, I took a one-week grad course on project-based learning at Crane, and I can't wait to implement the projects I designed there into my classes. I am so excited to meet my students and to start my career in one of the most interesting places on Earth," Sawyer said.
For more information about The Crane School of Music, visit: https://www.potsdam.edu/academics/crane-school-music
Article and photos by Jason Hunter