Fall 2021 Joy Douglass Visiting Master Teacher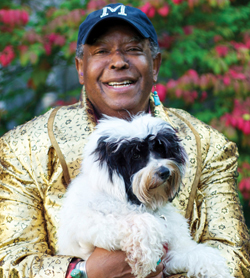 Courageous Conversations
October 14 - 15, 2021
Master Teacher Presenter: Dr. François Scarborough Clemmons
Throughout the course of his remarkable life, Dr. François Scarborough Clemmons has touched the hearts of thousands—first as an opera singer, then in a trailblazing role as Officer Clemmons on "Mister Rogers' Neighborhood," and later as an award-winning conductor, performer and educator.
View Flyer (PDF) | Read Full News Release
Spring 2020 Joy Douglass Visiting Master Teacher
Tradition and Diversity: Power and Innovation
February 24 - 27, 2020
In connection with SUNY Potsdam's continuing focus on diversity in higher education and The Crane School of Music's Music Education department's concentrated examination of diversity, inclusion and equity in music education, the Spring 2020 Joy Douglass Visiting Master Teaching Event will host a four-day focus on critical examination of tradition and diversity, with a special emphasis on power and innovation.
Master Teacher Presenters: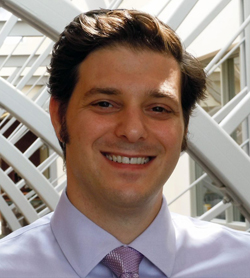 Dr. Joseph Michael Abramo is an Assistant Professor of Music Education in the Neag School of Education at the University of Connecticut. He is co-author of the book Music Teacher Evaluation: A Guide for Teachers in the US published by Oxford University Press, and has published numerous articles in music education journals and presented at various international, national, and regional conferences. Dr. Abramo's scholarship focuses on equity and diversity in music education, including work on race, gender, socioeconomic class, sexuality, and (dis)ability. . Dr. Abramo holds degrees from SUNY Potsdam/Crane School of Music, Michigan State University, and Teachers College, Columbia University.  While in residence, he will be working with students in both the graduate and undergraduate programs and participating in the "Open Forums" planned over the three-day event.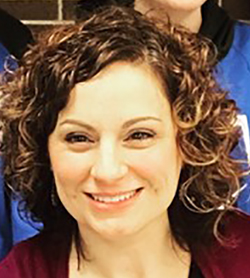 Dr. Melissa Natale-Abramo is a music educator and Department Chairperson for the Fine & Practical Arts at North Salem MS/HS in North Salem, NY.  Dr. Abramo holds degrees from Teachers College, Columbia University, Northwestern University, and SUNY Potsdam/Crane School of Music.  Her dissertation investigated the construction of instrumental music teacher identity from a poststructural perspective. Subsequent research has included investigations on the interactions of gender and curriculum and professional development and curriculum reform.   She has published in the Bulletin for the Council of Research in Music Education, and Diverse Methodologies in the Study of Music Teaching and Learning. While in residence, she will be working with students in both the graduate and undergraduate programs and participating in the "Open Forums" planned over the three-day event.
All events and workshops are free and open to the public, students, and faculty
Fall 2019 Joy Anthony Douglass '56 Visiting Master Teachers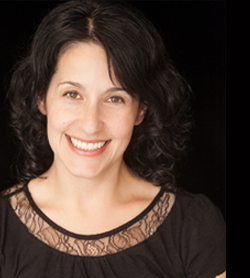 October 2 - 3, 2019
Shoshana Hershkowitz
Shoshana Hershkowitz holds degrees in music education and vocal performance from the Crane School of Music at SUNY Potsdam. She is an artist in residence at Stony Brook University, where she conducts the Stony Brook Chorale and Camerata Singers and prepares choirs for the opera productions. She is the founding conductor of MYO's Suffolk Symphonic Choir, a county wide high school ensemble, which debuted in 2013. From 1999-2009, Mrs. Hershkowitz taught at Commack High School, where she directed mixed and women's choirs. As a guest conductor, Mrs. Hershkowitz has conducted choirs of all age levels for NYSSMA, Vermont American Choral Directors Association, Vermont Music Educators Association, Nassau Music Educators Association, Suffolk County Music Educators Association, and the Hamptons Music Educators Association, . As a clinician, Mrs. Hershkowitz has presented workshops for NYSCAME, SCMEA, the Society for Ethics in Education, and the Balanced Mind Conference, as well as with school choirs and choral directors across Long Island. Mrs. Hershkowitz is a proud member of the eVoco Voice Collective, a semi-professional chamber choir. Mrs. Hershkowitz presented sessions on "Incorporating Voices of Women Composers Into the Choral Curriculum," "Story Telling Through Women's Eyes" (Watch Video) and "Situating Diversity in the Choral Classroom."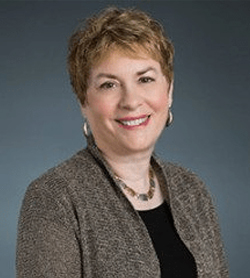 August 27- 29, 2019
Dr. Julia Eklund Koza
Dr. Julia Eklund Koza of the University of Wisconsin at Madison will be in residence at the Crane School of Music, SUNY Potsdam as a Visiting Scholar in the Joy Douglass Visiting Master Teacher Program. Dr. Koza is widely regarded as one of the preeminent scholars and pioneering researchers in music education focused on equity education. She is a long-time advocate of diversity, equity, and inclusion in music education, with a special interest in women's studies. Dr. Koza keynote address, "The Charm of an Educated Woman: Thinking Intersectionally about Sexism and the Racial Contract," provides focus for the many events and activities related to the central theme of this year's program "Ideology and the Music Curriculum: Gender and Equity in Music Education." While in residence she will be working with students in both the graduate and undergraduate programs and participating in many of the "Open Forums" planned over the three-day event.
Spring 2019 Joy Anthony Douglass '56 Visiting Master Teachers
February 18 - 19, 2019
John Bernstein, Ben Rybolt, Kevin Tims, Marichelle Weill

March 25 - 26, 2019
Genevieve Brigida & Kathryn Ta
Watch Video

Addressing Equity and Inclusion in Music Education
Music can enhance understanding, enabling students to experience, discuss, and learn about and perform music that is culturally and socially relevant in ways that support both equity and inclusion. Crane welcomes six fantastic alumni educators for 4 days of workshops and presentations exploring methods of fostering equality and opportunity in today's music classrooms.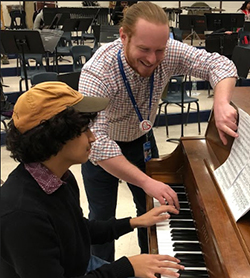 John Bernstein currently holds a position on the music faculty at Monticello High School, where he teaches classes in piano performance and pedagogy, Performance Skills, Music Technology, and Brass Lessons. He also works actively as the Youth and Outreach Director for the Shandelee Music Festival. John earned a Bachelors of Music with a concentration in piano from SUNY Potsdam and is currently completing his Masters in Music Education, also at the Crane School of Music. His research and work on the topic of 21st century progressive music education has provided him with opportunities to present at several NYSSMA and APME conferences, as well as being featured in School Music News. As a performer, John's musicianship spans across all genres and styles of music, frequently performing alongside students and professionals alike as an instrumental and vocal accompanist. Mr. Bernstein has had the pleasure of performing in some of the most prestigious venues in the New York area, including Weill Recital Hall at Carnegie Hall, Webster Hall, The Shandelee Music Festival, and the Event Gallery at Bethel Woods.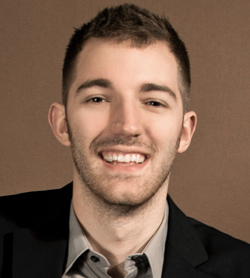 Benjamin Rybolt currently teaches at World of Inquiry School No. 58 in Rochester City School District, where he teaches Grade 7 General Music, Music in Our Lives, and Guitar I & II. Prior to teaching in Rochester, he taught general and instrumental music in Phoenix, Arizona. He received both his undergraduate and graduate degrees from the Crane School of Music at SUNY Potsdam (BM '13, MM' 15). As a private teacher, he maintains a teaching studio of 16 students (in guitar, drumset, piano, and saxophone) ranging from ages 5 to 35. As a performer, Ben plays for many Rochester-area theater productions, with a folk & bluegrass band comprised of Rochester-area music educators, and occasionally as a solo guitarist.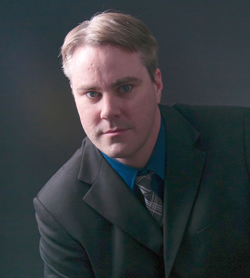 Kevin Tims (B.M. in Music Education from the Crane School of Music in 2000; M.M. in Music Education from Ithaca College in 2004.) He has taught music in the Brentwood Union Free School District (Long Island, New York) for the last 19 years and has experience with teaching every grade level (K-12). He has been teaching music theory at Brentwood High School for the last 14 years. Mr. Tims has given several workshops in pedagogy including Applying Technology to Music Teaching (2006, SCMEA), Unleashing the Power of Students' Minds through Project-Based Learning (2011, SCMEA) and Nurturing Creativity through Musical Composition (2014, NYSCAME) In the winter of 2012, he and Phil Greco co-founded the Society for Ethics in Education, a non-profit corporation. As an active pianist, he performs numerous piano and chamber recitals throughout Long Island. He performs with the New Inlet Chamber Orchestra, and continues studying piano with his teacher, Blanche Abram.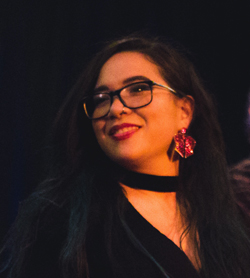 Marichelle Weill received her BM ('12) and MM ('16) from the Crane School of Music. As a performer, she has experience playing in various symphonic orchestras, rock orchestras, chamber ensembles, musical theater productions, and rock bands. Marichelle began her employment in the East Rockaway School District in 2014 as a 4-12th grade orchestra teacher. Quickly expanding the program, Marichelle now specializes in teaching middle and high school strings. Additionally, Marichelle teaches Life Skills Music and Music & Media; a class she created in her district which combines elements of music technology and the history of Rock and Hip Hop. Marichelle has also served as a clinician at Balanced Minds and All State in 2018, presenting on topics of diversity and cultural responsiveness in music education. As an educator, Marichelle strongly believes in using music as a tool to teach her students kindness, passion, and compassion.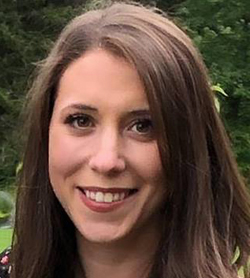 Genevieve Brigida received her Bachelor of Music in Music Education with a Special Education Concentration and a focus in saxophone from Crane, where she later received her Master of Music in Music Education. Since 2014, she has taught at P.S. 204 in the Bronx, NY. As one of the top rated and highest performing schools in District 9, P.S. 204 fosters partnerships with programs such as the Child Mind Institute and Yale and Harvard Universities that encourage social and emotional learning and wellness in students and staff. Genevieve has taken a leadership role within P.S. 204 to encourage and support development of school community. Her music classes include Pre-K thru Fifth Grade general music, choir, and an extra-curricular musical theatre program. Genevieve piloted partnerships with Little Kids Rock NYC, Carnegie Hall and Lincoln Center to enrich students in a wide range of musical experiences. In Brooklyn, Genevieve is an active member of the Metropolitan Music Community (MMC) playing baritone saxophone in the Brooklyn Wind Symphony.
Kathryn Ta is currently teaching 2nd Grade General Music, 3rd Grade Chorus, and 4th/5th Grade Orchestra at Stonehedge and Onondaga Road Elementary Schools in the West Genesee Central School District (WGCSD). Kathryn received her bachelor's and master's degree in Music Education from The Crane School of Music at SUNY Potsdam, graduating Summa Cum Laude with both degrees. Kathryn began her teaching career in the Vernon-Verona-Sherrill Central School District (VVS), bringing new music to students in grades Pre-K through 12. After three wonderful years at VVS, Kathryn returned to her original roots as a Wildcat and has been teaching at WGCSD for the past three years. Kathryn is passionate about culturally responsive and peer-to-peer teaching and mentoring, incorporating both pedagogies in her teaching regularly.
Kwasi Dunyo, Fall 2018 Joy Anthony Douglass '56 Visiting Master Teacher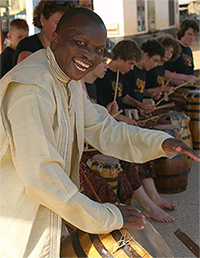 In residence December 3 - December 5, 2018      Watch Video
DRUM, DANCE & SING... with master drummer Kwasi Dunyo from Ghana, West Africa. Discover the excitement and joy of traditional Ghanaian styles of music and dance. Let Kwasi Dunyo introduce you to a culture whose people share freely in their joy of the music.
Frederick Kwasi Dunyo was born at the Ewe village of Dagbamete, in the Volta Region of Ghana. He has been playing the drums from the time he could barely reach the top of them. Since then, he has directed, coached, taught, drummed, and danced extensively in a variety of contexts.
Kwasi was the lead drummer for Sankofa Dance Theatre from 1977 to 1981 where, under the tutelage of Godwin Agbeli, he learned much of his repertoire of Ghanaian music. In 1992, Kwasi Dunyo was the recipient of a Visiting Foreign Artist grant from the Canadian government which provided the basis for his first trip to North America. Kwasi's open and generous teaching style, and his love of the music has earned him many praises.
Kwasi is the member of the faculties of York University, University of Toronto, Royal Conservatory of Music and the Toronto District School Board. He has also performed and given workshops at many Canadian and American universities including the University of Alberta, University of Saskatchewan, Guelph University, University of Waterloo, University of Western Ontario, McMaster University, Brock University, Memorial University, University of Virginia, Tennessee Technological University, and William and Mary University.
Kwasi has taught in public schools in Ontario and Virginia, he took part in a Sound Symposium in St. John's Newfoundland in July 1992 and performed at Toronto's First Night in 1996 and 1997. Kwasi is now a member of the Society of Ethnomusicology of North America.
Past Visiting Master Teachers
 

 

 

 

 

 

Dr. Alex Ruthmann and Mr. Jarritt Sheel, Spring 2018 Joy Anthony Douglass '56 Visiting Master Teachers

In residence February 26 - March 1, 2018

A complete schedule of events can be found HERE!

Jarritt Ahmed Sheel is a fourth-year doctoral candidate at Teachers College, Columbia University in the Music and Music Education Department. As a professional musician, he has toured internationally, worked with hundreds of students in high school band programs throughout the great states of Illinois, Florida, Missouri, Alabama, Georgia and New York. He has been fortunate to have taught music courses at the Aspen Award-winning Valencia College. Most recently he has taught collegiate level courses, based on Critical Theory, Critical Race Theory, Art History, and Democracy, in the City Universities of New York system (CUNY).

Mr. Sheel is currently the Ensemble Director for the Youth Workshop Band in the Youth Programs as part of the Education department at Jazz at Lincoln Center in New York City. He has recently accepted a faculty position as a professor of Music Education at New York University - Steinhardt within their Department of Music and Performing Arts Professions. At NYU, Professor Sheel is responsible for teaching a variety of music education courses, the supervision of student teachers and the coaching of ensembles. His research foci center around the intersectionality and potentiality of hip-hop (music, culture, and pedagogies) in music education. He is husband, father, pet owner, deejay, a professional  trumpet player with a live music group called The Freedom Now Project, a board member of the Association for Popular Music Education, an editor of the music resource website www.hiphopmusiced.com<http://www.hiphopmusiced.com/>, and leads a social media movement around the hashtag #hip hopmusiced.

S. Alex Ruthmann is Director of Music Education, and the Director of the NYU Music Experience Design Lab (MusEDLab) at NYU Steinhardt. The MusEDLab researches and design new technologies and experiences for music making, learning and engagement together with industry and community partners including the New York Philharmonic, Peter Gabriel, Herbie Hancock, Theolonius Monk Institute of Jazz, Urban Arts Partnership, UNESCO, Peer 2 Peer University, and the Rock and Roll Forever Foundation. He and his collaborators are the recipients of multiple National Science Foundation grants exploring the interdisciplinary teaching of computational and musical thinking, and commercialization strategies for music and media education technologies.

Dr. Ruthmann is Co-Editor of the new Oxford Handbook of Technology and Music Education, and the Routledge Companion to Music, Technology and Education. He is Associate Editor of the Journal of Music, Technology, and Education, and a member of the editorial/advisory boards of the British Journal of Music Education, Journal of Popular Music Education, and the Journal of Music and Meaning. He is Past President of the Association for Technology in Music Instruction, Past Chair of the Creativity special research interest group of the Society for Research in Music Education, and Past Co-Editor of the International Journal of Education & the Arts. Ruthmann received an interdisciplinary B.Mus. degree from the University of Michigan in Music and Technology, and M.Mus. and Ph.D. degrees in Music Education from Oakland University. Active in social media, you can follow his curated posts on music learning, teaching and technology as @alexruthmann on Twitter.

 

 

Dr. Constance McKoy and Dr. Jacqueline Kelly-McHale
2017 Joy Anthony Douglass '56 Visiting Master Teachers

In residence September 25-29, 2017.

Dr. McKoy and Dr. Kelly-McHale will explore what it means to teach – and learn – within a culturally responsive classroom. Through interactive sessions and roundtable conversations, participants will investigate culturally sustainable teaching approaches that acknowledge varied identities and expressions of diversity. Drs. McKoy and Kelly-McHale's residencies will expand our visions of what it means to teach music when students' unique cultural strengths are identified and nurtured to promote musical growth and develop students' well-being about their cultural places in the world.

All major events will be webcast at: http://www.potsdam.edu/academics/Crane/streaming

For more information (including webcast schedule), visit https://cranemusiceducation.wordpress.com/