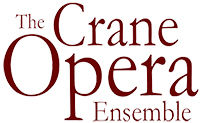 The award-winning Crane Opera Ensemble is a significant source for opera and music theatre in the North Country region of New York State. The ensemble provides exciting opportunities for students to experience all facets of opera performance and production through rehearsals, coachings, and classes related to performance practices and production techniques.
Two fully-staged productions are produced each year (one with orchestra and one with a chamber instrumental group or piano). In addition, an Opera Scenes Workshop provides students the opportunity to study a partial role and perform it in an informal venue. The ensemble enjoys a collaborative relationship with the Department of Theatre & Dance, producing a musical theatre production every three years and collaborating with the department's designers and creative faculty.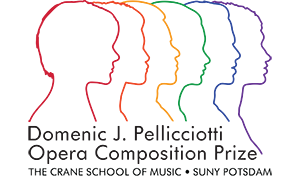 The Crane Opera Ensemble is proud to host the Domenic J. Pellicciotti Opera Composition Prize, which was founded by Dr. Gary C. Jaquay '67 to honor his life partner, Domenic J. Pellicciotti, an ardent fan of opera. The award seeks to encourage and acknowledge the creation of new opera works that explore themes related to tolerance, inclusion or the celebration of diversity. Awarded every four years, a panel of distinguished opera professionals awards a $25,000 commission and full production to a composer/librettist team. Tom Cipullo is the recipient of the 2018 Domenic J. Pellicciotti Opera Composition Prize, for his work, Mayo, which received its premiere by the Crane Opera Ensemble in November 2018.
The Crane Opera Ensemble is proud of its opera education outreach program. North Country school children experience opera and engage in post-performance workshops with cast members and faculty. To date, over 6,000 children have participated, many experiencing opera for the first time.
Recent Awards and Honors
First-place winner of the 2002-03 National Opera Association's Division 3 Production Competition
Please "Like" us on Facebook or follow us on Instagram to receive notifications of upcoming performances, see production photos and other news

Dr. Anthony Eversole, Director/Producer
Dr. Anthony Eversole serves as the Director of Opera in the Crane School of Music at SUNY Potsdam. Dr. Eversole is also the artistic director and organizing producer of the Crane Opera Ensemble.A skilled stage director and dramatic coach, Eversole is equally at home as a performer of opera, musical theatre, song, and concert repertoire. He is also an accomplished voice pedagogue and producer.Prior to joining the faculty of the Crane School of Music, Dr. Eversole taught and directed at Oregon State University in Corvallis, Oregon. While there, he staged productions of Puccini's La Rondine, Norman and Simon's The Secret Garden, a Covid-era adaptation of Donizetti's L'elisir d'amore, as well as multiple scenes programs, cabaret concerts, and revues.Dr. Eversole earned the degree of Doctor of Musical Arts in Opera and Voice from the University of Maryland, where he was a member of the Maryland Opera Studio. He also holds a Master of Music in Voice from the University of Oklahoma, and Bachelor of Music (vocal performance) and Bachelor of Music Education (choral music education) degrees from Utah State University.

Brock Tjosvold, Music Director & Principal Coach
Pianist Brock Tjosvold is Visiting Assistant Professor of Vocal Coaching & Accompanying at the Crane School of Music at SUNY Potsdam, where he is music director and vocal coach of the opera ensemble. Brock is also working towards a Doctorate of Musical Arts at the Eastman School of Music in collaborative piano, with minors in solo piano and sacred music, studying with Dr. Andrew Harley. At Eastman, Brock won the 1st prize in the 2021 Jessie Kneisel Lieder Competition and was awarded the 2020 Excellence in Accompanying Award. He has been a fellow at the Aspen Music Festival, Music Academy of the West, and the National Repertory Orchestra. He has performed all over the nation, including a performance at Carnegie Hall. Brock regularly plays as the collaborative pianist for the Donald Runnicles Musical Arts Scholarship at the Grand Teton Music Festival. Additionally, he has performed regularly as a chamber and orchestral musician with the Albany Symphony Orchestra and the New World Symphony, and has been a young artist with Finger Lakes Opera. Currently, He holds a performer's diploma from Indiana University, a masters degree from the University of Michigan, and a bachelors degree from the University of Wyoming.