Few sounds are more jarring than the blare of a fire alarm in Bowman Hall at 3 a.m. Jeanne Kimmich Roberts '80 remembers the sound well. As a freshman at SUNY Potsdam, she often found herself trudging down the six flights of stairs half-asleep, only to learn it was a prank.
While frustrating in the moment, memories like these only add to Jeanne's fondness for her alma mater.
"I loved going to SUNY Potsdam and everything about this college," Jeanne shares. "I loved living in the dorms, playing my clarinet in the Potsdam Bears Basketball Pep Band, and playing intramural broomball and Bridge until the wee hours on a Saturday night."
Growing up on a dairy farm in Harford, N.Y., Jeanne always dreamed of going to college. "Back in those days it was either that or be a dairy farmer's wife!" she laughs.
Aspiring to teach high school math, Jeanne hoped to attend a small school with a good mathematics program. SUNY Potsdam was a perfect fit.
"When I was a senior in high school, we visited several colleges, and I immediately fell in love with and chose to go to SUNY Potsdam," Jeanne remembers. "I had been thinking about either being a music major or math major, and Potsdam had both. So, for me, it was any easy choice!"
After only three and a half years at SUNY Potsdam, Jeanne earned her bachelor's and master's degrees in mathematics, along with a minor in economics and a grade 7-12 teaching certificate. "One of my primary goals was to graduate as soon as possible, achieving as much as I could accomplish, and go out in the world to start my career."
Despite her initial plan to teach, Jeanne accepted a software engineering job after college, which propelled her into a distinguished career in software systems and national security. In 1994, she established her own firm, Kimmich Software Systems, Inc. Eighteen years later, she was named the Ernst & Young Entrepreneur of the Year in Defense and Security for her extraordinary success in innovation and personal commitment to her business community.
Jeanne recognizes that her success would not have been possible without her education at SUNY Potsdam. In 2013, she and her husband, Ray, endowed the Jeanne Kimmich Roberts Scholarship to support academically talented female students pursuing a degree in math or computer science at SUNY Potsdam.
"We wanted to help someone else go to SUNY Potsdam and major in the areas that I was involved in," Jeanne says. "It makes us happy to help students who might not be able to go to Potsdam without a scholarship."
Soon after establishing the scholarship, Jeanne sold her firm, which allowed her and Ray to continue adding to their scholarship endowment each year. By increasing the endowment, the Roberts can now offer a renewable, full-tuition scholarship to two students annually.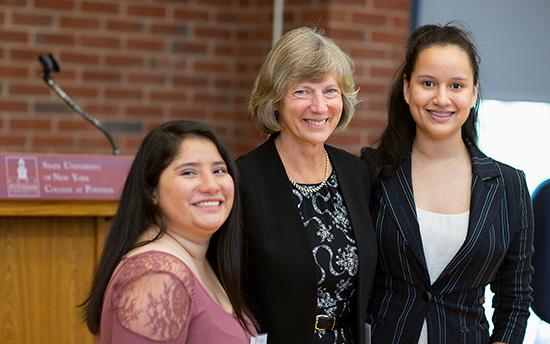 The Jeanne Kimmich Roberts Scholarship currently supports two driven double-majors: Megan Ponce '22 and Miryam Veliz Calderon '20. Jeanne and Ray had the opportunity to meet both recipients at the Legacy Luncheon this fall.
The annual Legacy Luncheon is a celebration of the donors who have established or supported an endowment at SUNY Potsdam or have made a deferred gift arrangement to support the College. Students have the chance to attend the luncheon to thank the donors who help make their education possible.
Miryam was thrilled to share her gratitude with Jeanne and Ray. "I have done a lot in the past two years at SUNY Potsdam, and that is thanks to them," she shares. "They made an impact in my life, and for that I will forever remember them."
As a featured speaker at the luncheon, Jeanne had the chance to share why establishing the Jeanne Kimmich Roberts Scholarship was so important to her.
"For my husband Ray and me, giving to SUNY Potsdam has always felt different from giving to, say, the Red Cross or other larger charities. It is much more personal and meaningful," she said. "We are honored to be back in Potsdam to celebrate these talented scholars as they begin their own journeys, and we wish them much success and happiness at SUNY Potsdam, in their future careers and in life."
To learn more about the impact of giving at SUNY Potsdam, visit: https://www.potsdam.edu/giving/donorimpact.
The Raymond Legacy Society celebrates those who have notified the Potsdam College Foundation that they have made an estate gift arrangement to support the College, as well as those who have established a permanent endowment with the Potsdam College Foundation. The Society also provides educational material on giving to assist alumni and friends in achieving their philanthropic goals. For more information, visit potsdam.edu/legacy.
Article by Alexis Donnelly '18 & Nancy Griffin (Hon. '08)