As a young hockey player, Travis Crickard '11 dreamed of one day becoming a head coach for in the Canadian Hockey League (CHL). Years later, after completing his undergraduate degree at SUNY Potsdam, a master's degree at the University of Ottawa, and working for numerous hockey organizations around Canada, he has reached his goal—landing a job as the head coach for the Saint John Sea Dogs, one of 60 junior hockey programs in the CHL that regularly funnels athletes directly into the NHL.
"I've been chasing this thought or idea of being a head coach at this level for a long time now. The opportunity that I'm afforded to do this and provide for my family in this role, is super special to me.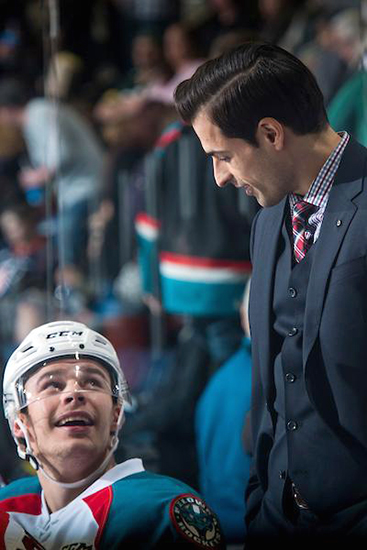 Hired as assistant coach for the Sea Dogs for the 2021 to 2022 season, he helped lead the team to a Memorial Cup championship, the top honor in the CHL (on par with the NHL's Stanley Cup for junior hockey). After the championship run, he was offered the head coaching position last year. "There have been really special opportunities to work with players, see them develop, and go on to be great players in the NHL," he said. "I've been fortunate in my short coaching career to have won quite a number of championships, or have been on coaching staffs that have won championships."
His path to success began years earlier as a teenager in the CHL. He graduated from high school at 18, and moved away from home to play junior hockey. While away, his mother also wanted him to take online college courses. He didn't like the idea, but with her insistence, he met with a guidance counselor at the university in his hometown. "The counselor asked me, 'What would you be interested in doing as a career after you graduate,' and I said, 'Well, do you have any classes that will teach me how to be a better coach because I think I'm going to become a coach one day.' And my mom kind of looked at me and laughed, and she's like, 'No Travis, be serious, what kind of job do you want to have.' And I was like, 'No, I want to be a coach,'" he recalled.
Temporarily steered away from the idea of coaching as a career, he looked to medicine as a possible alternative. He focused on playing junior hockey over the next three years, while also taking a few online classes, and then 2007, he wrapped up his junior hockey career and was looking for a university to pursue his undergraduate degree, while also continuing to play hockey. Recruited by former SUNY Potsdam men's hockey coach Aaron Saul, he made the trip to Potsdam for a campus visit that year. "I remember telling Aaron that I would follow up with him in a few days and let him know if I would come to Potsdam. As we started driving the car away, I told my buddy to turn around, and I told Aaron right there on the spot that I was coming to Potsdam, because I liked it so much during my visit. I just felt like there was a strong sense of community here," he said.
Crickard enrolled in the community health program (now public health) and started looking ahead to a career in medicine. He was immediately focused on his academics, never letting hockey or his personal life overshadow his hard work. "I was really enjoying the academic setting—learning about exercise physiology, nutrition and health. And then I started to become intrigued about the idea of going to medical school. I completely forgot about this coaching idea I had when I was 18, and I just had this total career flip," he said.
He enrolled in chemistry, biology, physics, and biochemistry courses to meet pre-medical requirements while he studied for the MCATs. He thrived at SUNY Potsdam, maintaining a 4.0 GPA in almost all his classes. Years later, still remembers the impact of his professors, like Kelly Bonnar in the Department of Public Health and Human Performance. "If I were to think about the word leader, Dr. Bonnar would probably embody that the most for me. She was very approachable. She always had her office door open. You could go chat with her anytime," he said.
Outside of the classroom, he formed lifelong friendships with his teammates on the hockey team, and then unlikely friendships with employees from PACES Dining Services. "There was Geraldine, Melanie and Bruce. I got along with them so well. I would always bring in my Tupperware and they would give me food to leave with. Melanie would make me sandwiches at the end of the day and wrap them up, and send me a message saying, 'I've got your sandwich for you, meet me out front.' That was a big part of my life at Potsdam," he said.
On the ice, there were some changes in leadership after his sophomore year, when Chris Bernard took over as the head coach of the Potsdam Bears men's hockey team. During the fall semester of his senior year, Crickard tore a ligament during training camp that would force him to miss four months of their upcoming season. He planned on redshirting, to put hockey on hold for a year and extend his eligibility to play the following year, but a conversation with Bernard sent him down a different path, bringing him full circle to his dreams of becoming a coach.
"He thought that I might have some abilities that would make me a good coach. I enjoyed leading teammates with workouts in the gym and leading teammates on the ice, and a lot of guys who play hockey end up coaching," he said.
During his final semester, he gained leadership skills while teaching a health class at Potsdam High School, as part of an internship for his major. And then in the evenings, he would drive to Canton, where he had his first opportunity to take the reins as a hockey coach, working with the goalies on SUNY Canton's hockey team.
 I loved SUNY Potsdam. It was fantastic. I still have many close friends from Potsdam."
In May 2011, he graduated summa cum laude and received the prestigious Chancellor's Award for Student Excellence,  one of the highest academic honors that a student can receive at SUNY school in the state. With his degree in hand, he moved back to Canada to pursue a graduate degree in sports psychology at the University of Ottawa. "I thought that would be a good segue into coaching. My thought was, 'I'll pursue a master's degree in sports psychology, try to do some coaching on the side to get my feet wet, and see if I actually want to do it,'" he said.
While working on his degree over the next two years, he landed a job as an assistant coach for the Ottawa Junior 67s, an under 18 AAA minor hockey team that develops players for the next level. When the head coach stepped down the next year, he applied for the job and got it. "We had a lot of success. Our team won our league, and we made it all the way to the national championship game. We also graduated every player into junior hockey, so that was special," he said.
After he completed his master's degree, he landed a job with the Ottawa 67s, one of the major junior hockey teams in the CHL. "I'm thinking, 'Ok, I've had some success as a minor hockey coach and I have a master's degree in sports psychology, I should be able to start making some full-time money. But that was not the case," he said.
 To financially support himself, he would work with the team from 7 a.m. to 4 p.m., would lead private hockey lessons three nights a week, and then after home games on the weekend, he had to work a second job late into the night. "I would basically race out of the rink at 10 p.m. and work at a bar until 3 a.m., just to make ends meet. They were paying me virtually nothing. I did that for an entire year just to try to see this coaching thing through," he said.
After one year, he approached his boss about increasing his salary, and although they offered him a small bump in pay, it was far from what he needed to financially support himself without moonlighting. He looked for other coaching positions in the CHL and found a job as an assistant coach for the Kelowna Rockets in the Western Hockey League, which offered him a salary that didn't require him to work multiple jobs on the side.
After five years with the team, he and his wife were expecting their first child, and with her trying to complete her law degree, he stepped away from coaching to support the family. "I worked from home for Hockey Canada with the men's national teams with the caveat that I would have to attend some international events from time to time. But we made it work with the help of our parents. That was more in the management side of hockey. It was a good job, but at the same time, the management side of hockey was not what I was interested in," he said.
After a year, he was able to set his sights on coaching again. During the pandemic, he had a chance to coach with the Canadian men's national under 18 team during the world championship in Texas, before fully transitioning back into a coaching career as an assistant coach for the Saint John Sea Dogs. One year later he took over as the head coach. "It's a big honor. I feel a real strong sense of gratitude to have this opportunity. Not many people get to do what I get to do for a living in general," he said.
Earlier this summer, Crickard attended the wedding of a good friend from SUNY Potsdam, one of his teammates from the hockey team. "I was a groomsman at Hunter Syrydiuk's wedding. There are quite a few of us who have kept in close contact throughout the years," he said. "In fact, there were about 15 of us at the wedding who played together at Potsdam. That was kind of cool. It was like a mini reunion. I loved SUNY Potsdam. It was fantastic. I still have many close friends from Potsdam."
Article by Jason Hunter