Higher Education Emergency Relief Funds Overview
The Federal Government established the Higher Education Emergency Relief Fund (HEERF) under the Coronavirus Aid, Relief, and Economic Stability Act (CARES) on March 27, 2020 a portion of which, Student Aid Funds, is to be used to provide emergency assistance to students. Supplemental funds were later authorized through the Coronavirus Response and Relief Supplemental Appropriations Act, 2021 (HEERF II)/ (CRRSAA) and the American Rescue Plan (HEERF III)/ (ARP) to continue support for institutions of higher education to serve students and ensure learning continues during the COVID-19 pandemic.
SUNY Potsdam has been allocated HEERF Student Aid Funds to provide emergency grants to students experiencing financial hardship specifically due to the COVID-19 pandemic for expenses related to any component of the student's cost of attendance and/or for emergency costs that arise due to coronavirus.
As a recipient of HEERF Student Aid Funds, SUNY Potsdam is required by the federal Education Department (ED) to report the following elements on a quarterly basis:
An acknowledgement that the certification agreement was signed and returned to the federal Education Department (ED) and the assurance that the institution has used, or intends to use, all of the Student Aid Funds to provide emergency grants to students.
The total amount of HEERF Funds that the institution will receive or has received.
The total amount of emergency grants distributed to students.
The estimated total number of students eligible to receive an emergency grant.
The total number of students who received an emergency grant.
The method the institution used to determine which students will receive emergency grants and how much funding they will receive.
Any instructions, directions, or guidance provided by the institution to students concerning the emergency grants.
These reporting elements are included within the sections below and as part of the Federal Disclosure Reporting Chart below. The chart is the combined quarterly reporting summary for the HEERF Student Aid Funds made available through CARES, CRRSAA, and the ARP satisfying the required reporting elements numbers 2, 3, and 5 listed above: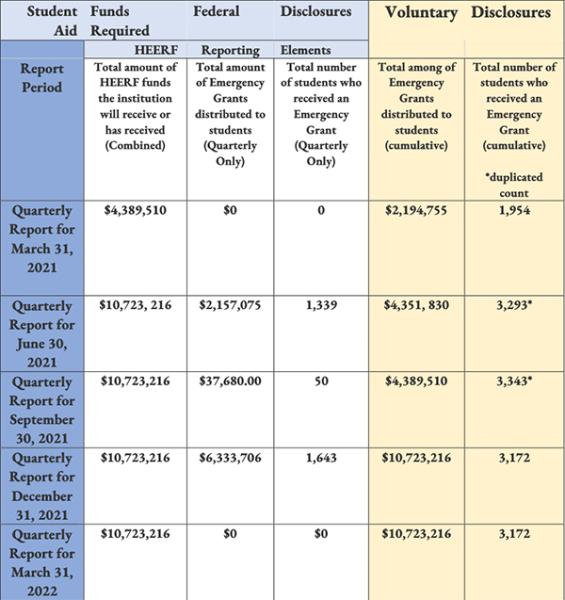 HEERF Institutional Funds
Below is the required quarterly reporting for HEERF Institutional Funds made available through CARES, CRRSAA, and the ARP:
The reports below are available in Adobe PDF format.
General  FAQs
Grants will be delivered via the normal college refund process for students, BankMobile. Students have two options with BankMobile: direct deposit into any checking account of their choice or direct deposit into a BankMobile account.  Please be sure to have your refund preferences set up with BankMobile. Students who have questions or need guidance regarding establishing a preference with BankMobile should email onestop@potsdam.edu and include their P#.
Allowable expenses are defined as expenses related to the disruption of campus operations due to coronavirus, including those under a student's cost of attendance such as food, housing, course materials, technology, health care and childcare.
Examples of expenses you may have incurred include (but are not limited to):
Cost of food due to the loss of your university meal plan

Cost of internet service due to courses moving online

Purchase of a laptop, printer, web camera or other supplies to complete coursework remotely
Examples of expenses that cannot be covered with HEERF Funds:
Loss of wages for the student and/or parent/spouse

Student Account Balance
No. Distribution of HEERF is made directly to students and not applied toward any outstanding balances that may still be owed by the student. As such, receipt of these funds does not indicate the recipient has satisfied their financial obligations to SUNY Potsdam for any debts incurred during the current term or any terms prior. Please check your current account balance to determine what you may still owe.
Yes. SUNY Potsdam is not authorized to apply HEERF toward any outstanding balances that may still be owed by a student. However, once the funds are received by the student, he/she may choose to use the funds to pay off his/her outstanding account balance.
No. Any funds a student receives from HEERF will not need to be repaid as they are considered a grant.
No. Money from HEERF is not considered financial assistance. As such, these funds will not impact your eligibility for regular financial aid (e.g., grants, scholarships, loans).