Step 1: Paying for College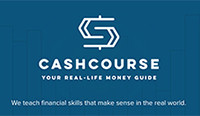 CashCourse
Learn More about CashCourse, your guide to making informed financial choices. You can register for a free account to access financial tools and start taking charge of your money.
Step 2: The FAFSA: Free Application for Federal Student Aid
All students, prospective freshman, transfers, continuing or graduate, need to complete the Free Application for Federal Student Aid (FAFSA) to be considered for federal grants, loans and work-study.

As you complete the FAFSA, be sure to...
File the FAFSA after October 1.
Use the student's correct Social Security number!
Complete all forms using your full given name on your Social Security Card.
Never leave spaces blank - even if the answer is "0".
Use/Create your FSA ID to log into your FAFSA. Your parent has to sign with his/her FSA ID too, if you are a dependent student.
File by the recommended deadline: March 1st for all students.
Save your FSA ID in a secure place for future use.
Step 3: Review Your Student Aid Report (SAR)
The Federal Government will provide you with access to your Student Aid Report via e-mail. Please review this FAFSA summary and make corrections to your FAFSA if necessary. If you filed the FAFSA using income estimates, be sure to update the FAFSA once your taxes are filed.
Step 4: NYS TAP: New York State Tuition Assistance Program
Undergraduate New York State (NYS) Residents attending NYS schools will have the option to link directly to the TAP application from the FAFSA submission confirmation page.
If you exited the FAFSA before selecting this option, you can complete the application after HESC received your FAFSA data (about a week). Select SUNY Potsdam (SUC Potsdam or school code 0945).
Step 5: Institutional Scholarship Information
For scholarship consideration, prospective students must submit a scholarship application and will be notified separately from the Financial Aid Award Letter. Continuing Students are reviewed for scholarship eligibility through the department of your major. Check with your department to see if an application is required. Continuing students looking to study abroad should visit the Office for International Education.
Step 6: Private Scholarships
Notify the Financial Aid Office if you will be receiving outside scholarships or grants from local, state, national, or corporate organizations. These awards may impact your financial aid eligibility.
Step 7: Respond quickly to all requests from the Financial Aid Office