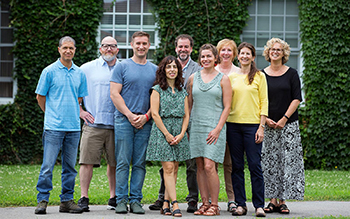 The SUNY Potsdam's National Endowment for the Humanities (NEH) Summer Seminar Program is for Faculty Development and is offered to SUNY Potsdam faculty and to the faculty members of the Associated Colleges of the St. Lawrence Valley (SUNY Canton, St. Lawrence University and Clarkson University). These seminars provide college instructors with opportunities to enrich their knowledge of the subjects that they teach and study by working with distinguished scholars, by studying with other instructors and scholars, and by undertaking individual projects of their own design. Each year, there are eight participants selected for each seminar and these participants are expected to take part fully in the work of the seminar and to complete all seminar projects. Please contact Dr. Geoffrey Clark, Director of NEH, for more information.
Summer 2023 NEH Application (DOC)
Any past participants who would like to use the stipend that they earned by taking part in a NEH Summer Seminar Program in the past may contact Laurie Peary at (315) 267-4910 or pearyll@potsdam.edu for information on your stipend balance and for assistance.