LEADERS IN AIR, SPACE, AND CYBERSPACE
The Air Force Reserve Officer Training Corps (AFROTC) program at SUNY Potsdam develops commissioned officers for both the United States Air Force (USAF) and United States Space Force (USSF) by providing cadets with essential leadership, mentorship, military knowledge, as well as time & stress management, organization, and interpersonal skills.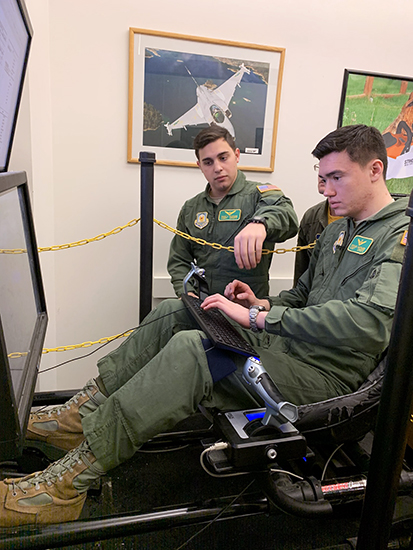 Air Force ROTC at SUNY Potsdam is an elective curriculum you take along with your required college classes.  You will have a normal college student experience like your fellow classmates with the same opportunities.  But by successfully completing all Air Force ROTC requirements and graduating with your bachelor's degree, you will be commissioned as an active duty officer in the Air or Space Force.
Air Force ROTC offers a wide variety of scholarships for college and college-bound students in all approved bachelor's and graduate degree programs.  If you are a high school student you should consider competing for the Air Force ROTC High School Scholarship Program (HSSP).  The window to apply opens in the summer before your senior year, and the Recruiting Officer can assist you.  For the latest and most accurate information, go to the Air Force ROTC website's scholarship page at www.afrotc.com/scholarships/ 
WHO WE'RE LOOKING FOR
Air Force ROTC Detachment 536 instructs and mentors all qualified full-time students from the four campuses of the Associated Colleges of the St. Lawrence Valley: SUNY Potsdam, Clarkson University, Saint Lawrence University, and SUNY Canton. 
YOUR COMMITMENT
Cadets do not have to immediately commit to a service obligation; the cadet becomes obligated at the start of a cadet's junior year or when their scholarship is activated.  Because Air Force ROTC is an elective, you can try out the program during your freshman and sophomore years without any obligation to join the Air or Space Force.
Air Force ROTC cadets who receive an Air Force ROTC scholarship or enter the Professional Officer Course (POC) in their junior year must agree to complete a period of service with the Air or Space Force.  The period of service varies depending on your selected Air or Space Force career field.
To learn more or take the first step...
There are many different options and ways to participate, so your first step should be to contact the Recruiting Officer at Detachment 536 at 315-268-7989 or det536af@clarkson.edu and inform the cadre of your interest in enrolling in Air Force ROTC at SUNY Potsdam!
In the meantime, you can also check out our social media pages:
Air Force ROTC cadets, and future pilots, manning the virtual flight simulator while an Air Force pilot instructor guides them via telecommunication.
The Cadet Wing performing accountability at Seven Springs.
Air Force ROTC cadets during a tactical maneuver at Seven Springs.
Air Force ROTC cadets conducting a boxing physical fitness session at Maxcy Hall (note: photo taken pre-COVID).
 Air Force ROTC cadets conducting their planning phase before a mission.
Air Force ROTC cadets learning the basics of being in a flight formation.
 Air Force ROTC cadets maintaining 360-degree security for their flight at Seven Springs.