Are you LoKo
for the arts?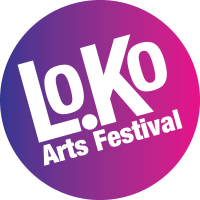 Thanks to the spirit and generosity of the festival's benefactors Kathy (Kofoed) Lougheed '54 and her husband Don Lougheed (Hon. '54), SUNY Potsdam celebrates the campus culture of creativity and reinforces how important the arts are to learning environments for every discipline as well as a lifetime of creativity for anyone who is crazy for the arts.
The LoKo Arts Festival was founded in 2012, with the purpose of infusing energy and opportunity into the visual and performing arts of the SUNY Potsdam campus and community. The LoKo Festival's vigorous programs ensure the growth and continued position of Potsdam as SUNY's premiere arts campus by inviting artists, students and community members to engage in creative ways while stimulating a vibrant cultural landscape on our campus.
What is LoKo?
The Festival encompasses all forms of artistic expression, including interdisciplinary artistic events and activities. The Festival connects exploratory artists with students and adventurous audiences. For five days the campus and community experience a diversity of both traditional and contemporary visual, written, musical, dance and theatrical performances.
Why LoKo?
At Potsdam we are not "loco" for the arts, we are LoKo for the arts. Being LoKo for the arts means, like Kathy and Don Lougheed, we embrace the diversity of the human experience, challenge individuals to look at life from a variety of perspectives and embody the creative spirit that informs a rich and innovative life.
The LoKo Arts Festival advances Potsdam's status as the leading arts campus in the SUNY and beyond while embracing the full breadth of its arts programs including: arts practice, arts education, and arts management.