2022
LoKo

Arts Festival
April 22 – May 1, 2022
Help us celebrate the 10th Anniversary of the LoKo Arts Festival LIVE and IN-PERSON for the biggest, boldest year yet!
The 2022 LoKo Arts Festival will feature a myriad of free events highlighting the beauty and complexity of the visual, language and performing arts. To check out all the incredible events happening for the 10-day Festival, visit the LoKo Get Involved webpage or view our complete LoKo 2022 Program & Schedule (PDF). We encourage you to come out and enjoy the arts in Potsdam!
Note: The Festival of Lights, originally scheduled for Wednesday, April 27, will now take place on Thursday, April 28 at dusk.
Go BIG. Go BOLD. Go LoKo.

The LoKo Arts Festival is made possible by the generosity and artistic vision of Kathryn (Kofoed) '54 and Donald Lougheed (Hon.'54).
Celebrate the Lead-Up to LoKo!
Mota: Mini Symposium on Black Opera
Mota: April 1, 2022 
7:30 p.m.
Snell Theatre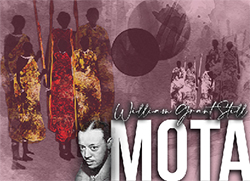 With the increased interest in opera as a means of cultural expression and change, we present a symposium of Black Opera in America, with a leading scholar in the field, Dr. Lucy Caplan. In addition to the symposium, we will screen the world premiere of a filmed workshop performance of William Grant Still's opera set in pre-colonial Zululand entitled Mota, which was filmed earlier in the semester. William Grant Still (1939-1978) was one of the first leading Black composers and conductors in the United States. He composed eight operas of which we will present a workshop premier of Mota, with alum, faculty and students. Dr. William Lake will conduct and narrate the love story and tragedy of Mota and his love Monase.
Please check back for details!