A native of Canton, N.Y., with five generations of family history rooted in the North Country, Meghan Conklin '21 wanted to stay close to home after graduating from high school—and SUNY Potsdam proved to be just the right fit.
"As a life-long member of the community, I knew all about our local college options. SUNY Potsdam has a reputation of academic excellence and acceptance," Conklin said. "The college has a wide variety of programs and provides students with a hands-on learning experience. I chose SUNY Potsdam because of the inclusive environment and academic reputation."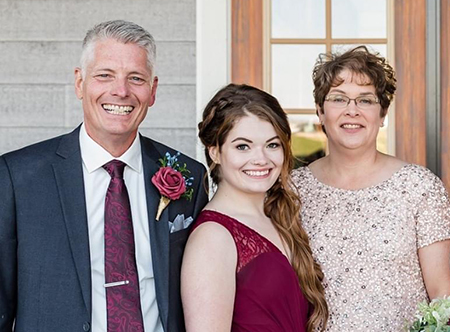 The field of healthcare has always piqued her interest, a passion she absorbed from her parents who are both nurses. "My father is a professor at SUNY Canton in the nursing program, I was introduced to health education when I would go sit in his classes and visit the nursing lab," Conklin said. "I knew nursing was not for me, but I wanted to work with people and encourage a healthy lifestyle."
Initially, she thought about pursuing a career as a high school teacher, but during her first year at SUNY Potsdam she discovered the community health program, which dovetailed with both of her interests perfectly, health and education. "Women's Health," "Issues in Sexual Health," and "Preventing Violence Against Women" top her list of favorite classes within the Department of Public Health & Human Performance.
"We are instructed on how to work with diverse populations and protect and preserve the health of individuals and their communities," she said. "Every professor in the department goes out of their way to show interest and investment in students. I especially enjoyed courses taught by Dr. Sabena Thomas and Dr. Kelly Bonnar. They encourage open discussion in the classroom and have rich research histories that they use to supplement course material."
"When reflecting on my time at SUNY Potsdam, I have nothing but positive experiences to think of. The campus is beautiful, and the overall environment is great. Students have access to quality facilities such as Maxcy Hall, Lougheed Learning Commons, and PACES Dining Services. The student to professor ratio allows for small class sizes and the promotion of a close-knit community."

-Conklin
Combining her community health major with a minor in sexual health, Conklin is now gaining real-world experience during two internships this semester. Returning to her own high school in Canton, Conklin is working as a student teacher in the health classroom, where she is leaning on her skills from SUNY Potsdam to teach sex education. "I design my own lessons and teach those lessons in-person, or virtually, to high school students," she said. "One lesson I was excited about in particular was on gender and sexual orientation. As a native of Canton, I know that this is a topic not commonly discussed in our rural community. However, I also know that this is a formative time in students' lives. This one lesson could be the first time a struggling student is putting a name to what they have been feeling. I want to encourage open-discussion and show them that there is a world outside of high school."
She also lined up another internship with Teen World Confidential. Founded by Kim Cook, a health and sex educator, the online community focuses on assisting parents and adults as they delve into conversations with their teens about sexuality. At the beginning of her internship, Conklin was wondering if Teen World Confidential could also target youth. Previously aimed just at parents, the website now has content specifically for teens, written by Conklin. "I write blogs targeted towards youth and create social media. I hope to be a bridge between a child and their parents, and create a sense of acceptance and understanding through my writing," she said. With topics ranging from "Talking to Your Parents About Sex," to "Dating APPS and COVID-19," Conklin's blogs provide a youthful, fresh perspective that intertwines her own personal experiences, with advice to teens.
"These internships have helped to supplement the knowledge that I gained in the classroom. I think that internships provide students with real-world training and experience. You have the opportunity to network within your career field," she said. "At my internship sites, I can make connections to other organizations and other public health professionals. The internships are great experiences that I can put on my resume as a way to distinguish myself from other potential job candidates."
Her extensive work outside of the classroom continues this spring as a youth ambassador for International Adolescent Health Week (IAHW), which runs from March 21 to 26, 2021. IAHW started in Pennsylvania in 2016, and has expanded across five continents with youth ambassadors from 16 different countries. At the heart of their mission, IAHW is aimed at improving the health of adolescents, and seeks to galvanize communities from around the world to support teens as they transition to adulthood. As one of only two youth ambassadors in the U.S., Conklin is an advisor, sharing her ideas for promotional materials, and she has been working to generate a groundswell of support for the week-long celebration.
As she wraps up her degree and looks to the future, she plans to stay in the North Country and find a job in the field of healthcare, and in the near future pursue her Master's in Public Health. "I would ideally like to work with women, children, and minority populations as a sexual health educator. It sounds cliché, but no matter what I end up doing, I want to feel as though I'm making a difference with my work," Conklin said. "The community health program instilled a new level of confidence within me. I feel certain that I have been supplied with the education and skills used to instruct diverse populations on how to protect and preserve their own well-being."
Article and Photos by Jason Hunter