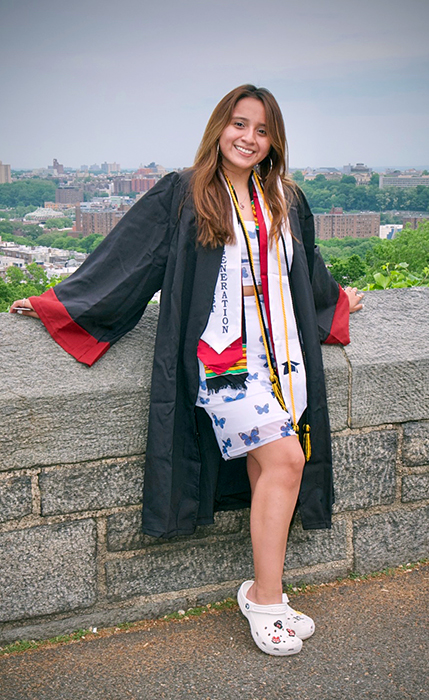 A community health major with graduate school on the horizon, Monica Montero '21 just wrapped up her senior year with an internship like no other—working for the American Red Cross to assist asylum seekers in Texas.
After completing the necessary online trainings and certifications this spring, Montero was deployed to Midland, Texas, to support undocumented teenage boys seeking refuge in the United States.
"One of the saddest things was hearing stories from the boys explaining how they crossed the border—crossing the river, desert or just walking for hours—with no food or water," Montero recalled. "They explained how they had to survive, and how they left their parents behind to have a better future."
Montero spent two weeks in Texas, working 12-hour days to support the teens, who ranged from 13 to 17 years old. She teamed up with other ARC volunteers to provide them with three meals a day, and ensure their safety at the Cotton Logistics Man Camp in Midland—which served as a temporary housing facility for teenagers who had just crossed the border illegally.
"The deployment was very impactful. It made me view things from a different perspective, especially for someone like me, raised by immigrant parents," she said.
Montero was born and raised in Queens after her parents immigrated to the U.S. from Ecuador, so the experience resonated with her on a personal level. "I knew it was going to be hard, and I knew I was going to be sad and emotional, but I learned a lot from these children," she said.
While in Texas, she also made a connection with Spanish speaking volunteers at the American Red Cross, teaming up with them to launch a Spanish version of the ARC's Sound Alarm initiative.  "It's a campaign where you call friends, relatives, or community members, and you tell them about fire alarm safety and having a game plan. It was more of an English-based program, until I met a couple of volunteers down in Texas and we decided to do a Spanish version of it," Montero said.
When she returned home, she helped implement the program, calling her relatives to discuss the importance of having a fire alarm, and setting up a fire escape plan. "We did reach a lot of people. Our goal was to start small because it was a new campaign, a Spanish version, something that the American Red Cross didn't have before. It was pretty interesting," she said.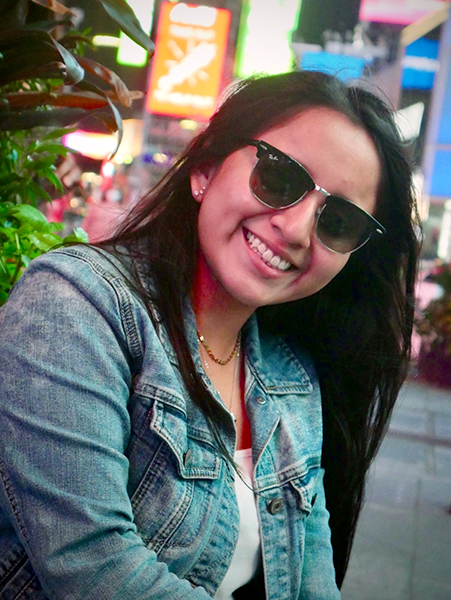 The ARC internship provided Montero with real world experiences in line with her future career path—the perfect way to round out her final semester at SUNY Potsdam after four years of hard work in the Department of Public Health and Human Performance. Whether it was learning about community health theories with Dr. Christopher Torres, women's health issues with Dr. Sabena Thomas, or the importance of community engagement with Dr. Janelle Jacobson, Montero will be leaning on the guidance of her SUNY Potsdam professors as she transitions out of college.
"My favorite aspect of the community health program has to be working with my classmates or professors to promote healthy living and reduce the health gaps caused by income, education, race, location and ethnicity," she said. "My time at SUNY Potsdam has to be one of the best things I have experienced! I have met so many people that have positively impacted my college career and personal life."
In May, Montero, a first-generation college student, graduated with a 3.7 GPA with her double degree in community health and psychology. This summer she is working at a medical center in New York City as an administrative assistant, overseeing billing and insurance for patients seeking chiropractic services, physical therapy and acupuncture. In the fall, she will be pursuing a graduate degree in health administration at George Washington University. "I hope to one day work in a children's hospital or be the CEO of a hospital," she said. "I also plan to open a substance abuse treatment center for low-income families."
Article by Jason Hunter