Standing in front of a classroom full of elementary school students in New York City, Isata Tarawally '19, a community health major at SUNY Potsdam, discusses what to do when facing a natural disaster. A hand goes up in the back of the class and a young boy asks her what to do if a hurricane strikes. Some of the children think they should seek shelter in a basement, but she quickly corrects them, telling them to avoid lower levels because of flooding and to be aware of nearby facilities, such as hospitals.
"It's all about preparedness," Tarawally said. "We teach them to always have an emergency kit. Since kids always have a book bag, we tell them, 'you can use that to store a whistle, a water bottle, a first aid kit, something that can help you if a disaster happens.'"
As part of her internship for the American Red Cross this semester, Tarawally traveled all over New York City educating children about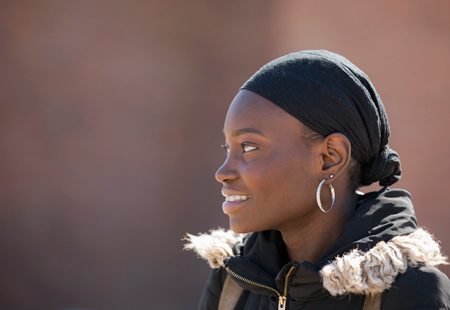 disaster preparedness as part of the Pillowcase Project, which ran from Jan. 4 to Feb. 22. "We don't spend a lot of time in the office. We go out to Staten Island, the Bronx, Brooklyn and Queens and make presentations to kids about safety," she said.
Her success during the internship opened the door for an Americorps program that will begin right after commencement in May. The program will allow her to continue working for the American Red Cross and pick up right where she left off—continuing to educate students about disaster preparedness through the Pillowcase Project.
As a senior community health major, Tarawally and other SUNY Potsdam students are tasked with completing two hands-on internships during their final semester. After working with the American Red Cross to start the year, Tarawally is now back in Potsdam for her second internship with the Seaway Valley Prevention Council and their tobacco-free campus initiative.
She has been working on the initiative on campus with Chelsea Bartlett, an adjunct instructor in the Department of Public Health and Human Performance. Tarawally has been talking with SUNY Potsdam students about tobacco use, tabling in the student union and helping to oversee Kick Butts Day. "The main goal is to make the campus smoke-free. This internship has given me the opportunity to talk to people to encourage them to stop smoking. It's about having a conversation, seeing what works best for them and then figuring out a plan for them to stop smoking so they can have better health," she said.
"I really like the community health major because it's a small group, so you kind of know the people in your classes. I have been taking classes with them since my freshman or sophomore year, so we're like a family! I just feel comfortable being in the classroom. Whenever we have debates or presentations, people talk about different health problems and experiences, so I get to learn more about myself as well as what's happening in different places. In most of my classes we have students from all over the world, which is really great!"
Tarawally grew up in Sierra Leone and moved to the U.S. in 2012. She already spoke English but was faced with the challenge of acclimating to a completely different culture. She enrolled at Ellis Preparatory Academy in the Bronx; a school specifically catered to international students. As she started looking for colleges to attend, her counselor at the school recommended SUNY Potsdam. "Go to Potsdam, it's a great school. It's just like Ellis, it's a small school and people are so nice there. But it's far," Tarawally recalls him saying.
She liked the idea of moving far away from the city and she applied to SUNY Potsdam. With the help of the Educational Opportunity Program (EOP) and the Collegiate Science and Technology Entry Program (CSTEP) she also received vital financial and academic support. "Every semester EOP pays for your books. If you need any help, they have counseling and advising. CSTEP helps you to find and pay for internships. They are both great programs and they give you great opportunities. Last summer when I stayed up here, they paid for my room and they paid for one of my classes. EOP provided the same support my freshman year," Tarawally said.
"I like Potsdam because it's a small community and you get a lot of help from people, especially the professors. Everyone is so nice up here!"
The community health program has been a perfect fit for Tarawally. She was able to tackle a research topic for her program planning course that really resonated with her on a personal level. Growing up in Sierra Leone she witnessed her friends and family suffering through a practice called female genital mutilation (FMG)—a procedure that is a cultural norm for women and girls in Africa as a whole. Even if parents don't want their daughters to undergo the procedure, an aunt or uncle sometimes intervenes. "They will come to the house and take the kids to the secret society bush and perform the ceremony. Sometimes a girl can be at school and an auntie will pick her up and take her straight to the bush," Tarawally explained.
According to the World Health Organization over 200 million women and girls have had the procedure in more than 30 countries in Africa, Asia and the Middle East—a practice that mostly affects girls under the age of 15. Tarawally said that in Sierra Leone girls will spend one to two months in the African bush learning how to take care of their future husbands and children, as well as undergoing the FMG procedure. "It's really painful because there's not anesthesia. There's no medicine, they don't check blood pressure, medical history, or if the person has any diseases," Tarawally said. "And the worst thing about it that they share the same needles, threads, scissors for all the kids. So, if one person has a disease it's going around to everybody."
The cultural perspectives surrounding women's roles in Africa have perpetuated the longstanding tradition of FGM. Tarawally said that people in Sierra Leone view "the role of women to be at home and take care of their family. If you do FGM to a woman, there's no reason why she's going to go outside of her marriage or that she would cheat on her man because even if she does, she's not going to have any pleasure from it," she explained.
After going through the procedure, there's a big celebration to honor the girls and women. They are given clothing, gifts and showered with praise. "If any man wants to marry a woman, that's the day that he makes his intention known," she said. "It's kind of like a sorority. The girls who go through FGM always stick together, because they feel like they're better than the girls that didn't go through this," Tarawally said.
The practice is so entrenched in Sierra Leone's culture that Tarawally believes the best method to affect positive change is by making the procedure as safe as possible. "At some point, I want to go back to Sierra Leone and open a safe house where I can teach women and kids about using safe tools and educate them about STDs and about their health. That's really one of my goals," she said. "I feel like I've learned a lot being here, so I want to go back and educate people. I believe that educating people is powerful and a lot people will change."
For more information about the Department of Public Health and Human Performance, visit: www.potsdam.edu/academics/SOEPS/department-public-health-and-human-performance.
Article and photos by Jason Hunter