Creating Digital Community 
Since the global pandemic shifted our ways of interacting with one another, Jamey Merkel '18 '20, a community health graduate student, has been instrumental in the success of two new online communities established in the aftermath of the COVID-19 crisis.
Merkel is the moderator for the St. Lawrence County Help and Info Facebook group and the COVID 19 North Country Neighbors Helping Neighbors Facebook group. The SUNY Potsdam graduate student has been sharing relevant news, fact-checking submitted content, and making connections between people in need and people who can help—all while finishing their final semester at SUNY Potsdam and dealing with their own personal tragedy.
Q&A with Merkel:
How have you been dealing with the COVID-19 pandemic? Can you share some positives and negatives as it pertains to your life?
"The COVID-19 pandemic has taken quite a toll on me if I'm being honest. Last week my grandfather passed away very soon after beginning to show COVID-19 symptoms, and it's been strange not being able to be with family physically at this time. I also sometimes find myself getting too wrapped up in the news cycle and spending way too much time out of my day consuming news from various types of media. I have to remind myself that I don't need to know everything, and that's it's okay to prioritize my own mental health and well-being during this crisis. On the positive side, going along with mutual aid practices, I am learning about what it's like to try and build a neighborhood pod. I currently have a very small pod going on my own street. The idea behind a neighborhood pod is to already have some sort of infrastructure in place for neighbors to know one another, and rely on each other, should they need to during the pandemic. For example, if a neighbor falls ill and needs someone to pick up groceries on their behalf, they could reach out to that network of neighbors for help. Throughout this process, I have gotten to know several of my neighbors, which has been really nice. I've found it quite easy to make new connections with others during this crisis, because we're all in the same mindset of wanting to make sure those in our community are safe. I didn't know Alicia at all before we started working on the STLC COVID-19 Help and Info group together, and that connection has definitely been a positive for me during the pandemic."
Can you talk about your involvement in the STLC COVID-19 Help and Info Facebook group? How did that begin?
"Before I got involved with the STLC COVID-19 Help and Info group (and before it was created), I became a moderator for the COVID 19 North Country Neighbors Helping Neighbors Facebook group. My friend, John Gordon from Plattsburgh, created the group on March 14th. It very quickly grew, and within a week had over 8,000 members. It now has over 13,000 members. 
Joining the mod team for that group allowed me to very quickly learn about the practice of mutual aid, and what that looks like in the North Country. Mutual aid places emphasis on solidarity rather than charity. Alexandria Ocasio-Cortez offers a great definition in her Mutual Aid 101 Toolkit: 'It means we recognize that our well-being, health and dignity are all bound up in each other. It means that we understand our survival depends on cooperation, not competition. In this particular moment, we see that our health is also dependent on other people's health, and we can literally save each other's lives. Rather than disengage and feel powerless, mutual aid allows us to plug in where we can make the most impact — locally.' Learning about and becoming involved in mutual aid practices has definitely allowed me to make a positive impact in my community during this crisis. 
Just a few days after being involved in the larger Neighbors Helping Neighbors group, smaller, county-specific groups started to pop up, one of them being the St. Lawrence County group. The creator of the group, Alicia Tallion, reached out to John for assistance with the group, and John connected Alicia and I. The STLC COVID-19 Help and Info group was created on March 17th, and has over 2,000 members now."
 

What is your role as an administrator for that group?
"As an administrator for the STLC COVID-19 Help and Info group, my role is to approve/decline posts to the group, monitor comments, share reliable information and resources, and connect folks who are in need to folks who can fulfill that need. In this role, I've definitely become more savvy with fact-checking news and information that folks want to share with the group, and can now more easily identify what is and is not a credible source of news or information."
 

Can you discuss some benefits of the group and provide a couple examples?
"I think some of the biggest benefits of the group has been that folks are able to get needs met. I've seen that happening most often in regards to people or organizations requesting masks, people requesting information, and people asking for donations of necessary items such as diapers. It's been amazing to see how fast those in our community are willing to either provide requested items to those in need, or connect them with the local resources that can provide those needed items."
Can you discussion your time at SUNY Potsdam and the program you're in?
"I'm in the community health master's program in the Department of Public Health and Human Performance at SUNY Potsdam. I've really enjoyed my time in the program. All four semesters, my class sizes were really small so my classmates and I got a lot of individualized attention which I especially liked. Right now, I'm working on the second half of my professional project, which is a component of the master's program. My project is focused on real and perceived barriers to hospice care for rural LGBTQ adults and the study will be used to write a report to our local Hospice of St. Lawrence Valley with recommendations on how to improve their services for this population. Through the program, I also had a great opportunity do an internship with an alum and donor at free clinic in South Carolina, doing evaluation tool development for a poverty simulation event. I got to stay down there for about three weeks over winter break and learn about how the free clinic works. I'm incredibly grateful to my program for allowing me that opportunity."
What are your plans after graduation?
"Hopefully I will be in a public health job after graduation! I'm currently in the process for applying for jobs, but the unemployment rates right now are really worrying. Once this pandemic is all over though, hopefully at least one thing will be clear: which is that public health jobs have value and are desperately needed."
Can you talk about your involvement with the Poor People's Campaign?
"Something that is important to me, on both a personal and professional level, is organizing with the Poor People's Campaign. I became involved in our North Country Poor People's Campaign just about a year ago, last May, and am so glad I did. The Poor People's Campaign: A National Call for Moral Revival is the continuation of Rev. Dr. Martin Luther King Jr.'s original Poor People's Campaign, where he identified three interlocking pillars of systemic racism, militarism (or the war economy), and extreme materialism (poverty and capitalism) that were disproportionately hurting communities of color and poor communities. The crises King identified fifty years ago are worse today.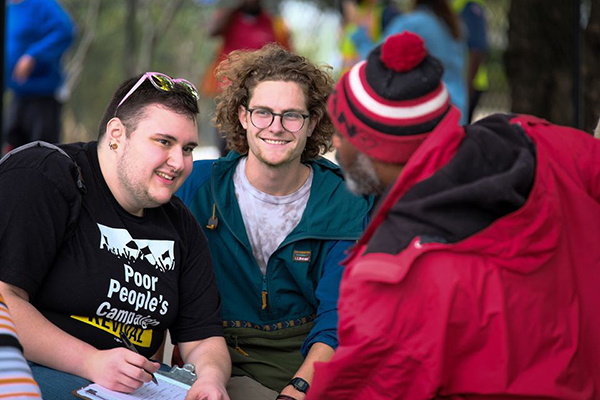 The Poor People's Campaign: A National Call for Moral Revival confronts the issues of poverty, systemic racism, militarism and the war economy, and ecological devastation. Our strategy is to build unity among the poor and working class across lines of division through political education, fusion organizing, leadership development, and taking action together.
One of the main strategies of the Poor People's Campaign is shifting the narrative by shifting the narrator. We aim to shift the narrative on who we see as poor in our country, as there are 140 million poor and low-wealth people, pre-pandemic, in America. Many of us are just one missed paycheck or one $400 emergency away from being visibly poor, and we need to talk about it. We shift the narrator by being based in the leadership of the poor and those most directly impacted. For example, at our events, we have folks who have been directly impacted by systemic racism, poverty, militarism, and ecological devastation share their stories to change our country's narrative on how these issues are affecting our communities and who is considered poor.
Fusion organizing is to intentionally organize across lines of historic division and to shift from the dominant definition of allyship to accompliceship and standing in solidarity and recognizing how these oppressions impact us. (For example, white supremacy is the enemy of all poor people. White poor people suffer differently and are not targeted in the same way, but the system of white supremacy impacts all poor people negatively.)
Right now, I am on the Leadership Committee for the North Country Poor People's Campaign, and serve on the Coordinating Committee and Communications Team for the NYS PPC. I have immensely enjoyed my time working with the PPC so far and think it is the perfect combination of my undergraduate and graduate studies. Women's and gender studies gave provided me with the frameworks and tools to think about issues of oppression critically and understand how all oppression is connected. That was able to translate seamlessly into my community health master's degree, where I can think about these different oppressions as social determinants of health. When I am organizing around issues of homelessness, racism, and poverty, I am doing public health work. You can learn more at https://www.nysppc.org/ and https://www.poorpeoplescampaign.org/! Our North Country meetings are on the third Tuesday of each month, and will be via Zoom for the foreseeable future."
Interview and photos by Jason Hunter