Scott Arno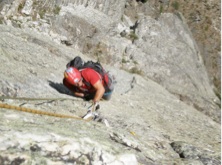 I graduated SUNY Potsdam in May 2010 with a BS in Biology and minors in Wilderness Education and Writing. Currently, I am attending graduate school at Clarkson University in Potsdam to become a Physician Assistant with a focus in emergency medicine. When I?m not working I do what I love, and that is rock climbing, ice climbing, skiing, or mountain biking depending on the season. My greatest outdoor achievement includes a 3-month road trip across the US to climb Rainier the Grand Teton and many other mountains with many wonderful people. I feel comfortable saying that many of the skills I learned in the Wilderness Education program helped me both personally and professionally. Soft skills such as decision-making or understanding group dynamics to hard skills such as how to rig an anchor system on the side of cliff are used almost
every day of my life.

Ryan Brink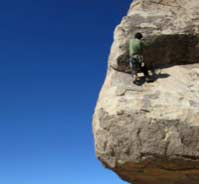 I graduated from Potsdam in 2011 with a Geology Major and a Wilderness Education Minor. Since graduating I have worked for Potsdam leading backpacking trips, was an apprentice on a backpacking leadership trip in Alaska, worked for YMCA camp Gorham as the off-site trip leader, and am currently working for the Southwest Conservation Corps in Colorado leading a Sustainable Forestry Crew. This summer I will run a Leadership Development program for the Southwest Conservation Corps doing trail work and educating future leaders. In the fall of 2012, I will be attending Graduate School at the University of Vermont studying Geology. Along with all of this I have been pushing myself as a rock climber and have had the opportunity to climb throughout the Southwest progressing everyday. I have also enjoyed exploring the deserts by foot and get out backpacking when I can. SUNY Potsdam gave me the foundation I needed to get out and shape my own future.

Becky Carmen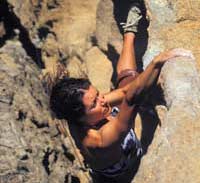 I graduated in 99 with a B.A. in Community Health and a minor in Wilderness Education. I moved to Lake Placid for my last semester to do my Community Health Internship and climb. I chose to do my internship with Don Mellor "the Dean of Adirondack Climbing". Don wrote the previous edition of the Guidebook; Climbing in Adirondacks and is a local climbing legend. After a few years of living and breathing climbing I soon got a job guiding at Adirondack Rock and River Guide Service.
From from 2001-2007 I was one of two women working there. I stopped guiding after I became pregnant with my first child. While there I did all types of guiding; individuals, groups, women's clinics. I also worked as an adjunct professor teaching climbing classes at North Country Community College. I've climbed in Canada, Israel, Corsica and all over the U.S. My favorites being Indian Creek Utah and the Spiders Web in the Adirondacks. In 2002 I was in an I Love NY commercial with George Pataki. I was filmed ice climbing to promote winter tourism in the Adirondacks. I currently use my New York State Guide License (in rock climbing, ice climbing, hiking and camping) as a stay at home mom in Saratoga Springs N.Y. By far my absolute favorite activity is taking my 7 and 5 year olds climbing. I loved my experience at Potsdam and feel so fortunate to have been accepted in into the program. Thank you to Mark Simon, Kathy O'Rourke and all my Potsdam mentors.
Tony Gianfagna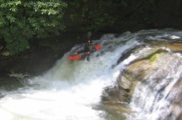 For me, being a part of the Wilderness Ed program was more than an exciting way to get through college, it was a life changing experience. I firmly believe I would not be in the field(s) of work that I enjoy so much had I not gone through the rigors of the program. I learned what it meant to be a part of something bigger, a community of educators that shared the same passion. I had no idea the impact this program would have on me as a person and professional. I graduated from Potsdam State in 2010 with an MST in Special Education. I currently teach 7th grade Special Education to a diverse group of students. During the summer months, I spend the majority of my time guiding rafts down the Black River where I take people through class IV-V rapids on a daily basis. Since graduating, I?ve been fortunate enough to explore all of the ADK?s 46 highest peaks with confidence and precision. I?ve also navigated dozens of new rivers in some of the most beautiful places in the North East. The Wilderness Ed program at SUNY Potsdam provided me with more than just skills; it gave me confidence in the field. More importantly, I take into account group dynamics, risk management, and the decision making process each and every day that I work on or off the river.

Heather Hill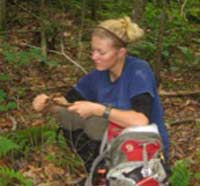 I deeply appreciate what I?ve learned from the SUNY Potsdam Wilderness Education program physically, mentally and spiritually. I literally would not be where I am right now if I didn?t take a rock climbing class back in 2006. The courses were truly inspiring to be and changed my perspective on what I wanted to do with my life. The connections I?ve made with both staff and students are importance pieces of my life now, and continue to inspire me to continue on the path I?ve chosen. I never thought that I would be creating a living for myself living and sleeping outside, and now I cannot picture my life any other way.

From 2007-2011 I worked at two different programs Kids Adventure Club (KAC) and Adirondack Leadership Expeditions (ALE). At ALE I became a Master Level 10 Field Instructor with over 615 consecutive field days focusing on primitive survival skills, back country travel, Leave no trace (LNT), and therapeutic objectives for our students. Now I am a graduate student of SUNY Cortland for Outdoor and Environmental Education. I am starting my Master?s Project focusing on the creation of interpretive LNT signs for monument areas in National Parks.

Ben LaValley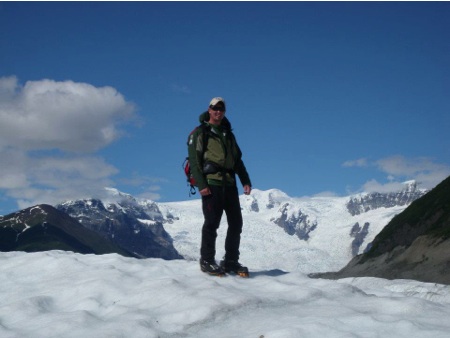 I graduated from SUNY Potsdam with a degree in Sociology and a minor in Wilderness Education. Not only has the Wilderness Education program provided me with a skill set to lead a multitude of outdoor activities, but it has unearthed an undeniable focus that has led me all over the Western Hemisphere in search of adventure and discovery. I can comfortably say that my experience as part of this program is the sole reason for my success as an outdoor leader today. It is safe to say that I am living the dream, and I owe it all to the hard working and extremely dedicated members of SUNY Potsdam?s Wilderness Education Program. I am currently working in Alaska as mountain guide for St. Elias Alpine Guides, leading Ice climbing, backpacking, and mountaineering trips. Before graduating, I spent a summer leading trips in the Adirondacks, and the high sierras of Northern California. I have climbed and adventured in the Wrangell, Chugach, Alaska and St. Elias mountain ranges of Alaska; Northern Andes of Equador; Southern Andes of Argentina; Northern Cascades of Washington State; Southern Cascades of California; Northern and Southern Sierras of California; Rocky mountains of Colorado; Boundary Waters of Minnesota, White mountains of New Hampshire and of course, the Adirondack mountains of New York.

Matt Strickland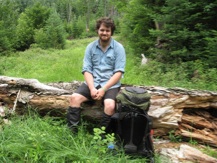 I graduated in December of 2010. I am employed at Fountain Square Outfitters in Glens Falls, NY and I also work as a Guide in the Adirondacks. I spend most of my winter skiing and snowshoeing and enjoy a good paddle or bike ride in the summer. Since I left Potsdam I have worked as a ropes course facilitator, a naturalist, an educator, and as a trip leader with several different organizations. I owe many of these opportunities to the skill sets and experiences I acquired in the Wilderness Education program at SUNY Potsdam.

Mike Yuhnke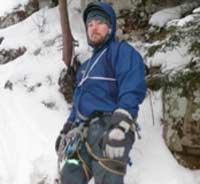 I graduated from SUNY Potsdam with a B.A in Sociology and a minor in Wilderness Education. The Wilderness education program prepared me with the knowledge and skills to be a proficient backcountry leader for activities such as rock and ice climbing, and backpacking. The program also helped me discover my passion for working in the field of wilderness therapy. I have spent two summers leading trips in the Adirondacks of northern New York, and two summers in the Sierras of Northern California. I look forward to using the skills and knowledge I have acquired during my time at Potsdam to launch me into a career of guiding and working with special populations.