Fourteen Sicilian children had the chance to work on their English language skills this summer with SUNY Potsdam alumna Ivy Huber '19—and they didn't have to leave home to do it.
After graduating with a double major in middle/secondary English education and literature/writing, Huber boarded a plane for Italy this summer, where she spent six weeks teaching English to children at Altra Lingua, a private school in Sciacca, Sicily. "It was a small town and there was a lot of local color and really fun characters. I was looking to be challenged as a person, as well as a teacher. It was just incredible," Huber said.
She capped off her teaching experience as a camp counselor at a language camp in northern Italy. "I was in Sant'Agata Feltria, which was an even smaller town way up in the mountains. It looked like it was straight out of the fairy tale. They actually had their own castle," Huber said.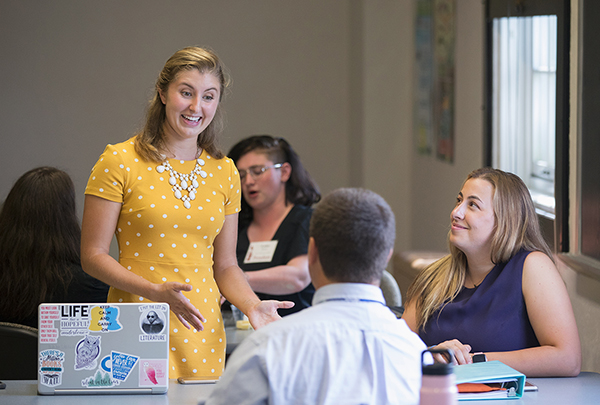 While in Italy, she also received some exciting news. Huber had been hired to teach sixth grade English at Waterloo Middle School—the culmination of all her hard work as an undergraduate at SUNY Potsdam. When she got back to the U.S., she started setting up her new classroom and preparing for her new career as an English teacher. Unlike most classes, which are taught in 42-minute blocks, Huber will have twice as much time to focus on English Language Arts (ELA) skills with her new students. "We get extended time with our students to work on those really strong core reading and writing skills," she said.
She first learned about the job opportunity during SUNY Potsdam's TESA Conference, held every spring for current teacher education students to network and learn vital information about careers in education. During the conference, she met Waterloo's assistant superintendent who later invited her to apply for a job in the school district. Huber went to the school and conducted a demo lesson shortly before leaving for Italy this summer.
The district was impressed with Huber's approach to teaching and her interest in incorporating mindfulness into the classroom. "Mindfulness is something that I focus on in my classrooms and that's my priority—making sure students feel safe in that space and feel some kind of ownership over their learning," she said. "A lot of sixth grade is less about the curriculum and the content, and more about teaching students how to be good citizens and good students—all of that character-building. That is something that I took a big interest in while I was at SUNY Potsdam. I did a lot with positive psychology and the positivity project at local schools," Huber said.
Huber enrolled at SUNY Potsdam as a transfer student because of the College's incredible reputation for teacher education. "It was either SUNY Potsdam or SUNY Plattsburgh for me, and Potsdam has the foundation of being a Normal School back in the 1800s and just really having that focus on education. I wanted my diploma to say SUNY Potsdam and people to recognize that it's a teaching school—that really led my decision," Huber said.
She took classes in the Department of English and Communication, where she explored classic literature and honed her writing skills, while also developing the leadership techniques to be a middle / secondary education teacher. Along the way, her professors were there to help her grow.
"Dr. Laura Brown was just incredible! She was my advisor and she taught my methods courses," Huber said. "She would ask me, 'What do you need? We can get away from the syllabus, and we can talk about what you need as a growing teacher and what you're scared about.'"
Her final semester at SUNY Potsdam gave her a chance to take what she had learned in the classroom and apply it in a real-world setting. She started student teaching at Massena High School and spent the second half of the semester at Lisbon Central School. There, she had the chance to work with a SUNY Potsdam alumna who implemented relaxation techniques in the classroom. "My mentor teacher, Angela (Zambito) Brown '09 & '10, was incredible! She would always do mindfulness at the beginning of class," Huber said.
As she takes the reigns to teach her own students now, Huber has stayed connected with SUNY Potsdam secondary English education instructors like Joanne Stiles, who was also her supervisor during her student teaching. Stiles has been talking her through the steps of setting up her classroom with visual aids for the students and other tips to enhance the educational experience. "She's also been helping me with pacing, because I'll be teaching sixth grade and I'm more used to high school and upper middle school. So, how do you really slow it down and be patient? We're working on that, for sure," Huber said.
Huber recently returned to campus to help SUNY Potsdam students prepare for their upcoming student teaching placements. She stood at the front of a classroom in Satterlee Hall, the same room that she had sat in as an undergraduate, and gave a PowerPoint presentation about best practices for student teaching—something that was an invaluable experience for her. "You can do all of your methods courses and still learn five years' worth of information just from student teaching because you're finally in the classroom," Huber said.
She will be pursuing a master's degree in the near future while working full time at Waterloo Middle School. "I love New York, and I don't want to leave," she said.
For more information about the teacher education program, visit: https://www.potsdam.edu/academics/SOEPS/teacher-education
Article and photos by Jason Hunter