New York City throbs with a palpable energy, not easy to describe, but unforgettable when felt. The clamor of the subways and music of different languages refuse to leave the ears even after one has left the city behind, and the swirls of color and culture etch a permanent residence in the mind's eye—reminders of limitless possibility. Woodwinds in hand, a quintet of students from The Crane School of Music experienced this enrichment and added their own unique notes on a recent trip that put them at the center of an arc linking accomplished alumni to students of the present and future.
Crane's own reached out to high school music students just beginning their journey, attended a concert by the New York Philharmonic Orchestra and savored fresh pizza on busy sidewalks. 
For many Crane students, these experiences are indelible, something they can savor and reflect upon. For Sara McIntyre '24, who aspires to teach music after graduation, the defining moment came during a visit to one of Crane's audition sites, the Grand Street Campus in Brooklyn, where the quintet gave music lessons to the high school students and talked to them about their own experiences in the North Country. The question-and-answer session was a vibrant, nonstop event that went into overtime because so many students had questions about life as a Crane music student.
It is hard to overestimate the importance of these outreach events—with current students connecting to prospective students—for building interest in Crane, McIntyre believes.
"The experience that will stay with me forever was talking with and playing for those kids at Grand Street Campus," she says. "The experience makes me feel confident I can change someone's life as an educator one day. That's what everyone deserves to get out of their Crane experience."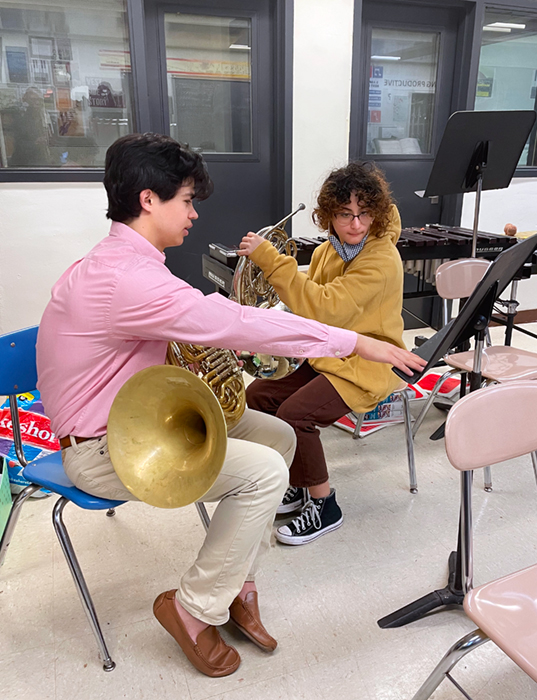 "It is so important for students to do recruiting activities," she says. "Teenagers feel much more comfortable talking to someone in their early 20s or late teenage years than they do talking to older adults…College is really a nerve-wracking thing for a lot of high school students, and hearing real accounts is much more meaningful than hearing an administrator talk about class sizes."
Crane student Michael Shipps '24 was struck by the level of talent and motivation to succeed exhibited among the musical hopefuls.
"Experiences like these are important because you get to go out and perform for the real world, and you're not just on your college campus anymore. And working with and talking to the students was very impactful," says Shipps, whose musical focus is the horn.
The quintet also included Christopher Mavrogian '24 (oboe), Nicholas Alvarez '24 (clarinet), and Jalen Johnson '24 (bassoon). They performed with Crane alumnus Joe Rosen in his Manhattan home. Rosen is known for opening his home to salon concerts and collaborations with aspiring musicians, and has generously donated to a fund to support Crane students traveling to the city for artistic opportunities. The students performed works by Valerie Coleman, Adrien Barthe, Paul Taffanel, Maurice Ravel, Amy Beach, and Eric Ewazen. The students were able to meet the composer Ewazen, who attended the concert. The trip was led by Brian Dunbar, Crane School of Music Assistant Professor of Flute.
McIntyre says the impact she felt she had made allowed her to fully grasp how much she wants to stay in education. She looks forward to future trips and the possibility of more connections with other teachers whose experiences, insights and ideas will help her forge her own path in music education.
"The experience that will stay with me forever was talking with and playing for those kids at Grand Street Campus," she says. "The experience makes me feel confident I can change someone's life as an educator one day. That's what everyone deserves to get out of their Crane experience."
Article by Bret Yager