Crane Youth Music has left a loving imprint on young lives for 50 years
Exactly a half century after a brass horn announced the first bright note of Crane Youth Music, the camp remains an enduring symbol of the passion and purpose of the Crane School of Music—and a gift outright to scores of young people standing on the thresholds of futures that will likely receive significant definition from the chords of this pivotal summer week.  
Clutching precious woodwinds, brass, drums, and stringed instruments, 150 campers aged 12-18 kicked off the 50th camp on June 26—the first in-person camp of the 2020 decade following the pandemic, and the first to use Crane's new rehearsal rooms. The distinguished musical experience, which fills Crane with the promise and energy that is so vital to the camp experience, is led by the artist faculty of the Crane School of Music and alumni educators, many of whom recall the formative ways their own lives and careers were impacted when they ventured, themselves, to Crane as campers for the first time.
"For some, it is the first time they have gone away to camp; for others, it's the first time they have 'found their people.' The campers rejoice in meeting others like them who love to study music, and they often come back multiple years to continue their musical growth." 

CYM's co-director and Crane professor of clarinet
Among the many individuals who mark their arc through CYM and back again is camp percussion instructor Kyle Peters '15, a Crane alumnus who plays in the Rochester Philharmonic Orchestra and teaches at the Eastman Community Music School of the University of Rochester. He attended camp in 2010 and was profoundly inspired by the faculty, returned as a counselor in 2013-14 while enrolled at Crane, became a camp percussion assistant in 2015-16, then an instructor of percussion in 2017. He has tightly held this role ever since.
"My experiences during Crane Youth Music set me on the path to pursue music as my career," Peters recalled. "After my two weeks as a camper, I knew I wanted to attend the Crane School of Music for my collegiate studies and to study with Professor Jim Petercsak. I still get excited each summer as I make the drive up to Potsdam. I strive to inspire the talented young musicians of CYM each year by sharing my love for percussion the same way JP inspired me in 2010— setting me up for a wonderful future in music." 
Dr. Julliane Kirk Doyle, Sean Spacher '16 and Kyle Peters '17 discuss the benefits of Crane Youth Music, a summer camp for middle and high school students that began 50 years ago at The Crane School of Music. 🎼 🥁🎻
Many others are able to trace the positive mark of CYM on their lives. Sean Spacher '15 attended CYM in 2010 alongside Peters and participated in wind ensemble and jazz band.
"I had a blast meeting so many new friends from across the state who had the same interests as me," said Spacher, who joined the camp counseling staff in 2013 as a soon-to-be junior at Crane.
Spacher now serves as the camp residential director, helping campers glimpse a possible future life as a Crane student. He is entering his fifth year of full-time music instruction, and works as the middle school band teacher at Schalmont Central School District near Schenectady, N.Y.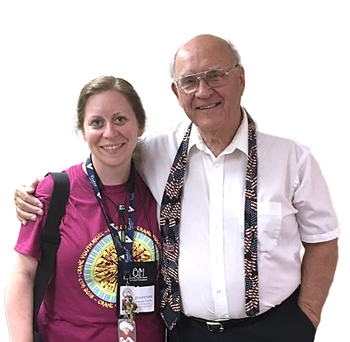 Continued involvement and enduring support for Crane have always defined its alumni community and creative faculty. Crane Emeritus Professor Roy Schaberg founded Crane Youth Music in 1973 as a way to infuse the school with summertime energy and showcase a unique musical experience in the North Country. Despite headwinds that included zero funding, Schaberg boosted and promoted the camp, made personal rounds to the newspapers and radio stations, and was able to kick off the camp's first year with a surprisingly strong cohort of 58 students.
"The plan basically involved a faculty brass and woodwind quintet, a choir director, a pianist, a band director, male and female dorm directors, a percussionist, five student counselors, and myself as camp director," Schaberg recounted in a 2013 article on the camp's history. "The plus side was that we had a brand-new Crane complex and a willing and supportive Crane faculty who made the program exciting and successful."
On year two of the camp, strings, orchestra, and piano were added to the program, and enrollment blossomed to 120. The year following, voice majors, jazz, harp, and electronic music classes were added, and 180 campers showed up for the fun.
Crane Emeritus Professor Roy Schaberg, who founded Crane Youth Music in 1973, teaches CYM students at The Crane School of Music.
"I am so proud and honored to see the program's steady growth, improvements, and continued success," said Schaberg, who taught brass and horn from 1968 to 1999. "It has become the Crane School of Music's best recruiting tool. Thousands of young musicians have attended CYM over the years. Many have gone on to professional careers as performers, teachers, composers, and in the business of music. Many support orchestras, bands, chamber music, solo recitals, opera, choral societies and contemporary music festivals as participants and financial contributors, as well as eager listeners. I applaud my successors for their continued dedication, musical standards, and improvements on a program very dear to my heart."
 Dr. Brianne Borden, assistant professor of trumpet, has more musical fibers connecting her to CYM and Crane than she can count. Their weaving began in 2006, when she attended the camp between her freshman and sophomore years of high school.
"During that time at CYM, I made friends with so many other young musicians. I no longer felt like 'the band kid' and just had a whole bunch of friends that were all just as stoked on music as I was!" she recounted. "After that first time at CYM, my heart was set on attending Crane for college. It was so set, even, that my parents wanted to make sure I did my full research and took me on a road trip to visit five or six other schools during my junior year of high school. I still landed on only wanting to go to Crane. I signed up for the first audition day, sent in my application as soon as possible, and didn't audition anywhere else. It was Crane or bust!"
Borden went on to work as a camp counselor in 2012-13, an experience she was fortunate to share with some of her closest friends.
"I am still in contact with some of my CYM campers today," she said. "They have grown to be incredible adults, and it's a joy to witness their journeys." 
In 2017, Borden had received her master's degree from the University of Colorado and was working on her doctorate at Arizona State University when John Ellis, her mentor and now predecessor at Crane, invited her to teach at the camp. She accepted, and returned in the summer of 2019 before taking a position teaching trumpet at Crane in 2020. It was a pleasant surprise, Borden remembered, to see so many names on her studio roster of young trumpet players she knew from camp.
"For 17 years now, CYM has been a thread in my life," Borden concluded. "It is one of the few things that connects my past, present, and future. It provided inspiration for me as a young musician and continues to provide inspiration for me as I get to be a part of other young musicians' journeys.
"I think it's safe to say that my life would look very different if I didn't show up back in 2006 for my first day of Crane Youth Music." 
 Article by Bret Yager, Photography by Jason Hunter