As the band plays, Erika Murata '22 brushes the curtain aside and strolls onto the set of
"Late Night with Seth Meyers." There's no audience and the cameras aren't rolling yet, but she assumes the role of a guest—working with the audio engineers and the house band to prepare for the show.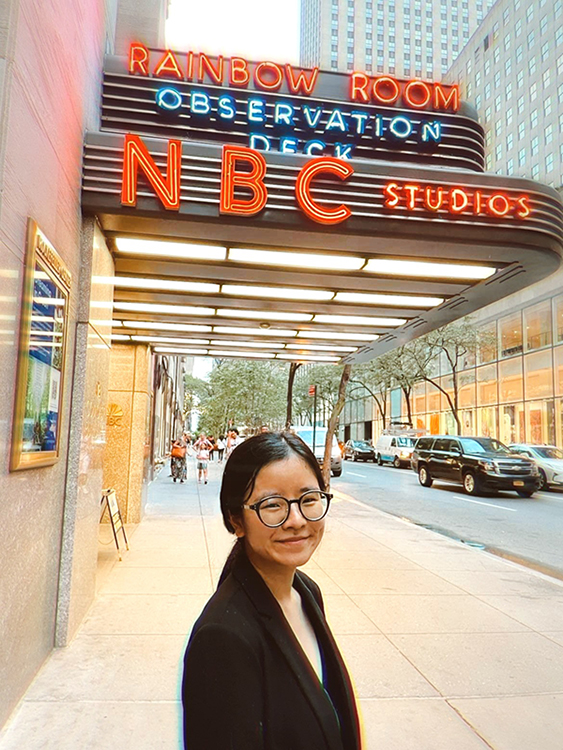 "I'm with the band during the rehearsal to make sure that everything goes smoothly," Murata said. "One of the things that I do is that I pretend that I'm a celebrity guest, to see the best timing for them to start and end the music."
The perfect way to wrap up her music business degree from The Crane School of Music, Murata lined up the internship of a lifetime during her final semester, working at NBC Studios in the heart of New York City. "I've always been interested in the field of music in film and media. NBC is one of the top companies that I've always wanted to be involved with," she said.
After a highly selective process that involved video and Zoom interviews, she was hired as one of nine interns for the show. While most were hired for general production, Murata was one of just two TV music interns on set. Every day brought new challenges as she hustled around the busy studio getting ready for the next show. "We prepared the office for the day, and we distributed the newsletter to the executive producer for the show. It could be hectic if we had a lot of guests or if we had a lot of costumes that were being dropped off," she explained.
After attending a production meeting in the morning, she shifted her focus to the music for the show, as she assisted The 8G Band during their rehearsal. As the band selected and practiced the eight or nine short songs for the talk show, Murata took notes and created a set list for the group. Two hours later, the audience filled the seats and Seth Meyers and the band got to work.
"I thought that working in the media on a big production would be really stressful and I wasn't sure if I could get along with people who work in a really intense environment, but it turns out that people who work for 'Late Night' are sweet, kind, and welcoming," she said. "Every moment that I stepped into the studio I learned something that I never knew. The fact that I was able to have that experience was really wonderful."
Born and raised in Saitama, Japan, a suburb of Tokyo, Murata developed a passion for music at an early age. "I was a huge fan of American entertainment, film, music, and TV, including the Disney franchise. That's how I got interested in English too," she said.
She enrolled at a high school that emphasized English proficiency, and then combining her love for American entertainment and the English language, she moved to the United States and enrolled at Rockland Community College to pursue a degree in performing arts with a music concentration. After realizing that music business was more in line with her career aspirations, she looked at colleges around New York State that offered that program, and discovered that SUNY Potsdam's Crane School of Music was one of a select few that met her needs.
"As a person who loves music and English, I wanted to do both, so that's why I decided to come to the States. I was only able to find three schools in New York state that offered music business as a major, specifically for a bachelor of music degree, and one of them was Crane. I've really liked the community in Potsdam."

 

 
At Crane, Murata learned audio engineering techniques while recording live performances at Hosmer Hall and Snell Theater. She worked for Madstop Records, a club on campus that oversees recording sessions of student recitals and performances, where she rose to the position of executive producer. "The fact that I was able to see all the aspects of how an organization works was really helpful. I was able to meet people who were interested in audio engineering, and since it's a student-organized group, there was no significant pressure for me to be perfect, it was more like a learning experience," she said.
A class with Dr. Drew Coles, the program director for the music business program, opened her eyes to career opportunities in the music industry. Crane alumni would speak in her class and share their stories of success within the field.  "The fact that I was able to hear what people from the program are doing now was really helpful. I learned how to build connections and relationships in the industry. That was the big takeaway from the music business program," she said.
One course after another provided further insight into the music industry, as she learned valuable hands-on skills with faculty like Douglas McKinnie, a world-class audio engineer at Crane who has worked with the Boston Symphony Orchestra.  "The fact that I was able to have that experience was really helpful during my internship at Late Night with Seth Meyers. It really helped me to connect with audio engineering people on the show," she said.
Now in New York City after completing her internship and graduating with her degree from Crane, she's looking ahead to a future in the entertainment industry. "I would like to be a person who can be the bridge between music and film. One of the jobs I'm interested in is being a music supervisor. I would like to oversee the music that is used in films and the media," she said. "In a world where I could do anything, I would love to envision myself staying in the U.S. and staying in the entertainment business. All the nitty-gritty aspects of immigration and the financial aspect come into play, but I would love to pursue my career in the entertainment industry in the U.S."
Article by Jason Hunter