When Susan Vroman Cavanagh '77 thinks about SUNY Potsdam, she thinks about family—not only because her younger siblings (opera singer Lisa Vroman '79 and School of Education Alumni Board President David Vroman '83) followed in her footsteps at the College, but because her time at The Crane School of Music was formed by special relationships that made Potsdam feel like home.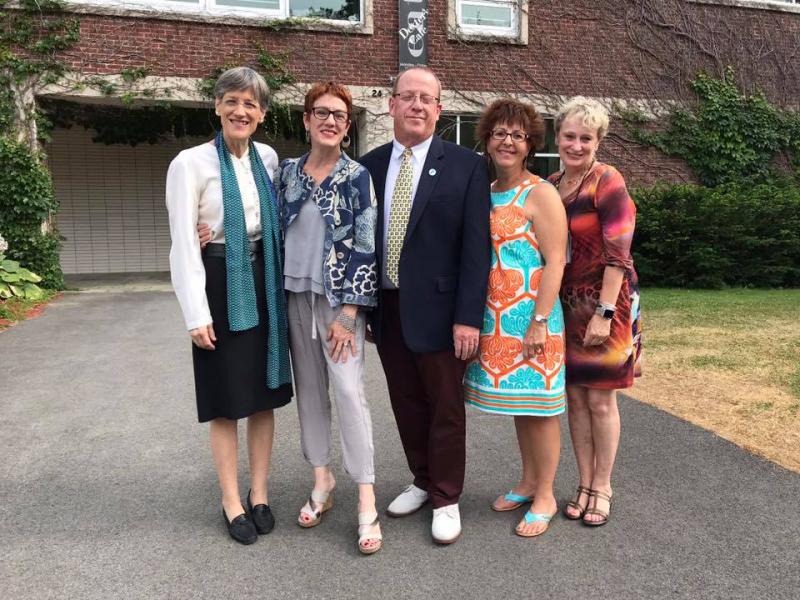 "Potsdam is good to help you grow up, to help you feel like you're valued," Cavanagh said gratefully, "and I think that continues now. That's what's so wonderful about Potsdam and Crane."
SUNY Potsdam was not Cavanagh's first choice as a high school student, but upon visiting the campus she was immediately captivated by the friendly community. Little did she know that she would one day become a strong catalyst for the sense of comradery on campus.
Whether rounding up enough students to convince Dr. Brock McElheran (Hon. '84) to offer a conducting class, helping to reinstate the December Crane Convocation or assembling a "small" ensemble of 60 musicians for the dedication of Hosmer Hall, Cavanagh knew how to bring people together at Crane. She was often recognized for her achievements. As a junior, she was nominated and elected president of Crane Chorus, and as a senior she was surprised to receive the Crane Award.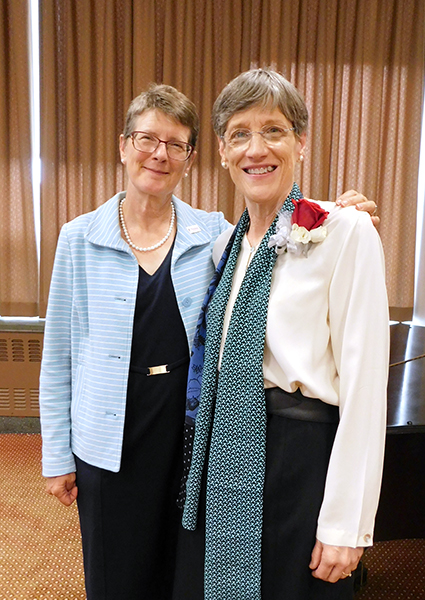 In honor of her fulfilling career spent inspiring and encouraging students as a music educator and choral director, Cavanagh's alma mater celebrated her yet again by awarding her the 2018 Helen M. Hosmer Excellence in Music Teaching Award. For Cavanagh, this honor seemed to serve as a "bookend" to the Crane Award. "It was kind of like a lifetime achievement award," she shared. "It was extraordinary."
Cavanagh relishes every chance she has to connect with the SUNY Potsdam family, but living in Florida makes it difficult—as does a global health crisis like COVID-19. Fortunately, she had the opportunity to reconnect with her alma mater in 2020 from the comfort and safety of her own home through SUNY Potsdam's Virtual Reunion Week.
"I was so excited to see that over 500 alumni joined last year because a lot of people can't get to campus physically," Cavanagh remarked. "I want COVID to leave, but I know being virtual means I can, selfishly, take advantage of a lot more of Reunion activities."
Though a Crane alumna, Cavanagh enjoys taking part in events across different disciplines, noting that they are a chance for alumni to "keep united with Crane and Potsdam and all the things that are being done" by students, faculty and the entire campus community.
Last year, her favorite Reunion Week events included the Alumni 5k and the WISER Center Greenhouse tour, both of which will be offered again during Virtual Reunion Week 2021.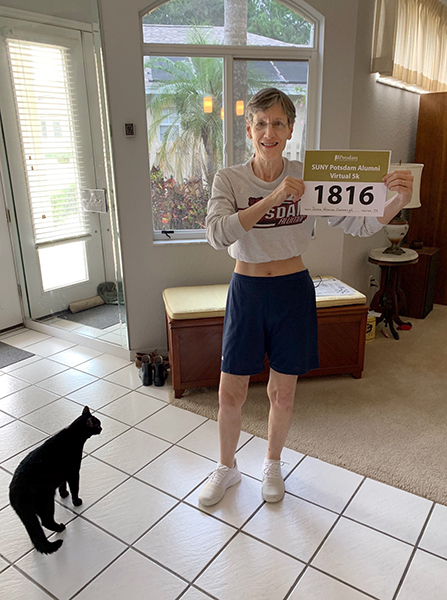 The 5k was especially exciting for her, not just for the chance to run, but to see alumni participating from across the country. While she was running in Florida, another alumna completed the 3.1 miles in Alaska and a group of alumni ran together in Rochester, N.Y. In total, over 45 alumni from at least nine states ran or walked the 5k.
"That's the best part of all of it," Cavanagh shared. "Everyone is still connected and doing something together, and yet we're from all over!"
Throughout her life, Cavanagh has been reminded of the strength and synergy of the SUNY Potsdam family. As a novice educator, she knew that she could contact professors for repertoire suggestions, and she always smiled when she could use a piece composed or arranged by a Potsdam emeritus. SUNY Potsdam will also be a beneficiary of her estate, making her a member of the College's Raymond Legacy Society.
"We don't really have to leave Potsdam, although physically we do," Cavanagh shared. "We're still being connected, and we're still a part of that world. There is so much of Crane—of Potsdam—that you keep with you, and you still draw from all of the things that have been there, that were there for you then, and you find out that they are still there."
Learn more about how you can get involved during Virtual Reunion Week 2021 at potsdam.edu/alumni/reunion.