I. Preface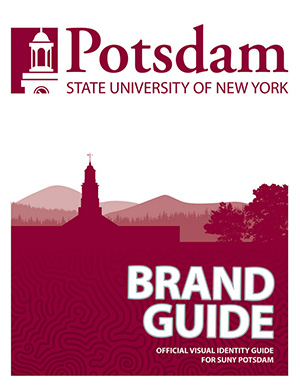 The full story of SUNY Potsdam's impact would take years to tell…
Two hundred years of history. Forty thousand living alumni, scattered across the country and across the globe. Hundreds of students and faculty, each following their own journey. Their individual impacts ripple across communities and across time.
Where would you even begin?
Good question.
This is why we have a brand. It's a shorthand for telling an incredible story, a way of capturing and conveying thousands of touchpoints—with a single, unified, cohesive message.
II. Introduction: The Importance Of Our Identity
What is a Brand?
A brand is not simply a logo, color or tagline. A brand is an essence. Every organization presents a unique and defining image. A brand represents the perception people have about an organization. It takes brand consistency to create and communicate a positive, unifying impression.
Like corporations, colleges and universities know that leading institutional brands give them an advantage in the recruitment and retention of students and faculty, fundraising and program support. To strengthen SUNY Potsdam's brand, our job is to influence perceptions people have of the College by presenting consistent and credible messages about our institution, our people and our collective accomplishments.
An established brand allows SUNY Potsdam to have the kind of public image that instills confidence that the College is producing valuable returns for our students, alumni, donors, employees and neighbors. When we build a strong brand for SUNY Potsdam, we are also building the reputation of our Schools, our departments and our programs. Potsdam must strive to be identified and recognized for its collective strengths and expertise. A consistent, singular identity enhances our ability to lead and influence, distinguishing the College from our competitive set, and increasing our ability to attract and retain exceptional students.
Our brand is everything we say and do — and how we say and do it. Managing the perception of thousands is no small task. It's a big job, and everyone who speaks for the College plays a crucial role. These guidelines will help you do just that. They're a standard to rally around, a foundation to build upon, and a source of inspiration. We are all keepers of the SUNY Potsdam brand, and it is our collective responsibility to use these guidelines to help share — and strengthen — the SUNY Potsdam story.
Find your calling. Find yourself.
At SUNY Potsdam, students are encouraged to pursue their passions in a caring environment that emphasizes community, discovery and creative thinking.
Here, you'll be inspired by an unconventional community of teachers, students and mentors, who celebrate who you are and who you want to be. At SUNY Potsdam, you are free to be completely and unmistakably you — and you never have to apologize for it.
SUNY Potsdam is creative, it's community-oriented, and, to be honest, it's a little quirky.
Here, it's all about being supportive, being active, being welcoming.
SUNY Potsdam is the kind of place where you roll up your sleeves and pitch in, where you attempt the (seemingly) impossible and defy the odds. It's the kind of place where people do incredible things, but they're still down-to-earth.
 The State University of New York at Potsdam prepares students to act as engaged global citizens and to lead lives enriched by critical thought, creativity and discovery. As an inclusive scholarly community, rooted in our historic role in providing exemplary teacher and music education and our leadership in the fine and performing arts, we are committed to the liberal arts and sciences as an academic foundation for all students. With an abiding sense of responsibility to our region and to the world beyond, SUNY Potsdam fosters an appreciation of and respect for the variety of human experience.
What Sets SUNY Potsdam Apart?
 SUNY Potsdam provides TRANSFORMATIONAL STUDENT-CENTERED EXPERIENCES  that prepare members of our diverse and eclectic student body to reach their full potential for impactful and engaged lives after graduation. Our inclusive and welcoming campus provides a fulfilling campus life and a strong sense of community.
At SUNY Potsdam, personalized involvement in individual student lives and academic careers is the norm, not the exception. At SUNY Potsdam, we strive to deliver A RIGOROUS AND HIGHLY PERSONALIZED EDUCATIONAL ENVIRONMENT  that centers on deep and sustained interactions among students, faculty, staff and the greater community. This tradition of excellence dates back to the College's founding, more than 200 years ago. Students are fully engaged, collaborating together on both classwork and creative projects. Our campus life is truly vibrant, and students feel free to follow their passions wherever they may lead. We provide meaningful opportunities for faculty and staff development, and encourage collaboration in a lively culture of teaching and scholarly endeavors.
In our LOCATION, smack-dab between the foothills of the Adirondack Park and the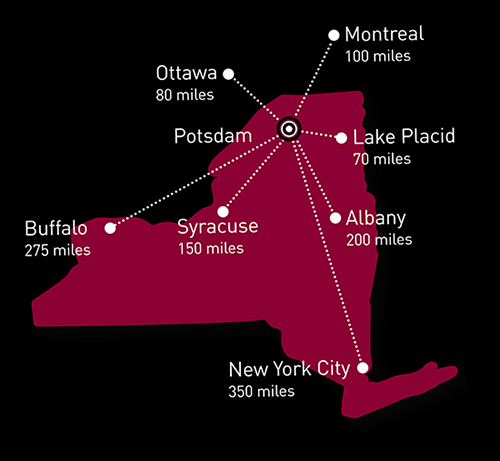 Canadian border, SUNY Potsdam is proud to call the North Country home. We are lucky to have such incredible natural beauty surrounding campus—from the banks of the Raquette River, to the miles and miles of nearby trails, to the rolling farmland and of course, to our picturesque historic college town. Being a short drive from Lake Placid, Ottawa and Montreal means unique getaways are just a day-trip away. You will never forget your first North Country winter… and it's a point of pride for our students and alumni that they learned to thrive in the cold. There's something to do in all four seasons here, and we are proud of it.
SUNY Potsdam is an INCLUSIVE ENVIRONMENT . Students, employees, families, alumni, friends, allies, neighbors and guests to our campus are all recognized as valued members of our community. Our campus has become an increasingly diverse community, reflecting the diversity of the nation and the world as a whole, with respect to race, ethnicity, culture, sexual orientation, disability status, socioeconomic status, religion, gender, gender identity and expression, age, and other social identities. No matter where you come from or how you identify, we believe everyone can find a place here at SUNY Potsdam.
SUNY Potsdam's CULTURE OF CREATIVITY  stems from our status as having the top-rated arts environment in the SUNY system. With programs and facilities that are completely unique, the College offers students and faculty the chance to immerse themselves in an arts environment, where experimentation is a given. Interdisciplinary programs and hundreds of free concerts, exhibitions, readings and performances open up the arts to inspire everyone, no matter their major or field of expertise.
 • Location:  The cold weather and remoteness that surrounds our campus is also a thread that helps unite us. The beauty of the region—in all seasons—should be something we celebrate, and never apologize for. Our region offers students and visitors a glimpse of the undiscovered… cultural and natural treasures unlike anywhere else.
• Campus:  Our students consistently tell us that they "fell in love" with campus immediately after setting foot on it.
• Diverse student body:  Our students come from all different backgrounds, and they come together to do amazing things. Our community embraces and celebrates our differences—and the values we all hold in common.
• Applied learning experiences:  Students can follow their passions wherever they may lead… whether it be completing a geology field school, directing a play, completing an international internship, mentoring an elementary student, or all of the above.
• Ability to combine arts & academics:  SUNY Potsdam has a top-rated arts environment, and our LoKo Festival enlivens campus every spring. That culture of creativity extends to every discipline, and no matter your major, you can pursue your passions, whether through an a cappella group, entering a work in the Art Attack juried show or taking in a world-class dance performance by a visiting artist.
• 11:1 student/faculty ratio:  SUNY Potsdam's close-knit campus community and our dedicated faculty and staff mean that every student can draw on mentors and find a support system to ensure their success.
"Our voice" simply means the way we articulate our brand promise and our message. We strive to reflect the unity of our campus, while also embracing the variety of unique stories we have to share with the public and one another.
Keep in mind that voice primarily comes through in two ways: tone and content. Tone refers to the style and manner of writing, word choice, cadence and sentence structure. Content is the focus and construction of our compositions.
SUNY Potsdam strives for a tone that is warm, welcoming and supportive. Tone may vary slightly depending on the audience –whether parent, student, colleague, employer, community leader or alumna.
Our content strives to focus on the unique experiences and traditions that SUNY Potsdam is so proud to offer: transformational student-centered experiences, high-quality teaching and learning environments, inclusivity and creativity.