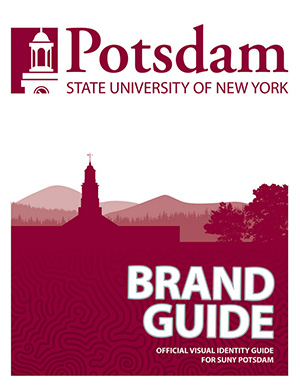 The full story of SUNY Potsdam's impact would take years to tell…
Two hundred years of history. Forty thousand living alumni, scattered across the country and across the globe. Hundreds of students and faculty, each following their own journey. Their individual impacts ripple across communities and across time.
Where would you even begin?
Good question.
This is why we have a brand. It's a shorthand for telling an incredible story, a way of capturing and conveying thousands of touchpoints—with a single, unified, cohesive message. View the SUNY Potsdam Brand Guide
Copyright Policy
Copyright protection gives authors and inventors exclusive right to control the use by others of their products and discoveries. Copyrighted works may not be reproduced, displayed publicly or performed without permission of the copyright owner. Protected works include literary, dramatic, musical, choreographic, pictorial, graphic, audiovisual and other types of works. Those who engage in unauthorized reproduction, performance or distribution of copyrighted work may be subject to civil and criminal penalties. Learn More
Mission Statement
The primary function of the SUNY Potsdam Office of College Communications is to assist in articulating the mission, vision and values of the College, for both internal and external audiences. College Communications helps to facilitate campus communications through research, content development and distribution, designed to document, promote and advance the mission of SUNY Potsdam.