Editor's Note: March 23rd marked the start of all online classes at SUNY Potsdam, the continuing journey toward our academic goals and with these, a test of our collective will and capacity.
In hopes of reminding everyone of the themes which unite us in our new challenges, our campus community members are offering snapshots into their own personal "new territory." One benefit of these posts is that they may help us learn new methods and gain ideas from each other.
Their Essential Nature
When dozens of creatures wait in an empty building for you to show up, you know you're essential.
Among the unheralded individuals who keep a college campus going when no one is around to notice, two SUNY Potsdam students trudge through an echoing Stowell Hall three times a week on a mission: to care for, feed and give companionship to a mottled cadre of turtles, aquarium fish, geckos, bearded dragons and snakes. Delivered to the biology department over many years and varied happenstance, the animals now rely entirely on Amber Rudolph '20 and Morgan Gregg '20 for a reminder that, yes, things will get back to normal someday.  
On animal duty, the biology students team up to have each other's back, because the place can seem a little weird in its emptiness. Otherwise, they'd be alone under the inquiring stare of a hermit crab and a flame hawkfish, which changes color to register its stress.
The Dance Most of All
Alone on a dance floor where time has stopped, SUNY Potsdam students are drawing powerful lessons from a pandemic.
While they're grappling like the rest of us with a new and overwhelming poverty in their social spheres, students are also learning about the power and limitations of their own bodies, how to build themselves from the inside, and the importance of what we have all temporarily lost.
In early March, SUNY Potsdam Assistant Professor of Dance Cynthia DuFault watched the coronavirus pandemic avalanche across the world stage, and when social distancing and online courses became a mandate, she was ready. On March 23, DuFault launched cyndance.org. The site is a visually appealing and unabashed love letter to the art of the dance. But it's more.
For the students of DuFault's four beginning and intermediate modern dance and ballet courses, Cyndance has become a resource center, a virtual community and a source of validation where students can express themselves and see the expression of others. As part of their curriculum, dance students write weekly self-assessments to evaluate how well the classes are going. The summaries range widely over the technical landscapes of dance and also the emotional ones, serving not just as scholarly tools but also therapeutic introspection upon a changed world.
"These uneasy — and frankly bleak — times often involve feeling numb as a means to deal with the whirlwind of updates, and change to future plans I had been relying on for months and years," wrote Maria Wisniewski, in one assessment. "A month or so ago, no one would have anticipated this situation. What people have been forced to learn over the course of the pandemic and its devastating effects, is how much we rely on each other. We rely on one another to function in the way we desire, to feel happy, and to live comfortably. This is not a bad truth. This is quite beautiful and humbling."
Riding Out the Storm
Collectively and as individuals, we are facing a near "perfect storm" of anxiety triggers. As the COVID-19 pandemic shutters businesses, forces classes into online formats and creates a formidable challenge for even seeing a doctor or dentist, many of us are awake at night, staring at the ceiling.
Pacing through our minds are fears about our own health, the health of our families, the status of our jobs, the viability of our economy. We are even witnessing some of our old luminaries dying of the virus — John Prine, Terrence McNally, Mark Blum, to name a few.
To make matters worse, we cannot go out to visit and communicate in the intimate, face-to-face manner that has been as vital as breath since the earliest days of our race. We battle, persistently, a feeling of imposed isolation.
And yet, we know we are the lucky ones. The weather has warmed and on certain turns of the wind, we are positive that we smell spring.
We cannot give in; we have to soldier on. Part of the movement forward and through the pandemic is knowing that it is perfectly normal to feel frightened and confused, and that there are ways to reach out and share what we are feeling.
The SUNY Potsdam Counseling Center has been a longstanding resource for students experiencing their own personal storm. Increasingly, there is evidence of the center's importance now, and of the value of work done by its counselors and staff. Mental health is emerging as a critical component of the COVID-19 pandemic.
We reached out to Gena Nelson, director of counseling at the center. Though busy, she was kind enough to answers questions and shares the following insights with the SUNY Potsdam community:
What kinds of concerns are you hearing in calls to the Counseling Center?
Many of our students were already struggling with mental health concerns and this crisis has exacerbated those symptoms in many ways. Similar to ourselves as adults, our students are struggling with depression and anxiety related to the unknowns and sudden changes this crisis has created, in addition to the unexpected online learning component.
 How does the Counseling Center address these issues?
All of our counselors are working with students virtually and focusing on 'locus of control' — teaching our students to be mindful of what is in their control and what is not. We are doing trauma work and also continuing work with coping strategies, and encouraging the basics: sleeping, eating, stretching, and socializing virtually. Utilizing cognitive-behavioral strategies helps students focus on how their thoughts are creating their emotions. We work to change the thoughts to cope with the anxiety, stress and fear. However, the reality we have right now is pretty frightening and we can't ignore that.
"PENdemic"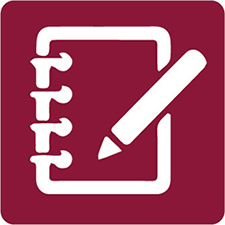 It was spring break when Nathaniel Infante, an assistant professor of art studio, heard that all of his classes would be taught remotely for the rest of the semester. He was faced with the same obstacles as his colleagues when the COVID-19 global pandemic started spreading across the globe.
"There are many challenges that come along with remote learning and teaching. Figuring out how to balance being at home and trying to communicate ideas to students remotely is probably the biggest," he said.
Infante started working at SUNY Potsdam as the art department technician in 2008. Last year, he was hired as an assistant professor of printmaking, a discipline that includes a wide range of processes and techniques to create everything from relief prints from linoleum and wood blocks, to screen prints from a stretched screen mesh. Printmaking relies on inks, rollers, chemicals and presses—none of which are now available to his students.
"I had to make some large adjustments to the way I teach my printmaking and drawing classes for the remainder of the semester," Infante said. "We received notice that classes would continue through remote learning while we were on spring break and like so many others, I was not able to send students home with any supplies or materials that would have made printing and drawing from home more accessible to students."
So, he came up with a plan—a daily drawing challenge for his students called "PENdemic."
Joyce Lau '20 - graphic design and media arts major
Joyce Lau '20 - graphic design and media arts major
Marquisha Eason '21 - graphic design and media arts major
Marquisha Eason '21 - graphic design and media arts major
Emily Morton '20 - visual arts major
Emily Morton '20 - visual arts major
Alexa Pfeiffer - graphic design and new media major
Alexa Pfeiffer - graphic design and new media major
Monica Trummer '22 - double major in musical studies and art history
Monica Trummer '22 - double major in musical studies and art history
Nate Infante is also contributing to the "PENdemic" project.
Nate Infante is also contributing to the "PENdemic" project.
Infante created a list of daily prompts on Instagram to inspire a shared sense of creativity among his students and the art community. Every day, his students create art based on the theme of the day. Panic, relax, illuminate, toilet paper and fly were the concepts for the first week. From March 23 to May 22, students will continue to create art as part of the "PENdemic" project.
From a Tiny Studio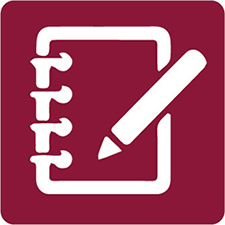 Stretching skyward from the tiny studio at the back of her Potsdam home, Rivka Rocchio uses her phone to record yoga techniques for her students. Her routine—like with every other professor and student at SUNY Potsdam—has shifted inward in the wake of the novel coronavirus, COVID-19, and the social distancing that followed. Rocchio has responded—using technology to bridge the physical chasm between her and her students.
"The hardest part is not being able to see them practice, because I can't correct their alignment and I can't speak to the energy that's in the room. I just have to record myself. It's like being on a standup show with no audience," she said.
The challenge is particularly real for Rocchio, an assistant professor of theatre at SUNY Potsdam, who relies heavily on an interactive, hands-on approach to teaching. Last fall she directed the mainstage production, "Love and Information," a 60-minute play that moved throughout the Performing Arts Center, and funneled the audience from one space to the next as they followed the cast. She also taught an applied theatre course where her students co-created and co-performed a short piece of theatre with inmates at the St. Lawrence County Correctional Facility.
Those types of learning opportunities are currently on hold as Rocchio swiftly moved her curriculum online. "In the performing arts, our pedagogy is built and flourishes around in-person, embodied dialogic exchange. We had a week to translate that pedagogy into one that works remotely," she said.  As a single mother, the task is even more daunting as she provides full time care and schooling for her four-year-old, reserving the early mornings or nights to fulfill her professorial responsibilities.
Building a resilient landscape
At the same time that we should be acting calming and decisively and taking the long view of a pandemic that could keep us at home for weeks, it is easy to become caught in the play-by-play of COVID-19 and feel paralyzed by the situation. Isolation, a sense of helplessness and an uncertainty of when it will end —these are all impacts to our inner landscape that are no less real than the outer disruption of our routines and life as we knew it.
The SUNY Potsdam community continues to share stories of how its members are adapting to the COVID-19 pandemic and the New Normal, and how they are working to build inner resiliency and a stronger community. They remind us of the countless ways we are all in this together.
Students in Michael Rygel's cartography class are empowering themselves by creating an infographic addressing some aspect of the pandemic. Rygel, chair of the SUNY Potsdam Department of Geology, has compiled his own infographic of St. Lawrence County statistics ranging from a breakdown of most-at-risk populations to an accounting of intensive care beds and of our ability to use technology to connect.
"The news surrounding COVID-19 is ever-present, overwhelming, upsetting, and distracting. Particularly because so much of it is out of our control, we are just forced to sit back and watch it unfold," Rygel said. "The only part that we have some control over is the ability to do social distancing. I found it frustrating that I can't do something to fix this situation. 
"So, I decided to channel that frustration in a productive way, to gather and share important facts with the community — something that I could do well from home using technology, that meshed well with the skills and content in my cartography class, and that I could share with my students to empower them."
The Next Best Thing
Making solutions, preparing samples, and studying reactions and the formation of complex ions in the lab—the show must go on.
Fitting chemistry challenges onto the flat face of a computer has become a sudden and unexpected specialty for John Proetta '09. An instructional support assistant at SUNY Potsdam, his forte has traditionally been lab chemicals. Now, he has been thrust into the role of crafting and facilitating a unified approach to the online delivery of chemistry lab instruction.
In a world where the old playbook has been thrown out, Proetta finds himself on tight deadline, working one-on-one to help instructors in their scramble to present their materials through the screen. Among those who have turned to him, Dr. Maria Hepel had previously relied on a face-to-face style of instruction with very limited technology. Proetta helped get an internet connection to her house for the first time and is working closely with her on creating online presentations that will help Hepel, a SUNY Distinguished Professor of chemistry at SUNY Potsdam, to grab the digital challenge and run with it.
Dr. Page Quinton, assistant professor of geology:
"You can tell things have changed in my house, the kitchen table — usually pretty clean and clear — is now covered in books, lab manuals, and my course notes. It has become my work zone and it's not a pretty scene! But, through the mess I've managed to figure out a way to convert all my classes to online delivery. I'm very excited about the way I decided to convert lectures to the online format. Using a virtual whiteboard I am able to talk, write, and draw like I do in front of the classroom."
"Labs have been a bit trickier! Geology is a very specimen and skills-based discipline and figuring out a way to deploy labs online is not straightforward. We have a huge fossil teaching collection for a reason! Luckily, technology has come pretty far. There are some awesome 3D models and I've been able to find some resources that will give my students time with fossil specimens! This transition to remote learning is going to be hard for all of us, but I know we will make the best of it and I am very excited about getting started with the new normal!"
Hadley Kruczek-Aaron, anthropology department chair:
"All of us have been working like crazy to get our courses redesigned and ready for next week. Some of us are doing that while also having our own kids at home. I think I've attended a dozen webinars this week about online learning! Through those, I've already learned a ton of new teaching tools that I know I will use in the future.
"In terms of students, I've been really moved by the losses they are feeling for some of the learning experiences we won't be able to have this semester. They are also concerned about managing their children while trying to manage their own schoolwork. Others are grappling with technology limitations. And still others are worried about learning in an online environment when they have learning disabilities. I hope they will feel better once some of the uncertainty clears up over the next week or so.
"I know the faculty are going to do their best to put them at ease. I know I am daunted by the task, but I am also excited about learning new things."
Tim Messner, associate professor of archaeology:
Messner is known for his hands-on techniques for connecting students to the archaeological record and human practices of the distant past. Now he has to determine how that translates to the computer screen.
"I'm just trying to think about how to move forward in the best way possible — thinking about how to take a hands-on approach to learning and to make it available over the internet. I've been looking at the different tutorials and webinars dealing with different approaches to online learning. I'm going to rely heavily on video in the hopes of producing different sorts of tutorials that deal with topics and ideas. I'm going to have students try the activities at home with materials that would be commonly available in peoples' houses."
A big hand is in order for all of our faculty, students and staff as together, we face a new normal and keep to the mission of a quality education and a connected community.
By Bret Yager and Jason Hunter, Photos by Jason Hunter