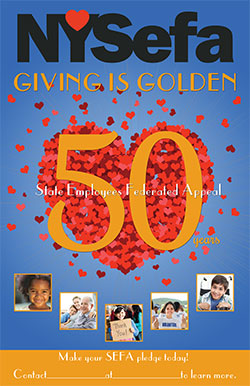 SEFA (State Employees Federated Appeal) is the only authorized solicitation of state employees in their workplaces on behalf of approved charitable organizations.Through SEFA, state employees can support charities of their choice through a single pledge, easily paid through a payroll deduction.
State employees offer their hands and hearts by supporting charities through SEFA. In the last decade, north country state employees have donated $1.7 million to SEFA charities.
View the SEFA Website for a charity search by type or location.
Deadline to contribute is December 31, 2021