Students at SUNY Potsdam and The Crane School of Music to Benefit from New Scholarships, Thanks to Generous Gift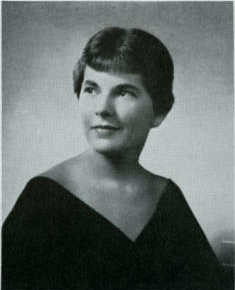 Two new major scholarship endowed funds established at SUNY Potsdam will provide much-needed financial support for students for years to come. Pamela Michne Fox '59 has just finalized a historic gift to her alma mater of more than $1 million—the largest gift in the College's history in support of scholarships.
The Crane School of Music alumna, now residing in Fort Wayne, Ind., has established two new endowed funds with gifts of $500,000 for each, to provide direct support to students through scholarships. The Pamela Michne Fox '59 Scholarship provides unrestricted support to SUNY Potsdam students in good academic standing, while the Pamela Michne Fox '59 Music Scholarship supports scholarships at The Crane School of Music.
"We are overwhelmed by Pamela Michne Fox's generosity in support of our students. She holds her own time here at the College close to heart, and hopes to be able to give that same experience to those who follow in her footsteps. Scholarships remain our highest philanthropic priority, so we are thrilled to receive this gift to make a SUNY Potsdam education more affordable and attainable for students in need," said President Dr. Kristin G. Esterberg.
A longtime President's Club donor to the College, Fox ended up setting new heights with her latest gift, which she hopes will inspire others to also support scholarships. In its initial year of awarding, her gift will directly assist transfer and graduate students filling the gaps to help those students for whom there are fewer scholarship opportunities currently available.
"I know there are students who need, and I am happy to be able to help them. I want everyone who wants to go to college to be able to have that chance, and I hope they go to SUNY Potsdam," Fox said. "Hopefully they can make a career out of what they love, and what they learn there."
Fox is a second-generation SUNY Potsdam alumna—her mother, Edith Michne '33, also attended Crane. After earning her degree in music education, she taught for several years before becoming an officer at Fox Products Corporation, the Indiana-based manufacturer of handcrafted double-reed instruments. To read Pamela's story, visit https://www.potsdam.edu/alumni-friends/alumni-spotlight/PamelaMichneFox
To learn more about scholarship opportunities at SUNY Potsdam, visit potsdam.edu/scholarships.
For more information about giving to the College, visit potsdam.edu/giving.
About SUNY Potsdam:
Founded in 1816, The State University of New York at Potsdam is one of America's first 50 colleges—and the oldest institution within SUNY. Now in its third century, SUNY Potsdam is distinguished by a legacy of pioneering programs and educational excellence. The College currently enrolls approximately 3,600 undergraduate and graduate students. Home to the world-renowned Crane School of Music, SUNY Potsdam is known for its challenging liberal arts and sciences core, distinction in teacher training and culture of creativity. To learn more, visit www.potsdam.edu.
---
General News
Arts & Culture