SUNY Potsdam's Crane School of Music Hosts Virtual Faculty Recital Featuring Tenor Donald George & Colleagues on April 5 
An upcoming virtual faculty recital at SUNY Potsdam's Crane School of Music will feature several world premieres and highlight lesser-known works for a musical journey through different genres and poetic influences.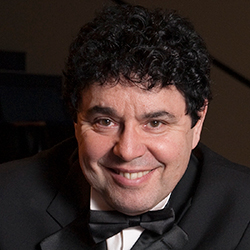 Voice Professor Donald George, tenor, will join five of his colleagues for the virtual recital, debuting on Monday, April 5 at 7:30 p.m., at potsdam.edu/cranelive. 
Concert highlights include the world premiere of the 2021 versions of a song cycle by Crane alumnus and current TikTok sensation Daniel Mertzlufft '15. The up-and-coming composer first wrote "Three songs of e e cummings" in his senior year, and recently reworked the series for his former professor and his classmate, pianist Nicholas Roehler '16. The series includes settings of the poems "o thou," "love is thicker than forget" and "time be kind." 
"Dan has rocketed to fame recently, but still found time to rework this song cycle," George said. "They are really beautiful and effective songs. It shows another side of Dan and his ability to compose beautifully with a masterful setting of these texts." 
Another world premiere on the program is a new piece by Crane Professor Gregory Wanamaker, with text by the British poet Garth Bardsley, titled "I do not know," accompanied by an electronic track.  
"This is the composer's first foray into the electronic medium and is very exciting. The poem itself is a reflection of the times we are in and is rather 'bleak,' in Greg's words… however, the sounds and mood at the end do suggest hope," George said of the new work. 
George will also present the first performance of the tenor version of Grammy Award-winning composer Lori Laitman's song based on the Emily Dickenson poem, "If I can stop one Heart from breaking," accompanied by Julianne Kirk-Doyle on clarinet and Ling Lo on piano. 
The concert will open with "Tide" by Harry Burleigh, based on a poem by Frances Paine. One of the first prominent Black composers, Burleigh's spirituals are well known, but he also composed more than 100 art songs, including this piece. 
Soprano Deborah Massell will join for a performance of Ludwig van Beethoven's "Odi l'aura che dolce sospira," based on poetry by Pietra Metastasio. Cellist Marie-Élaine Gagnon will join for Gustav Mahler's "Liebst Du um Schönheit," a setting of Friedrich Rückert's poem. Rounding out the program is an operatic duet from "Les Contes d'Hoffman" by Jacques Offenbach, featuring soprano Margaret Chalker. The recital will close with Sergei Rachmaninoff's "Vocalise," and Lucio Dalla's "Caruso." 
To view a complete list of upcoming Crane streaming performances and programs, visit www.potsdam.edu/cranelive. 
About The Crane School of Music: 
Founded in 1886, SUNY Potsdam's Crane School of Music has a long legacy of excellence in music education and performance. Life at Crane includes an incredible array of more than 300 recitals, lectures and concerts presented by faculty, students and guests each year. The Crane School of Music is the State University of New York's only All-Steinway institution. For more information, please visit www.potsdam.edu/crane. 
---
Arts & Culture
General News