Renovation Overview
SUNY Potsdam is undertaking a large renovation project to the Barrington Student Union, beginning in July 2019. This $8.6 million capital project will completely overhaul the building's heating, ventilation and air conditioning systems, making the union more energy-efficient and quieter when the project is complete. In addition, the entrances to Barrington will be updated and the lobby will be refurbished.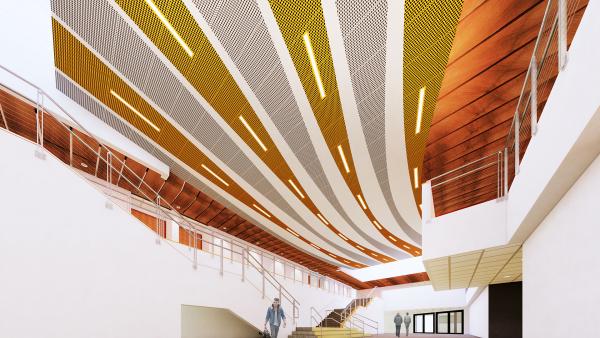 During construction, nearly all offices and event spaces currently located in Barrington will be closed or relocated, including the lobby and the entire second floor. This will create many inconveniences, as alternate spaces, paths and entrances are used. Temporary alternate doorways will be created for the functions that will remain in use during the project.
SUNY Potsdam appreciates your patience with these changes during construction (as of June 20, 2019):
Beginning on Monday, June 24, the west entrance to the Union (facing Thatcher Hall/Dexter's Place) will be closed for approximately two weeks, as abatement begins.
The College Store and the Student Union Dining Court will both remain open throughout the renovations, with temporary alternate doorways. They will remain accessible via the lobby, until further notice.
The Student Mailroom will remain open with the same hours, until further notice.
The following offices have moved temporarily to Draime Extension during construction:
Dean of Students (second floor)
Campus Life (second floor)
Student Conduct (second floor)
Student Government Association (third floor)
Student Entertainment Services (third floor)
Pete's Place and Venture Outdoors will operate temporarily out of Merritt Hall, effective immediately.
The Racquette student newspaper offices have been temporarily moved to Carson Hall (third floor).
The WAIH radio station will remain operational in its existing studio in the Union; however, its hours will have to be adjusted due to construction.
All phone numbers for relocated offices will remain the same. New office locations are being updated in the campus directory online.
The North Country Savings Bank ATM will be moved to the Lougheed Learning Commons on Thursday, June 27.
As you plan ahead for the coming semester, keep in mind that all meetings and major events that have typically been hosted in the Barrington Student Union will be held in different campus venues while the project is underway. Regarding building accessibility, the goal is to have the lobby reopened for pass-through use by the Spring 2020 semester (although renovations will not yet be complete). The lobby will not be able to be used for tabling or events during the Fall 2019 semester. Details for an alternate location are being finalized at this time.
SUNY Potsdam has been in contact with all outside groups that typically rent out spaces in Barrington to let them know that we cannot accommodate community or outside events until the renovation is complete. Because we will have limited space to host events while the project is underway, the College must prioritize campus groups and users.
Thank you for your patience as we improve our campus!