Barrington Student Union Renovation Overview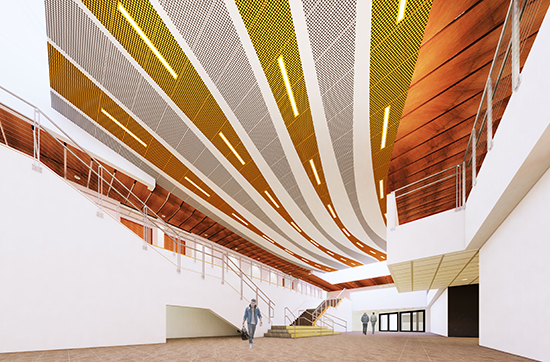 SUNY Potsdam is undertaking a large renovation project to the Barrington Student Union, which commenced in July 2019 and will continue through fall 2020. This $8.6 million capital project will completely overhaul the building's heating, ventilation and air conditioning systems, making the union more energy-efficient and quieter when the project is complete. In addition, the entrances to Barrington will be updated and the lobby will be refurbished.
During construction, nearly all offices and event spaces currently located in Barrington will be temporarily closed or relocated, including the lobby and the entire second floor. This will create many inconveniences, as alternate spaces, paths and entrances are used. Alternate doorways have been created for the functions that are remaining in use during the project. SUNY Potsdam will work to accommodate student events and activities in alternate campus venues while the project is underway.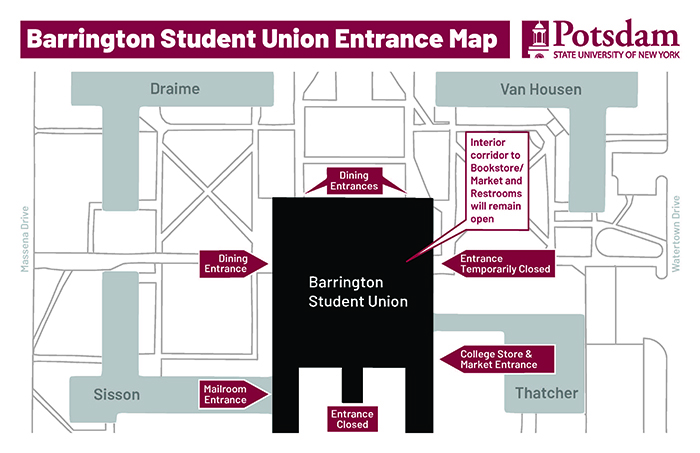 Update
Construction is continuing on the Barrington Student Union, as renovations are finalized.
The Student Mailroom can be accessed via the Sisson Hall entrance at the Barrington Student Union building connection. The Mailroom and Mail corridor will be open from Monday to Friday from 9:30 a.m. to 4 p.m.
The College Store is open from 8 a.m. to 7 p.m. from Monday to Friday, and from noon to 7 p.m. on weekends.
If you have any questions about the Barrington Student Union renovation, please contact Assistant Facilities Program Coordinator Courtney Bloodough in Physical Plant, at (315) 267-2107 or bloodocl@potsdam.edu.