Barrington Student Union Renovation Overview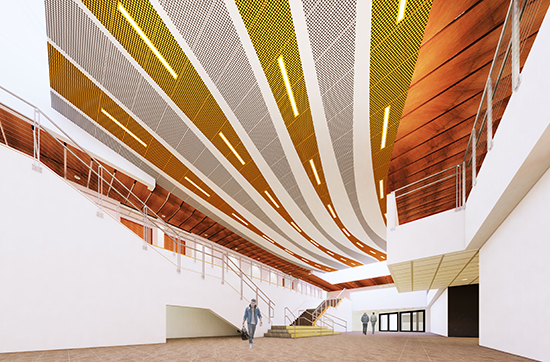 SUNY Potsdam is undertaking a large renovation project to the Barrington Student Union, which commenced in July 2019 and will continue through summer 2020. This $8.6 million capital project will completely overhaul the building's heating, ventilation and air conditioning systems, making the union more energy-efficient and quieter when the project is complete. In addition, the entrances to Barrington will be updated and the lobby will be refurbished.
During construction, nearly all offices and event spaces currently located in Barrington will be temporarily closed or relocated, including the lobby and the entire second floor. This will create many inconveniences, as alternate spaces, paths and entrances are used. Alternate doorways have been created for the functions that are remaining in use during the project. SUNY Potsdam will work to accommodate student events and activities in alternate campus venues while the project is underway.
SUNY Potsdam appreciates your patience with these changes during construction:
The construction team continues to make great progress with the Barrington Student Union renovation. The construction team is set to open the main entrance to Barrington on Monday, Jan. 20, allowing for pass-through traffic while renovations are still underway this semester. A corridor has been constructed to safely connect the Student Mailroom to the College Store, Union Market, the restrooms and the Student Union Dining Court.
The temporary alternate exterior entrances to the College Store and the Dining Court will both remain open this semester as well. This will allow Barrington to be utilized as a "pass through" during the Spring 2020 semester, but it will also allow the construction team to continue making progress on the renovation. Please excuse the building's appearance during construction.
What's staying?