Congratulations on becoming a part of the SUNY Potsdam family!
What is Orientation?
Orientation is your time to become a part of the Potsdam community. You'll have an opportunity to meet other first-year students, get to know campus programs and services, and speak with an academic advisor to choose your fall classes.
When is Orientation?
Students participate in orientation activities online throughout the summer and a full-day orientation program will take place on August 28.  Before you arrive on campus in the fall for orientation, you'll complete a number of steps to make sure you're ready when your first semester begins. 
Once you've deposited, you will be moved through a series of steps to get you ready to arrive in late August.  These steps will give you important information about academic advising and scheduling your classes, walk you through financial aid and billing, and help you meet and interact with your fellow incoming students.  These steps are outlined on the New Student Services section of BearPAWS.
Orientation Fees:
First-Year Orientation Fee: The $200 fee includes all activities and transitional support programs throughout your first year.  This fee will be included in your first College bill. There is no need to pre-pay.
Do families and guests come to Orientation?
On new student move-in day (Thursday, August 27), there will be opportunities for families and guests to learn more about the college, visit campus offices, and get answers to their questions.  Families and guests leave on Thursday afternoon and students will begin their participation in Orientation and Welcome Weekend activities that run Thursday through Sunday.
Questions About Orientation?  Contact Us:
Office of Student & Family Transitions
128 Sisson Hall
(315) 267-2580 or orientation@potsdam.edu
| | |
| --- | --- |
| April 15 | Housing Sign-ups Begin |
| June 1 | Advising/Registration Phone Appointments Begin |
| June 15 | Housing Deadline |
| August 15 | Fall Semester Payment Deadline |
| August 27 | New Student Move-in |
| August 28 | New Student Orientation     |
| August 29 | Welcome Week Activities Begin  |
| August 31   | Fall 2020 Classes Begin     |
| September 4  | Last Day to Add/Drop Classes |
Set Up Your Potsdam Outlook Email Account
All official College communication is sent to your Potsdam email.  It is very important to check your Potsdam Outlook email account often for orientation information and other important updates regarding your transition to SUNY Potsdam such as financial aid, health requirements, billing, etc.
Microsoft Outlook is a free app available in the Apple and Android App stores. Or, it can be accessed online at portal.office.com. Login using your email address and campus computer account (CCA) password that you set up when you received your admission information email. Your SUNY Potsdam Outlook Email account is your Potsdam username@potsdam.edu. Your email password is the same as your BearPAWS password.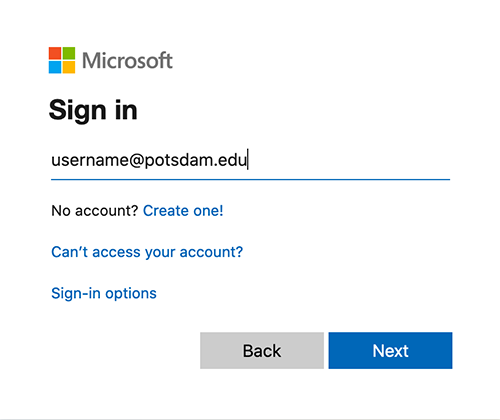 More information about Microsoft Outlook is available on the college website.
BearPAWS Login Instructions
BearPAWS is the portal to all of your important student information.  You'll use the site to register for classes, pay your bill, sign up for housing and meal plans, check your grades, track your degree progress, and much more.  It's essential that you begin familiarizing yourself with the site this summer as you will use it throughout your time as a student.
The New Student Services portal in BearPAWS is the place where you will fill out your mandatory health forms, complete an advising questionnaire, and sign up for housing and meal plans.  The portal's New Student Checklist also allows you to track that you've completed all of the steps required before you start your first semester at Potsdam.
Use your Campus Computer Account (CCA) username and password
Go to the "New Student Services" link; follow the checklist and complete all steps.
Make Sure You:
Submit your Free Application for Federal Student Aid (FAFSA) at FAFSA.ed.gov.
Apply for the Tuition Assistance Program (TAP) and the Excelsior Scholarship at www.HESC.ny.gov (Higher Education Services Corporation website).  This is for New York State residents only.
Go into BearPAWS to check what you still need to complete or submit to confirm your financial aid
Payment Deadlines:
August 15, 2020 - Fall Semester Payment Deadline
January 15, 2021 - Spring Semester Payment Deadline
Payments received after these dates may be subject to late fees.
Send in Health Information
This information is due right away if you want to register for classes! Complete the health requirements for attending SUNY Potsdam online at BearPAWS:
Go to the "New Student Services" link
Click on "Student Health Services" Portal
Click on "Forms" (complete the Health Information #3, Meningitis Response, and Tuberculosis Questionnaire)
Mail or fax your immunization record to:
Student Health Services
119 Van Housen Hall
Potsdam, NY 13676
Fax: (315) 267-3260
Student Health Services must ensure all new, readmitted, and transfer students meet state and local health requirements. Failing to comply with the health requirements will result in your inability to register for classes. See important details here.
Questions about health forms/requirements? 
Call Student Health Services at (315) 267-2377 or email the office directly at shs@potsdam.edu.
Fill out the Advising Questionnaire
Before you can register for classes, your academic adviser needs to get to know your general interests and academic goals. Fill out the advising questionnaire on BearPAWS. Follow these simple steps:
Log in to BearPAWS
Go to the "New Student Services" link
Click on "Advising Questionnaire" (answer the questions and hit submit)
Questions about the Advising Questionnaire? 
Email: advising@potsdam.edu
This does not apply to Crane Bachelor of Music students.
During your first year at SUNY Potsdam you will take three WAYS of Beginning courses; a WAYS 101: Critical Thinking Seminar; a WAYS 102: College Writing Seminar and a WAYS 103: Speaking about Diversity, Equity, and Inclusion (DEI) Seminar.
Every student is required to take a WAYS 101: Critical Thinking Seminar in their first semester at Potsdam, designed to build your critical thinking skills. These seminars introduce you to the expectations of college, give you a small classroom experience focusing on an engaging puzzle or problem of your choice, and establish a sense of community among participants.  
In addition to taking a WAYS 101: Critical Thinking Seminar, some of you will enroll in a Core Writing class and others will be ready to leap right into the more demanding WAYS 102: College Writing Seminar.  Those who take Core Writing in the fall will take WAYS 102 in their second semester.  About half of you will take a WAYS 103: Talking about DEI Seminar in the fall and the other half will take it in the spring.  Whether you take WAYS 103 in fall or spring will be based on your preferences, course availability, and your other WAYS choices.
In April you will be emailed a survey allowing you to select your preferred first-year WAYS seminars.  When you complete this survey, you will be automatically registered for one of your choices for WAYS 101, and, if you so indicated, into one of your preferred sections of WAYS 102 or WAYS 103.  No student will be registered for more than two WAYS seminars in their first semester. 
Once you've received the survey, please complete it as soon as possible. Seminar spaces are limited, and once these courses are full, they will be removed from the listing of courses. The longer you wait, the more limited your choices will become!  
 
Questions about your WAYS Courses? 
Email Christine Doran, Interim Director of the Potsdam Pathways Core Curriculum or Krista LaVack, Assistant Director of Potsdam Pathways. You can find out more about your WAYS choices here.
Save the Date: April 15, 2020
After April 15, please refer to our webpage for more detailed information. All students must indicate their housing preferences and/or apply for an exemption to live off campus (available online through BearPAWS).
We know that deciding where you want to live and who you might want to live with is a big decision.
June 15: Housing Deadline
We will make every effort fulfill the requests of students who sign up for housing by this date. In addition, students who complete by the deadline will receive advance notification of their housing assignment on August 1. Students can make changes to their request in BearPAWS until June 15.  Please note that we cannot process any changes once a student submits their request.
If you have any physical conditions or concerns that impact your housing needs, please see our website for information on how we can accommodate your needs.
First-year students must live on campus for 2 years/4 semesters.
Live On Campus:
Log in to BearPAWS
Go to the "New Student Services" link
Go to the "New Student Housing Registration" link
Read/agree to Housing License and submit
Indicate your housing preference from the dropdown menu
If you have a roommate request, provide their information. (Note: You are not required to have a roommate request.)
Submit your preferences
Live Off Campus - Apply for a Housing Exemption
Log in to BearPAWS
Go to the "New Student Services" link
Go to the "New Student Housing Registration" link
Indicate that you will not be residing on campus and continue on to complete the exemption form and submit.
You will receive an email with the decision of your request for exemption.
The First Year Experience (FYE)
The First Year Experience (FYE), housed in Bowman South, provides opportunities for first year students to make meaningful connections with their peers as well as faculty and staff at SUNY Potsdam. Studies show that students who make these connections during their first year of college have a better chance of performing well academically and reaching graduation. Further, FYE participants often remark that the friendships they made in their first year lasted long after graduation.
FYE combines three major components: residential, programmatic and academic to promote afun, dynamic, and academically focused experience for first year students. All students who live in FYE are also enrolled in a two-credit First Year Success Seminar (FYSS).
FYE Theme Floors:
Arts Floor:  One floor has been reserved for students interested in the visual arts, dance, drama and music. This floor is co-ed by door. Students planning to enroll in any arts-related courses are encouraged to take advantage of this unique program where you can live and learn in a community of artists.
Honors Floor: A portion of one floor has been reserved for students accepted into the Potsdam Honors Program. This floor is co-ed by door. A study lounge is provided for the use of the floor
participants. The Honors Floor has been designated as a study-intensive area.
Signing up for FYE Housing
To sign up to live in FYE, follow the Housing link in your checklist and make sure to express your interest in FYE on the housing online form. Space in FYE is limited and will be assigned on a first-come, first-served basis. For more information about FYE, please contact the Office of Residence Life at (315) 267-2350. For more information about the Honors Floor, contact the Honors Program at (315) 267-2900.
Sign Up for Meal Plan & Bear Express Account
Students are responsible for making meal plan selections on BearPAWS before the start of the semester. Per campus residency requirement, residential students must have a meal plan. Meal Plans consist of weekly meal swipes and semester's use of FLEX and Guest Passes. First Year Students have two meal plan choices:
19 Meals/week, $100 Flex/5 Guest Passes
14 Meals/week $500 Flex/5 Guest Passes
Meal Plans expire at the end of the semester; they are non-refundable, have no cash value and do not rollover into the next semester. Meal Plan contracts are valid for the academic year and are billed in the fall and spring semesters; changes must be made within a week of the start of classes or between semesters. Changes to the amount must be made within a week of the start of classes or between semesters.
Log in to BearPAWS
Go to the "New Student Services" link
Go to the "Meal Plan & Bear Express Registration"
Read/agree to Meal Plan License & click submit
Select your resident status
Select the 1st Year Meal Plan
Select Bear Express amount for the semester
Click save
For details about residential or commuter plans and their costs go online.
Bear Express is an optional spending account accessed through the Campus Card. It may be used on campus for goods and services at The College Store, Union Market, Dining Services, in vending machines and at participating off-campus restaurants and businesses.
The amount of money you select to have placed on your account will be billed in both the fall and spring semesters. Changes or cancellation to the account must be made within seven days of the start of classes on BearPAWS. Money can be added to the account throughout the semester with cash, check, credit, or debit cards at the PACES Business Office or at any Dining Service location.
Unused Bear Express account balances roll over from Fall to Spring semester and balances in excess of $20 at the end of the academic year will be refunded.
Order your Campus ID Card
The campus ID card, also known as the Campus Card, provides access to your meal plan, residence hall, Bear Express account, fitness center and other campus services. All Potsdam students are required to have a Campus Card. Cards are issued at the PACES business office in Merritt Hall. 
 
If you submit your photograph online through sunycard.potsdam.edu two weeks prior to your arrival for orientation or the start of classes, your card will be ready for pick-up during orientation.  You must show a valid government issued photo ID (passport, driver's license) to pick up your Campus Card. 
Submitting Your ID Photo:
Photo requirements:
Must be in JPG file format
Must be in color
Must be taken within the last 6 months
There must be space above the top of your head and the bottom of your face
The photo must be of your entire head, face and shoulders
The photo must be on a plain white or light background
No hats, sunglasses or gestures
 Submit your photo online:
Go to: sunycard.potsdam.edu
Log in using your CCA
Click on Submit ID Photo
Click on the Browse button to find the location of the photo you wish to upload
Select the desired photo, then click on the "upload" button
Click "submit"
The College Store is the official SUNY Potsdam textbook retailer and stocks required and recommended course materials. Getting the right books and course materials is important to a student's academic success. The College Store has a direct connection to faculty instructors and each semester it orders materials the faculty have requested. In many cases, this includes special course packs, CDs and study guides.
Books ordered online through the Store's website bookstore.potsdam.edu can be shipped or pre-packed for pick-up on campus. The online ordering system will show you which titles are required, recommended or suggested for courses. The Store sells textbooks in different formats: new, used, e-book, or rental. USED books are generally 25% less than the new book price, rentals and e-books are usually less expensive than new. The College Store also has a price comparison tool for easy reference.
Online ordering and pre-packing begin two weeks prior to the start of the semester. Pre-packed orders are filled first, so the chances of getting a preferred format is greater when ordered online. All orders are filled on a first come, first-served basis. Students who choose not to pre-pack can come and purchase the books at The College Store in Barrington Student Union.
Changes to course titles, books and materials can be made prior to the start of the semester, so ordering books for prepack will assure greater accuracy. You will be notified as to when and where to pick up your books via email.
The College Store has a textbook buy-back program and a full inventory of school supplies. Books ordered through The Store may be paid for with Bear Express or credit card.
Order textbooks online:
Go to bookstore.potsdam.edu
Under the Textbook link click on "Order Textbooks"
Go to "How to Order Textbooks Step by Step," a PDF and review the step by step instructions
After following the instructions, go back to the Textbook link and go to "Click here to order your textbooks."
Once you have completed your order, you will receive an email confirmation about where and when to pick up your books.