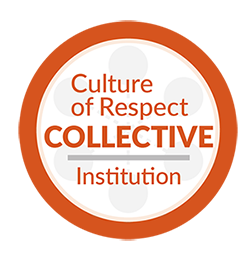 SUNY Potsdam is proud to be a Culture of Respect Collective Institution. The collective is an ambitious two-year program that guides cohort institutions through a rigorous process of self-assessment and targeted organizational change. Its goal is to build the capacity of educational institutions to end sexual and gender-based violence through ongoing, expansive organizational change.
Resources
Campus reporting form
Report sexual misconduct, sexual harassment, bias incidents, general incidents and more
Title IX office
Information on rights under Title IX, reporting options, sexual violence prevention survey results
Important resources
What to do if you experience sexual or gender-based violence, information on resources on and off campus, including confidential options, and more
Student Conduct & Community Standards office
Information on the student handbook, procedural rights, academic honor code, appeal process, rules and hazing laws
University Police
24/7 campus safety, incident reporting, crime prevention, safety education
Annual Security & Fire Safety Report
Published each year in compliance with the Clery Act
Division of Diversity, Equity and Inclusion
Learn about SUNY Potsdam's commitment to supporting all campus community members and visitors
Timeline
Phase 1 (January to March 2022): Program launch and Campus Leadership Team (CLT) formation

Phase 2 (Spring 2022): Administer CORE evaluation

Phase 3 (Summer to Fall 2022): Develop Individualized Implementation Plan (IIP)

Phase 4 (Spring to Fall 2023): IIP implementation; ongoing participation in professional development, peer-led learning, and technical assistance

Phases 5 & 6 (December 2023): Readminister CORE evaluation and submit final IIP update; program closeout
Campus Leadership Team
Co-Leads
Andrea Waters '01 (she/her)
Title IX Coordinator/ADA Compliance Officer
Patrick Meldrim (he/him)
Director of Student Conduct and Community Standards
SUNY Potsdam's Culture of Respect Campus Leadership Team includes representatives from across campus, including the following areas:
Accommodative Services

Applied Learning

Athletics

Campus Life

Counseling Center

Diversity, Equity and Inclusion

Faculty

Human Resources

Institutional Effectiveness

President's Council

Residential Life

Sexual Assault Task Force

Student Conduct

Student Health Services

Student Representatives

Title IX

University Police
Six Pillars, One Plan
The Campus Leadership Team is hard at work developing and implementing SUNY Potsdam's Individualized Implementation Plan, based on the results of our first CORE Evaluation, which analyzes the ways that our policies, procedures and practices align with best practices, expert recommendations, and federal law and guidance. The IIP is based around the six pillars of the CORE Blueprint: Survivor support, clear policies, multitiered education, public disclosure, schoolwide mobilization and ongoing self-assessment.
Survivor Support & Clear Policies
Identify and strengthen Memoranda of Understanding and community engagement.

Provide accessible and clear guidelines on sexual misconduct reporting procedures.

Develop comprehensive advocacy resource list to share with campus community.

Review protocols for initial care of the reporter for consistency.

Clarify Clery Act geography in campus policies and materials.

Develop a tool to assess the awareness and understanding of individuals who have gone through the Title IX and student conduct process.

Review current policies and procedures to strengthen trauma-informed wording.
Multitiered Education & Public Disclosure
Create and distribute preventative materials with bystander intervention strategies.

Review mandated prevention training for students and employees.

Research and develop a proposal for a campus prevention coordinator.

Plan community event in October 2023 to engage members with Annual Security Report.

Collaborate with Office of College Communications to develop a marketing plan to  communicate SUNY Potsdam commitment to ending campus sexual violence.

Increase student participation in feedback surveys through tabling and programming.

Review timely warning templates to include applicable bystander intervention information.
Schoolwide Mobilization & Ongoing Self-Assessment
Provide incoming students with information about the Amnesty Policy, emergency blue light phones, and additional supportive information.

Connect with Student Government Association, athletics, Greek Life and additional groups to get feedback on sexual misconduct policies.

Provide parents and families an overview of SUNY Potsdam's policies during Summer 2023 orientation.

Identify avenues to increase student response rates when administering campus climate assessments.

Measure effectiveness of training for SUNY Potsdam employees.