Title IX of the Education Amendments of 1972 is a comprehensive federal law that protects people from and prohibits discrimination based on sex in any federally-funded education program or activity.
The College must take immediate action to known instances of sexual discrimination, which includes all forms of sexual harassment, sexual assault, domestic violence, dating violence, and stalking, in a way that (1) ends it, (2) prevents its recurrence, and (3) addresses its effects. Title IX policies apply equally to all employees, students, and third parties regardless of their sexual orientation, gender identity, or gender expression.
SUNY Potsdam prohibits all forms of sexual discrimination.  Incidents should be reported immediately to ensure that the victim/survivor gets the help, resources, and services that they need.  They are in full control of what happens next, if anything.  They decide if they want to file an official Title IX complaint, if a Title IX investigation happens, and/or if criminal charges will be filed.  Even if they don't wish to pursue a Title IX investigation or criminal charges, they are able to use the resources/services that are available to them such as medical assistance, counseling, advocacy services, safe housing/room change, no contact order, academic support services, safety escorts, etc.
If you feel you have been subjected to, witnessed, or heard of an incident, please contact the Title IX Office immediately:
May 2020 Title IX Regulations (PDF)
If you are in immediate danger, contact University Police at (315) 267-2222 or x2222 or use the Rave Guardian app. View Rave Flyer (PDF)
Training for Title IX Coordinators, Investigators and Decision Makers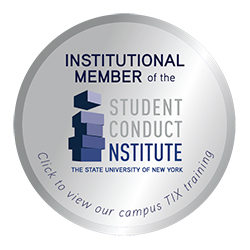 Section 106.45(b) of the 2020 Final Title IX Rules require the sharing of "All materials used to train Title IX Coordinators, investigators, decision-makers, and any person who facilitates an informal resolution process. A recipient must make these training materials publicly available on its website, or if the recipient does not maintain a website the recipient must make these materials available upon request for inspection by members of the public."
Training is provided by the SUNY Student Conduct Institute.
A Culture of Respect
SUNY Potsdam is proud to be a Culture of Respect Collective Institution. The collective is an ambitious two-year program that guides cohort institutions through a rigorous process of self-assessment and targeted organizational change. Its goal is to build the capacity of educational institutions to end sexual and gender-based violence through ongoing, expansive organizational change. Learn more.