Jason Zembek
Laborer/Project Manager
Perras Companies/Environmental Control
1909 NY-420, Massena, NY 13662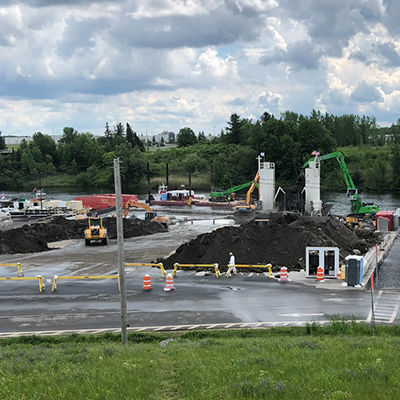 Personal Experience: Throughout my field experience I worked at three job sites. The first was a pipe replacement job that supplies the village of Massena with water from the St. Lawrence River, the second job was constructing a boat launch, and the final site was an EPA superfund site the Grasse River Cleanup. At these three sites environmental factors always were present. I learned many practices that are performed to help with conservation during the process of construction as well as taking proper precautions wearing ppe while working in certain environments. I learned a lot of management skills throughout my experience and really improved my communication skills. Communicating was something I always had to do working with multiple companies such as CDM Smith, Brennan, Alcoa, Arconic, Arcadis, IAI, and J.F. Brennan. My goal is to keep working in the remediation field. After completing this experience, I know this is a career I want to pursue because while you work you receive a good feeling about cleaning up the environment from environmental burdens.
Organization: Perras Companies                                                                          
Perras Companies was founded in 1954, it is separated into three companies such as excavation, construction, and environmental control. Perras Excavation works on jobs such as earth moving projects, demolition, lined landfill cell and cap construction, etc. Perras Environmental Control works on several tasks such as demolition, landfill capping, water treatment systems, soil remediation, wetland creation and restoration, soil management and disposal, etc. Perras Companies is a large contributor to its local community supporting the Mark P. Tyo Foundation, Massena Minor Hockey, Massena Meals on Wheels, Massena Memorial Hospital Foundation, Massena Back the Pack, Hospice and Palliative Care of the St. Lawrence Valley, and so on.
Contact: Jeff Tyo, jefftyo@perrascompanies.com, 1909 NY-420, Massena, NY 13662, (315) 250-0229
 
About the Internship: Laborer/Project Manager                                                                        
A typical workday on an active job site was 10 hours starting at either 6 a.m. or 7 a.m. as a laborer I would participate in a lot of groundwork. As a project manager I would keep track of import material that was being brought in for the Grasse River project creating excel files daily and emailing them out to our main contractor along with the companies who provided the material. I would give our workers their daily tasks making sure they got completed. I would also have to create a daily report every day for the work we had completed. I started work May 20th and my last day will be August 24th. This experience improved my planning, communication, management, active listening, and problem-solving skills. One of the requirements that I needed to have was a 40-hour Hazwoper training course. This training focused on safe handling of hazardous waste and proper precautions that are needed to be taken. This was a paid internship where I was working 60 hours a week or more. I really enjoyed my time throughout my experience and learned a lot of valuable information setting a good foundation for my future career.