Interim Dean David Heuser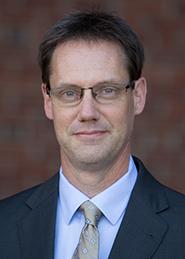 It is an honor to have the responsibility to lead SUNY Potsdam's Julie E. Crane School of Music during this challenging and exciting time in the School's 135-year history.
As we welcome back to campus ALL of our students and return to fully in-person instruction, it is important to recognize the accomplishments of the students, faculty, and staff at the Crane School during the pandemic as they adjusted to new means of instruction. This work has given us all new skills, methods, and knowledge, as well as a new appreciation for the importance and beauty of making music together.
This year, we will be doing that music making in the wonderful Crane Complex as it enters year two of the largest renovation project in the building's history. This is the year we begin to reap some of the benefits of this renovation project, which is scheduled to be completed in August 2022, at about the same time a new extension to the complex will also open.
While we are excited about the possibilities of both the new addition, as well as significantly improved and reimagined parts of the Crane Complex, it is the people who ultimately make the Crane School of Music the internationally renowned school of music it is. This is a community comprised of persons with diverse cultures, ethnicities, gender and racial identities, backgrounds, and histories. We are committed to our continuing work to ensure that Crane remains an inclusive and welcoming place. All are welcome here.
I am honored to serve as Interim Dean of The Crane School of Music, a school founded on the ideals and dreams of Julia Crane, a remarkable woman who re-imagined teacher education and created the first college program for training public school music teachers in the country. I encourage you to explore this website to learn more about our programs, faculty, facilities, and performances. And I invite you to share in our vision, and join us as audience members, as supporters, and as future students at the Crane School of Music.