The Julia E. Crane School of Music Complex is home to hallmark performing spaces, including the Helen M. Hosmer Concert Hall, the Sara M. Snell Music Theater and the Ralph Wakefield Recital Hall, as well as classrooms, large rehearsal rooms and faculty studios. Additionally, there are more than 75 practice rooms, an extensive music library, a student commons, dressing rooms, costume rooms, scenery rooms, plus piano and instrument repair shops.
The Helen M. Hosmer Concert Hall boasts some of the best acoustics in the Northeast and houses a Wicks concert organ, and seats approximately 1,300 audience members.
The Sara M. Snell Music Theater provides an ideal acoustic for operas, concerts and recitals, seating just over 450 audience members.
The Ralph J. Wakefield Lecture and Recital Hall offers an intimate performance space with 130 seats, complete with technology for guest artists, lectures, presentations, recitals and other special events.
The Crane School of Music, SUNY Potsdam has embarked on a $29 million renovation and addition project which began in September of 2020 and has an anticipated completion date of September 2022.
Scope of the project:
Addition of new space (adjoining Bishop Hall) including 3600 square foot rehearsal room, entrance lobby, and administrative offices

Complete renovation of the four existing large rehearsal rooms (Bishop Hall C101, 107, 119, 123)

Complete renovation of Percussion Alley, including practice rooms replaced by self-contained Wenger-type sound controlled rooms.

Decasing and storage space near the new lobby and existing rehearsal rooms

Replacement of the Crane fire alarm system

Replacement of ceilings and lighting in all corridors throughout Crane

Significant improvements to the heating/climate control system infrastructure, including a geothermal well energy system
Below are images of the exterior and interior plans for the renovation and addition.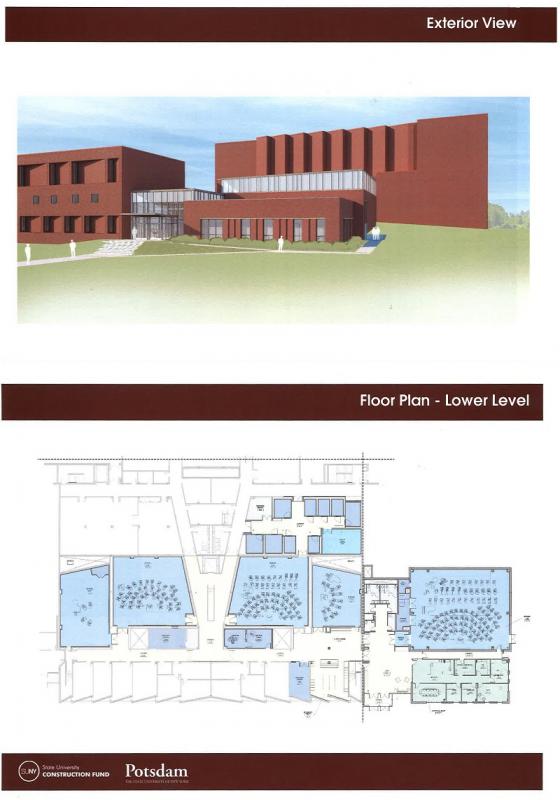 As an All-Steinway School, Crane has 142 Steinway pianos, including three new concert grands. In addition, Crane's collection includes more than 1,200 band and orchestra instruments, a forte piano, three harpsichords, four organs (including a Wicks concert organ), and a collection of Renaissance string and wind instruments.
The Crane Music Library, located in Schuette Hall, houses the most extensive collection of music books, scores, magazines and sound recordings in the North Country. It also provides up-to-date technology for viewing and listening. Assistance in research is offered by Edward Komara, Crane Librarian.
All classrooms in The Crane School of Music feature audio/visual presentation capability. The School has two mobile SMART Boards that can be used anywhere in the complex, as well SMART Boards in each of the Keyboard Labs. Livestreaming capabilities with high-definition video and quality sound recording are available in the largest performance spaces, Hosmer Hall and Snell Theater. For information about how to use classroom technology in classrooms  C303, C309, and Wakefield Hall, click here.
Housed in the Crane Music Library, this state-of-the-art "hands-on classroom" features 21 computers and Korg Triton LE keyboard synthesizers, with a wide assortment of professional-grade software for music notation and sequencing, web and multimedia development and digital audio/video editing and mastering.
Located in the Performance Arts Center, the recording studio is a state-of-the-art facility completed in 2014. The studio allows for both audio and visual recording, and is linked into all six performing spaces in Crane and the PAC. There is an additional recording studio space in the Crane complex, which is the home to Madstop Records, a student-led recording initiative that undertakes projects both within the School and with outside companies.
The PoEMS Studios provide students with the opportunity to create music using computer software, digital and analog synthesizers, and other electronic equipment. This professional quality lab is equipped with the latest in digital audio recording hardware and software, high capacity digital storage media, and a variety of synthesizers and sound processors.
Housed in the Crane Music Library, the Improvisation Lab provides students with access to computer and sound reinforcement technologies that support the development of jazz improvisation abilities. Sequencing and audio recording software provides soloists with combo backing and the ability to record sessions for use in a variety of educational contexts. SmartMusic software allows students to rehearse with a "virtual accompanist."
The Crane Complex has about 65 practice rooms, including special rooms for percussion, harp, organ, and harpsichord. Most practice rooms have upright Steinway pianos. There are also nine practice rooms which have grand pianos, seven of which are in Merritt Hall (across Lake Placid Drive from the Crane Complex). These are primarily designated for piano students, and include one practice room with two grand pianos. The Crane renovation project includes a complete redesign of Percussion Alley, including new practice rooms for percussion students. This part of the project should be completed by May 2022. During COVID, we have also added some practice rooms in Knowles (across Barrington Drive from the Crane Complex).
Most practice rooms are available on a first-come, first-serve basis any time the Crane Complex is open. Students can also reserve classrooms and rehearsal spaces in Crane, all of which have Steinway grand pianos. Further information about Crane practice room etiquette and about reserving spaces in the Crane Complex can be found in the Crane Student Handbook.