Upcoming Exhibitions
September 15 - October 28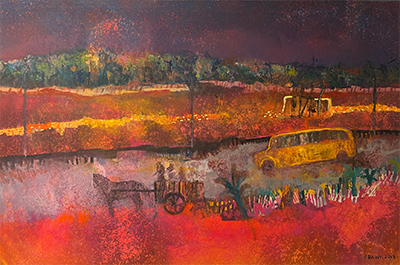 Ecuadorian Art From The Collection of Alexis Levitin
Opening reception: Thursday, Sept. 15, 5 to 7 p.m.
November 17 - December 9, 2022



Art Attack
Annual Juried Student Art Exhibition - Open to All Students

Submissions due October 6, 2022
Each artist may submit ten images of up to five works of art completed within the past 12 months. There must be artist's name, title of the work, date completed, dimensions, medium, phone number and email address included on entry form.
The Art Museum
The Art Museum at the State University of New York at Potsdam has been known by many for years as the Gibson Gallery because of the generous gifts of important contemporary and modern works of art from the late Dr. Roland Gibson. However, we are much more than a gallery.

Mission Statement
The Art Museum of the State University of New York at Potsdam's mission is to make direct experience of the visual arts accessible to students, faculty, staff, and alumni of the College, as well as to residents of Northern New York.
It serves as the center for visual arts at SUNY Potsdam through the collection, exhibition, and interpretation of quality works of art from the 20th and 21st centuries, and offers a study collection of these and other works that are pre-20th century.
It also provides experiences that supplement and enhance classroom curricula and promotes audience involvement in museum activities through exhibitions, publications, and programming.
Romi Sebald '85 - A longtime Dedication to SUNY Potsdam
Alumna Romi Sebald '85 came to SUNY Potsdam as a freshman in 1981, and never left. Now 35 years later, Sebald is the collections manager for The Art Museum at SUNY Potsdam.
Contact Us:
Email: theartmuseum@potsdam.edu
Office: (315) 267-3290
Fax: (315) 267-4884
After Hours Recording: (315) 267-2245
Museum Hours
Gibson Gallery
Monday, Tuesday, Thursday & Friday, 1 - 5 p.m.
Wednesday, 1 - 7 p.m.
Note: The Hosmer Hall Gallery will be open when there are performances in Hosmer.