From the outside looking in, the first official date of Dr. Jude '91 and Renee Kiah '92 may have looked like a disaster—complete with a car malfunction on Route 310 and a "romantic" dinner at the Pizza Hut in Canton, N.Y.
Jude had planned for it to go more smoothly. He picked three restaurant ideas and asked Renee to choose one. She decided on The Townhouse in downtown Potsdam, where they both lived as SUNY Potsdam graduate students. When they arrived, they found out that it was closed on Mondays, a familiar disappointment for North Country residents.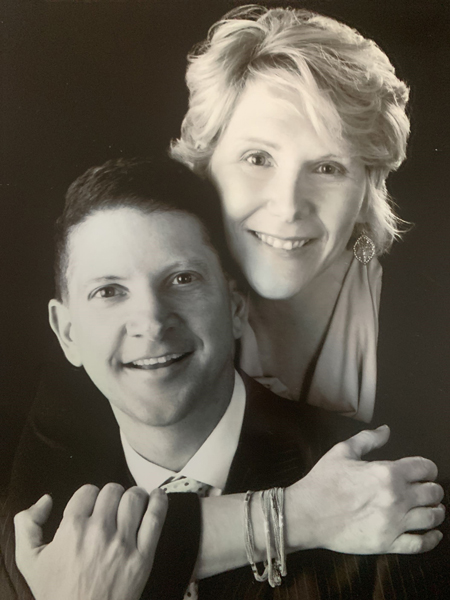 Not letting it bother them, they drove in Jude's pick-up truck to their second choice, Violi's in Massena, only to discover that it was closed as well. En route to the third option in Canton, which they would soon learn was also not open, the exhaust system on Jude's truck started to drag on the ground, and Renee found herself shining the small flashlight on her keys towards Jude as he detached the muffler.
Eventually, they walked into the Pizza Hut—Jude looking mortified and covered in grease, and Renee exchanging a stifled giggle with the waitress.
Fortunately, this had not been the couple's first interaction. Jude, then working in SUNY Potsdam's Office of College Relations, had been encouraged by a coworker to call Renee, a graduate assistant for the Community Performance Series. He called her two months later, in March of 1993, and they talked for multiple hours, two nights in a row. He then left flowers in her car as an apology for talking too much, and she visited him in Raymond Hall the next day to thank him.
When they locked eyes for the first time in his office, they were both surprised—Jude because she was a blonde and Renee because he looked so young, but neither could deny the chemistry that already existed between them.
"I liked that she was strong and the way she communicated was direct," Jude shared. "She was smart and an independent woman."
Two weeks into their relationship, set in motion by that first date, reality dawned on Jude. In two short months, he would be graduating from SUNY Potsdam with his master's degree, unsure of where his path would lead him next. He mentioned this to Renee, asking, "What are you doing to do? Follow me?"
"Yup," Renee responded confidently. "I'm all in."
Stronger Together
Now, after 25 years of marriage, Jude and Renee are both still as committed to each other as they were after 14 days.
Together, they have moved across the country—from New York to Georgia, Illinois, Ohio and now Texas—developing their crafts and progressing in their careers. Jude currently serves as the Assistant Vice Chancellor of Student Affairs Administration at Texas Christian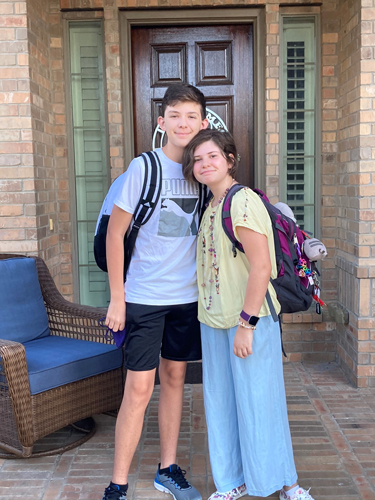 University, and Renee works as a K-12 general music educator in Fort Worth, TX. They have two children, Aaron (16) and Andra (13).
The couple shared that each of their cross-country moves was a joint decision and strengthened their family for the better.
"As our kids have grown up, we've never been near people that we were related to, and so that has created a bond in our nuclear family," Jude explained. "We don't really get too tired of each other."
Throughout their relationship, Jude has shared all of his accomplishments with Renee, from earning his Ph.D. at Northcentral University to being inducted into the Illinois Basketball Coaches Association Hall of Fame.
"I couldn't have done it without her support and without her taking care of our family," he expressed gratefully.
Similarly, Renee cannot imagine working towards her administrator license without Jude's ability to care for the kids during her classes. With the license in hand, she hopes to become an arts administrator and inspire the next generation of art and music educators.
The Enduring Impact of Potsdam
Renee credits her experience at The Crane School of Music for enabling her to overcome challenges in her career as an educator. Her advisor's advice to take classes in "a little bit of everything" has proved invaluable—in both small-town Illinois, where she taught every area of music, and in her current position amidst the COVID-19 health crisis, where she has had to adapt to virtual and hybrid pedagogy. "Crane really saved me," she said.
"Potsdam was absolutely transformative to our lives in a multitude of ways," Jude confirmed. "Renee's whole life has been driven by her experience at Crane, and my experience at Potsdam outside the classroom drove me to want to be in higher education."
"Our time at Potsdam was a way for us to catapult ourselves into what we really wanted to do and gave us the tools, both in and out of the classroom, to do it."

Dr. Jude Kiah '92
Now, the Kiahs give back to their alma mater each year through generous contributions to the Internship Program and the Fund for Potsdam, which help equip current students for successful careers.
"It has always been important to us both to provide other people the same opportunities and experiences that we had," Jude shared. "It gets me emotional, because Potsdam had such a huge impact on our lives. When I go back and see Satterlee and Raymond and all the other places, I realize that the campus still has what it had and has gone into the future as well. We remain committed to that future."
Jude and Renee recognize that they are two of thousands of people whose stories began at SUNY Potsdam. "Everybody has stories of that community, and that's what makes Potsdam special. It is a place that blooms people."
If your story started at Potsdam and you want to make the Potsdam experience possible for future generations of students, visit potsdam.edu/give. To tell us more about your story and your journey since graduating, complete our Alumni Update Form.