Due to the coronavirus pandemic, people across the world became increasingly reliant on livestreaming to interact with the communities they cherish. Fortunately, SUNY Potsdam students, parents and alumni have stayed connected to the College through livestreamed recitals, concerts and encores of past performances due to the generosity of Gail '64 and Richard Stradling (Hon. '19).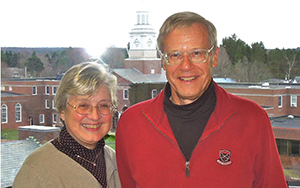 In 2013, the Stradlings donated the funds to outfit The Crane School of Music with state-of-the-art live video capture and streaming equipment. They also established a $300,000 endowed fund to perpetuate the lifecycle of the equipment and the intended purpose of their gift. Their visionary gift makes watching Crane School of Music performances and presentations possible for anyone in the world with an internet connection.
"Travel to Potsdam has always been a bit of a challenge, particularly in winter," Mrs. Stradling explained. "We recognized that parents and friends of performing students would appreciate a way of observing live performances from home. Livestreaming seemed a perfect solution."
When the couple first established the endowed gift, they could not imagine the impact that it would have. In the past year alone, the technology they funded inspired multiple events – both in person and online – that celebrated the success of Crane students and the strength of the Potsdam family.
In December of 2019, the SUNY Potsdam Office of Alumni Relations hosted a viewing party on Long Island that allowed family, friends and alumni to enjoy the livestreamed annual Crane Candlelight concert. The event, hosted by Tony Tombasco '02 at The Gateway Performing Arts Center of Suffolk County, welcomed approximately 70 attendees.
The streaming technology also proved invaluable in the early days of quarantine during the COVID-19 pandemic, when the Alumni Relations Office organized encores of past performances that had been filmed with the Stradlings' technology over the past seven years. Students, alumni and emeriti alike were grateful for the opportunity to enjoy the performances.
"Intentionally listening to music can be difficult," harp performance major Shannon Boyle '20 shared, "but when Crane began replaying concerts, students took the time out of their schedules to listen in – and this is exactly what musicians should do on a regular basis."
The Stradlings' streaming technology has also provided internship experiences and hands-on training for students working with Dr. Douglas McKinnie, the audio and video streaming engineer for The Crane School of Music. As interns, students are not only trained to broadcast concerts online; they also work directly with the director, conductors and musicians to discuss how best to capture their movement and performance, and how to coordinate score reading and transitions between the multiple video cameras in each hall.
As technology improves and performances adapt, the Gail and Richard Stradling Technology Endowed Fund will continue to change as well – a gift that keeps giving in unexpected and significant ways.
To learn more about the impact of giving at SUNY Potsdam, visit the Donor Impact webpage.