Suzanne Smith, Ph.D.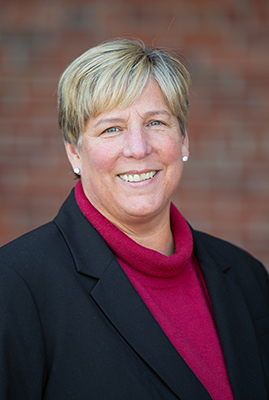 Dr. Suzanne Smith is SUNY Potsdam's 18th president, and joined the campus in April 2023. She was appointed to the position by the SUNY Board of Trustees at the recommendation of Chancellor Dr. John B. King, following a nationwide search.
Dr. Smith comes to SUNY Potsdam from Georgia Southwestern State University in Americus, Ga., where she had served as provost and vice president for academic affairs since 2018. In this position, she was responsible for the academic programming and planning for the university, and the allocation of resources to meet programmatic priorities. During her time at GSW, Smith led an academic planning process which resulted in the establishment of several new degree programs designed to meet student and regional workforce needs. She helped raise more than $2 million dollars for one of those programs by working with community partners and seeking external grants. She also led the campus post-pandemic strategic task force, which resulted in the development of GSW's three pillars of excellence: People, Purpose and Profession. Prior to GSW, Dr. Smith served at Washington State University Vancouver from 1997 to 2018, ultimately being named the director of academic planning and special assistant to the vice chancellor of academic affairs. During her time at Washington State Vancouver, she transitioned from faculty to administration by serving 10 years as an academic director.
As a professor, Dr. Smith has more than 25 years of experience teaching sociology and human development at the university level. She has received multiple awards for excellence in teaching and has written numerous journal articles and books, including her latest co-authored textbook, "Exploring Family Theories" (5th Ed), published in 2021. Dr. Smith is an active member of the National Council of Family Relations and the Family Science Association.
Dr. Smith received her Ph.D. in child and family development from the University of Georgia, her Master of Science degree in family and child development from Virginia Polytechnic Institute and State University, and her Bachelor of Arts degree in behavior science from Erskine College. She has completed the Harvard Graduate School of Education Management Development Program and the American Association of State Colleges and Universities Millennium Leadership Institute.
On April 19, 2024, SUNY Potsdam will celebrate the inauguration of Dr. Suzanne Smith as its 18th president. Plan to join us for this campus celebration. Additional details to follow.
Dr. Smith provides words of encouragement to the Class of 2023 during the College's Commencement ceremony on Saturday, May 20, 2023.