Letterhead, Envelopes and Business Cards
Stationery is a core component of an institution's communications system. Therefore, the use of correspondence materials must be approached with disciplined attention to detail and uniformity. The following guidelines have been established in order to carry out an organized and sophisticated appearance of the Potsdam brand.
The letterhead, #10 envelope and business card are shown here at 65 percent of actual size.
Stationery (letterhead, envelopes and business cards) can be ordered through the College's Central Printing Services. Register at www.myorderdesk.com/potsdam. Once registered, you can place all of your requests for proofs and printing. Please attach your artwork files in the order system. PDFs are the preferred file format. For additional information, check out the Central Printing website or call Central Printing Services at (315) 267-2054.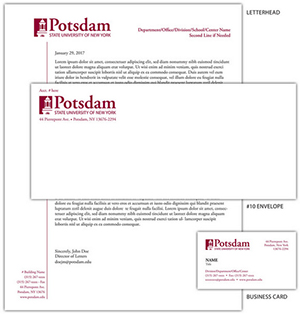 Templates
Note: Please adjust type size and other necessary elements, with the exception of College logos, official colors and fonts, accordingly based on your content.