Overview
Barracuda is our anti-spam web portal/email alert system for spam management. It is available at https://mx3.potsdam.edu,or by following the Barracuda links found in the automatic email quarantine summary that is delivered to your email.
Spam Quarantine Summaries via Email
By far, the simplest way to interact with the Barracuda is by reviewing your automatic email quarantine summary which is delivered weekly (default setting) or daily. An example of the email is shown below: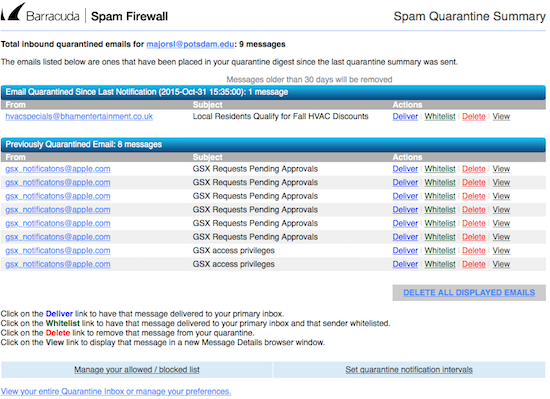 A listing of each quarantined email is displayed. You can choose to Deliver the message if it is valid and along with this action, you may also want to click Whitelist so that the sender will not be quarantined again. You can also View it in a webpage or Delete it, however please note that quarantined messages will be deleted after 21 days.

The links at the bottom of the page take you into your Barracuda preferences.
Barracuda Web Interface
Many of the same actions available described above are available in the main Barracuda web interface.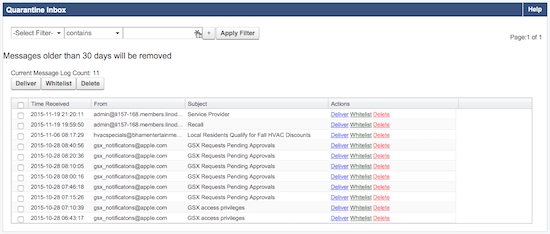 The web interface gives you additional options to Filter (search) a large number of quarantined emails at once, but otherwise contains the same options noted above.
Settings: Whitelist/Blocklist
Below is an example of settings for the Whitelist and Blacklist options.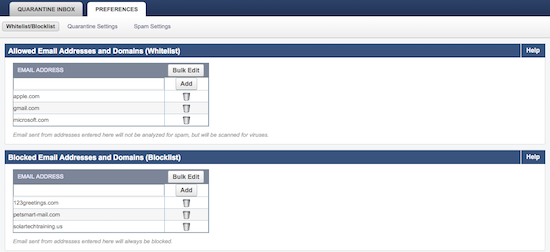 Noting the examples above, you can see how to add & remove domains to the Whitelist and Blocklist. Email from the Whitelist domains will always be delivered and email on the Blocklist never delivered to your mail box.
Settings: Quarantine
Below is an example of the various options for spam quarantine.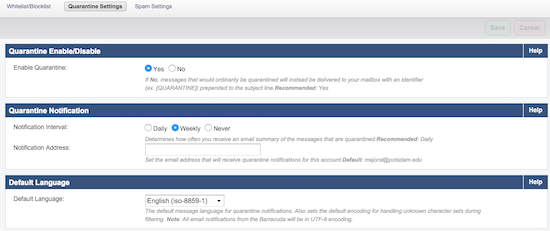 Quarantine Enable/Disable: If No is chosen, messages that would ordinarily be quarantined will instead be delivered to your mailbox with an identifier (ex. [QUARANTINE]) prepended to the subject line.
Quarantine Notification: This lets you set the interval for automatic email notifications that are sent to you. Daily, Weekly, or Never are available. You can also change the notification address, however CTS does not recommend this.
Default Language: The language in which you want the web interface and email notifications displayed in.
Settings: Spam Settings
The Spam Settings section allows you to disable all spam filtering. CTS does not recommend doing this.

If you need additional assistance, please contact the IT Service Desk at x4444 or itservicedesk@potsdam.edu.