Students
If you need tech support please click the button below:
Sticks & Strings!
Sticks and String will continue as an online stitch-n-bitch event. Same time, Tuesdays at 3:30, but now via Zoom. It is nice to just sit and talk about nothing while we knit, even if we were 1000 miles apart. 

To join the group via zoom use this link (Click or copy and paste the URL into your web browser): https://zoom.us/j/269606183
The Lougheed Learning Commons is a place for students, faculty and staff to study, collaborate, socialize and create. It houses the following departments: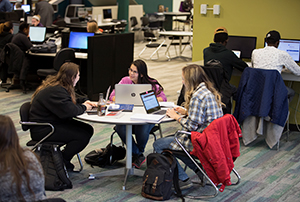 The Lougheed Learning Commons lobby has been organized to provide comfortable group seating and study space, centered around a sculpture by artist John Van Alstine, which was donated by Donald and Kathryn Lougheed. The Lougheed Learning Commons provides access to campus computers, printing, document scanning and various other technologies. The Single Service Point information desk is there to assist people with circulation services, reference services and on-site tech support.
Not sure where something is located inside the Learning Commons?
Upcoming Events
All events for the remainder of the 2020 Spring semester are cancelled!
https://www.potsdam.edu/studentlife/wellness/healthservices/campus-health-alerts/coronavirus-updates/alert-march-11-2020
Services
 Makerspaces    

Group study rooms - Due to the social distancing guidelines, the group study rooms in the Learning Commons can no longer be reserved. Each room has 1 computer work station, 1 table, and 1 chair. A maximum of 2 people will be allowed in each room. Thank you.
Meditation and silent prayer room
Drop in Tutoring with The Writer's Block Sundays Noon to 6:00 pm
All services in the LLC are reviewed and evaluated by the LLC Advisory Board
If you have an idea for a new service in the Lougheed Learning Commons, please fill out and submit the proposal form
Programming and Sponsored Events
Would you, your group, or your organization like to table in the lobby of the Learning Commons?
Are you a professor looking to display your class's projects?
Please read the instructions below, then fill out and submit the correct form.