Our graduates have gone on to some pretty special careers.
They have the tales to tell and the wisdom to share about what makes this institution of higher learning so remarkable in so many ways. There are thousands of teachers, doctors, lawyers, engineers and artists who call SUNY Potsdam their alma mater.
Jennifer Mathews '95
After graduating from SUNY Potsdam more than 20 years ago, alumna Dr. Jennifer Mathews '95 is back in a SUNY Potsdam classroom, this time as a guest lecturer. She speaks to a group of undergraduate students about opioids and opioid addiction... read more.
Brian DeWitt '79
SUNY Potsdam Alumnus Brian DeWitt '79 just made his first trip back to Potsdam since graduating 38 years ago. Since graduating with a bachelor's degree in biology, he has traveled all over the world as part of a highly technical and successful career working in Silicon Valley... read more.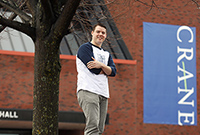 Andy Pacer '15
As a student at Crane, Pacer competed in the International Championship of Collegiate A Cappella with the Potsdam Pointercounts, but now he was seeing things from the other side as the producer for the ICCA central region. As producer, he is responsible for overseeing five quarterfinals and one semifinal a cappella competition with a total of 46 groups... read more.
Philip Paige '15
Like many alumni before him, SUNY Potsdam was a launch pad to success for Philip Paige, a 2015 SUNY Potsdam graduate from The School of Arts and Sciences. Paige '15, of Madrid, has quickly launched a dynamic professional career working for the St. Lawrence County government... read more.
Amy Smith '13
After graduating from SUNY Potsdam in 2013, Amy Smith made her way to Tufts University. She was the corresponding author on a study that was recently published in the November 2016 issue of Science, one of the world's top scientific journals... read more.